From passion to profession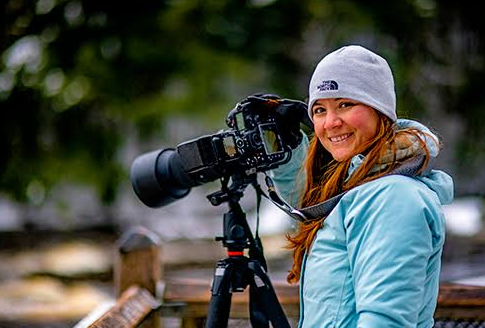 Most people have dreams as a kid, but not everyone achieves those dreams.
Rachel Guadette, a photographer up in Ludington, always had an idea of being a photographer. "I have always loved photography. Growing up, I wasn't able to shoot because of the cost of film. But I was always seeing the world in pictures," Gaudette said. Even though she couldn't take pictures often, she still thought about this dream she had. As Gaudette got older she knew for sure she had a passion for photography, "I knew that if it worked out, photography was something that I wanted to pursue more of." Now Gaudette works along with an international award-winning father-son photographer duo, Todd and Brad Reed. All together they sell their products at Todd and Brad Reed Photography and Gallery. Their gallery is located downtown Ludington and they recently opened another gallery in Pentwater, MI.
Gaudette travels all over to take pictures. "I love exploring new places with my camera. I love getting off the beaten path to find a unique view."
She loves getting to travel around and meet new people, people she otherwise wouldn't have met if she didn't travel for her job. One of her favorite places for shooting is the family farm she grew up on. With the hundreds of acres of woods and the river bordering the property, there was always so much to capture. But besides where she grew up, the week she spent at Glacier National Park and British Columbia was another spot at the top of her list. "I did an 8-hour hike up the mountainside in British Columbia with two friends. We never saw another person during that time. Just nature. Beauty. Peacefulness."
Some people might think being a photographer is easy, but there's a lot more to it than just taking pictures. "What I like most about what I do is the actual photography. Working in a small business, photography is actually what I do least in my job. I wish I could do it all the time!".
Lots of people would probably think that if you're a photographer you focus on taking pictures, but as Gaudette said, being in a business comes with a lot more work than just the products. "I am also an accountant, bookkeeper, supply chain manager, social media manager, human resource manager, sales associate, IT director, product designer, graphic designer, etc.", she mentions. There's a lot to it, including another project that her and Brad Reed just recently finished.
"366 Days of Beauty in the Year 2020" is a book they have been working on for a while. Every day in 2020 they managed to take a photo every single day. They turned it into a book where it shows each of their photographs for each day with a little caption describing either what the picture was, the story behind the picture, or where they took it.
"2020 was a challenging year for everyone, physically and mentally. Sometimes I don't know how I managed to take a photo every day of the year." Even during the already challenging year, she challenged herself more and ended up co-authoring her first book. "I am so proud of this book and this project. Holding the physical copy of this book and seeing MY name as a co-publisher is amazing. Sometimes it is still hard to believe that I have a published book!"