CultureWorks serves local teen artists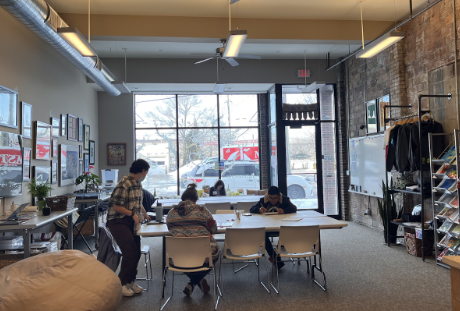 Within the brightly lit, cozy art room of CultureWorks, West Ottawa Jr. Jaxon Zavala sits at one of the many paint-stained wooden craft tables that occupy the room, working with the student advisory council to plan informative and eye-catching posters for a social cause within the Holland community. He is focused as he works; the calm environment of CultureWorks sets him at ease as he brainstorms ideas to bring awareness to the Mexican-American border crisis. Outside, the hustle and bustle of downtown Holland goes by and snowflakes fall, but this does not distract the young artist from the tasks they are intently working on.
Just inside the front door, the CultureWorks building is filled with comfy seating, wooden tables with several chairs, and even a kitchen with an abundance of snacks for students who are hard at work. The brick walls and comfortable atmosphere make the entire space feel open yet still intimate. The whole environment is warm and welcoming.
CultureWorks Executive Director Emily Christensen describes the program as "an independent nonprofit arts organization" that relies on "community support to help fund [the] pay-what-you -can-afford model." Through some funding from the Michigan Council for Arts and Culture and the National Endowment for the Arts, CultureWorks is able to provide classes and learning opportunities for students from over 15 schools, "the majority of whom attend West Ottawa, Black River, or Holland Public Schools," Christensen said.
Although CultureWorks may be a building that is small in size, it still houses numerous classes and courses for art-loving students . "I learned the basics of ceramics, silkscreen print-making, and photography," Zavala said. These are a few of many skills that one can curate through CultureWorks courses. Jr. Eve Peacock, said, "Over the years, I've learned to throw clay on a wheel, paint portraits with oil paints, create intricate fonts with calligraphy, and even learned how to make books."
With such a wide and broad variety of classes, it may seem difficult to settle on just one. Fortunately, CultureWorks wants everyone to be able to take classes, no matter their income. Luckily, anyone can take all of the classes that they are interested in, as CultureWorks operates on a "pay-what-you-can-afford" system. When going to register for a class, the website reads, "…but you can choose the amount you are able to pay when you register."
CultureWorks isn't just about creating art. "It's really calm and supportive; [CultureWorks has] a very welcoming environment for everybody," Zavala said. "When I walk into CultureWorks, I feel like I'm at home. There's always food out, comfy spots to sit, music playing, and plenty of other people to talk to and make art with," Peacock said.
"At CultureWorks, we try to cultivate an environment that encourages curiosity and creative experimentation, where everyone is welcome and supported. We serve students with a wide range of abilities, identities, and experiences. [This] diversity challenges us all to learn and grow as individuals and as artists," Christensen said.
Interested in signing up for CultureWorks?
https://thecultureworks.org/classes/
(616) 377-8466