Cultivating girl power one craft at a time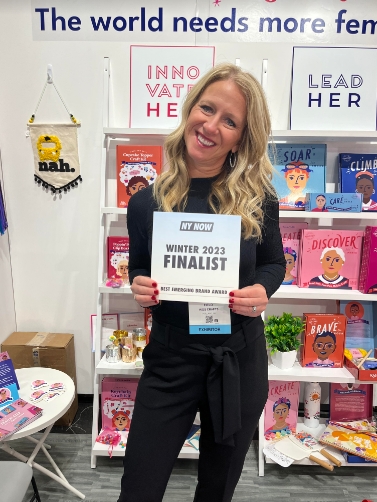 In order to foster a better tomorrow, it's crucial to empower young women today. Holland resident Kirsten Field works to achieve exactly that. With her own determination and care, she grew a company that produces craft kits for kids. These crafts aim to inspire young girls to chase their goals and reach their full potential. Field and her business, Kids Crafts, stand as an inspiration for all. 
   Field cultivated her craft kit business in 2013. Field's three kids were elementary schoolers at the time. After volunteering at their school's secret Santa shop, she wanted to create a program where kids could make quality gifts for their loved ones instead of buying them. She wasn't impressed with the craft kits already on the market. "I can do better. I can make something better than this," Field said. She began to plan an idea for craft kits. 
   Start Garden, a Venture Capital company in Grand Rapids, funded Field's first pitch. Later on, Field found her first opportunity to significantly grow her company. She visited a Bass Pro Shop Christmas event with her family. There, the store was giving out craft kits to kids. Yet again, Field said, "I could create something better." She worked on a craft kit specifically for Bass Pro Shop. When she pitched her idea, Bass Pro Shop purchased 30,000 craft kits from her. "By 2019, we just kept growing and growing to more of [Bass Pro Shop's] events. We were supplying over 2 million crafts to them a year," said Field. "By 2019 I was doing Easter, fall fest, Christmas, Mother's Day, Halloween, all of the different holidays. I would create the craft. I have a factory in China that would then produce all of our crafts. Then, we would ship the containers here. That was my business," said Field. That was Kids Crafts. 
   The business expanded when Bass Pro Shops bought Cabela's. Field started creating craft kits for Macy's in-store kids events, too. The future looked bright for Kids Crafts. There seemed to be no stopping the business. 
   But then, the Covid-19 pandemic hit. "The business literally, overnight, ceased to exist," said Field. The pandemic deemed the store events that used Kids Crafts as unsafe, and they were canceled. The company hit a major setback. Instead of letting this devastate her work, though, Field began to think. How could she pivot the company? "I can create craft kits. That's not the problem. That's easy for me. I have a factory. I know how to do that, but what is going to differentiate me?" 
   After some introspection, Field began to look at her issue through the eyes of mothers like herself. She had walked through the toy sections at Target many times. There might be three different dreamcatcher craft kits on the shelf, for example. Why would a customer buy hers instead of someone else's? Then, Field had an epiphany: "What if we themed these craft kits around mighty trailblazing women?" 
   Once again, Field got right to work. She created a new line of products called the LeadHer collection. She themed each craft around a trailblazer's specific story. Some of the trailblazers include Rosa Parks, Greta Thunberg, Amelia Earhart, Frida Khalo and Maya Angelou. Each kit includes materials and instructions for the craft. Importantly, though, the kit tells the specific trailblazer's story. It comes with a question card, too. These questions work to connect the crafter to the trailblazer. For example, the Rosa Parks "Brave like Rosa" craft features questions like, "When's a time you've stood up for a change?" These questions challenge crafters to see themselves as leaders.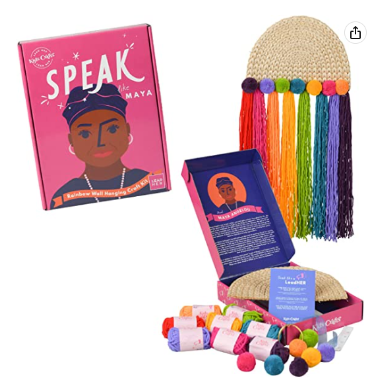 Another popular craft in the LeadHer collection is the Maya Angelou "Speak Like Maya" craft. It features a rainbow wall hanger for her famous quote: "Be the rainbow in someone else's cloud." Not only are kids creating a craft, but they're creating a tangible keepsake for the trailblazer's story. 
   Throughout her business ventures, Field has a young onlooker. Her focus to create the LeadHer collection especially inspired her youngest daughter, Addley Field. "I think this new collection especially helps to show me that I should follow my dreams, and I can be a trailblazer. I feel like I am always empowered by my mom's business to not settle until I reach my dreams, because one day I will get there and I will be proud," said Addley Field. 
   In addition to the LeadHer collection, Field also kick started the InnovateHer collection. It's all about empowering girls to start their own businesses. Those kits are "business-in-a-box" crafts. Crafters make the crafts, and are encouraged to sell them. Some of the most popular kits are keychains or pop-in paper clips. "On top of just the craft, we include materials for kids to then package them up and sell them as a full item," said Field. "Then, we include a mighty girl business plan. They can learn how to cost their product, learn how to value their time within the product, advertise, and things like that." 
   The last line of Kids Crafts is the CreateHer collection. The other collections are meant for tween girls, but the CreateHer line is perfect for younger kids. They're simple felt crafts for ages 3 and up. With each collection, Field produces something for everyone to enjoy. 
   After launching the LeadHer collection in November of last year, Kids Crafts has reached new heights. The crafts are sold in Meijer, Macy's, Target, and 168 Walmart stores. They can be found on Amazon and on the Kids Crafts website. "It's been met with a lot of positive feedback from people. We won the Good Housekeeping 2022 Best Toy Award, so that's super fun. It was considered for Oprah's Favorite Things, but it didn't win. Maybe next year!" said Field. This month, the NY Now expo selected Kids Crafts as the Winter 2023 finalist for the Emerging Brand Award. 
   No doubt, Field is a leader in the community. She believes in empowering others, which is evident through her work. She values serving others through her business, too. "I think it's all about giving back and helping each other," said Field. She enjoys talking with young business women or students at the Careerline Tech center with an entrepreneurial focus. In addition to giving her time, she's a servant leader in other ways: Kids Crafts gives back a portion of its sales to organizations who work to empower girls. "This year, we've given $35,000 in craft kits to Girls Inc. and Girls on the Run LA," said Field. "I want to help others succeed." 
   It is easy to look up to leaders like Field. She's found success through creativity, empowerment, and service. Field's work goes beyond making craft kits. She's inspiring the next generation of independent and powerful women, and creating a more compassionate and informed generation along the way.