Sam Smalldon: Comeback time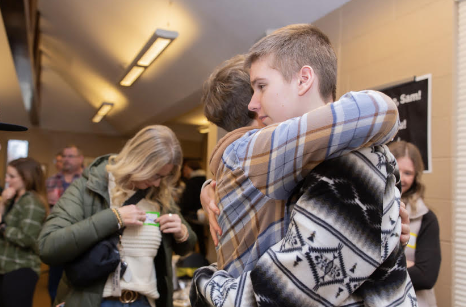 Many large trees had been struck down in an instant, but the metaphorical axe that took these trees out was Jr. Sam Smalldon's car. Smalldon was on his way home when the event of every parent's nightmare occurred. The sky was pitch black and the tall expanses of trees blocking his view of the houses lining the road were like buildings of pure shadow. He lost control of his vehicle and drove off the side of the road and into a multitude of trees. When his car left the pavement behind and he hit the patch of trees. He was not wearing his seat belt and was driving at a high rate of speed. When the paramedics arrived he was found completely unresponsive, 15-20 feet from the vehicle, and his car was in sheds. It was a miracle that he made it out alive. 
   With immediate medical attention and an Airlift by Aeromed to the nearest severe trauma center, Helen DeVos Children's Hospital. After a long time in the hospital and around-the-clock medical attention, Sam's condition was stabilized and he survived. One officer on the scene said, "It's one of the worst we've ever seen, that kid is super lucky." Sam's survival was a complete and total miracle, but the journey of suffering and the road to recovery was not even close to being over yet.
Sam has always been part of teams, and now he is on a team dedicated to his recovery. 
   Sam was an athlete at West Ottawa, he played football and baseball which are both incredibly team-oriented sports. "I met Sam early in elementary school. We grew up playing baseball and hanging out together," says Jr. Jonah Gawlik, one of Sam's good friends, "When I first heard about his accident I was in shock. I had just seen him a few hours before it happened. I had always heard stories about people getting in terrible car accidents but for it to be one of my close friends was hard to believe." Like many people around the community, Gawlik was in shock.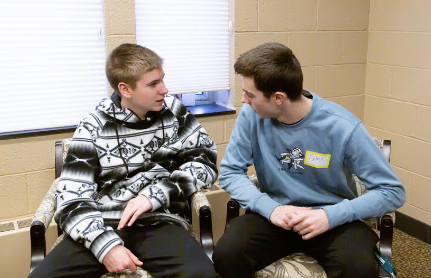 Jr. Tyler Kastens is one of Sam's biggest supporters throughout the whole process, "I reached out to his mom and we started talking about Sam and I saw a post on social media for a Spikeball Tournament in the Grand Rapids area, and I thought to myself, 'I should host a Spikeball Tournament for Sam'. I talked to some friends and they said it was a great idea, so after some thought, I decided to move forward with it."
   The "Spikeball for Sam" event took place last fall and raised money as well as awareness of vehicle accidents with a couple of police officers coming to talk to the participants. Kastens went to visit Sam in the hospital, contributed to his return home, and spent time with him after his return. Kastens is looking to support Sam at school as much as he can, "I am going to be one of his assistants when he is at school, so if he needs anything or help on something I'll be there to help him." He plans to stick by his side as much as possible and be part of the team that is helping Sam in his hopeful return to normalcy. 
   Sam's family members are also a big part of the bigger team that is assisting in his overall recovery and return home and back into society. Sam's older brothers have been extremely helpful in the process of remembering things that Sam used to love.
   Sam's brother Drew Smalldon said, "I try to be as supportive as I can. Any time I'm with him I try to throw a football with him or get him to stand up and walk somewhere, just so he can get moving to get his strength back. Not only physical strength but mental strength as well. We always try to ask him questions that quiz his memory, even as simple as, 'What did you have for dinner today?' That forces him to try and think back." Similarly, his other brother, Zack Smalldon has brought a lot of help to the family with his fiance Hannah. "As I'm sure most people have mentioned with the situation he was in, the biggest thing we could do was to provide support in any way possible. Hannah and I would be at the hospital a couple of times a week from the start to the finish to support him in therapies or just to be there and show him we were fighting/pulling for him."
   Sam's recovery is going to take a lot more than just the team of doctors, therapists, teachers, and family. It's going to take a contribution from his peers around him to help him adjust to normal life again. There are so many things that Sam is going to need to attempt a return to his old life. "Basically I want him to do things that he did often before his accident, to remind him that he's home. Even though I'm at college, he FaceTimes me often to check-in, and it's great to see that he is starting to remember stuff from the previous FaceTime that we had," said Drew Smalldon. 
   The improvements Sam has made are starting to show in his everyday life, he is beginning to remember the names and faces of the team that surrounds him every day and the names of his friends and family members. At the beginning of the recovery process, he did not even know the names of his siblings when he first saw them. The first time I saw him after the accident, I asked him if he remembered my name. I was on the verge of tears when he said, 
"Yeah I remember you. Your name is Keegan."
   "Being there and seeing all his progress was the most inspiring thing ever. There were small celebrations and large ones and everything was so special! He is such a blessing and such an amazing kid!" Said West Ottawa Graduate Emmy Angel. 
   Sam said, "[being home] is great and I can see a lot of my friends." He is also loving that he can "eat great foods and sleep more."
   For Sam to return to a normal life, his team is going to need to grow to support him. In everything he does, his team will surround him to help him grow and learn and remember.