The man behind the name
You don't get to choose your name. For one reason or another your parents chose it: they liked how it sounds, the name has always been in the family, or maybe it's a name shared with someone important to them. 
   I always knew my parents named me after my Great-Grandpa Owen, my dad's grandpa. I've seen his pictures throughout my house and at my grandparents' house. He was often pictured with his green flat cap, a hat that I occasionally wear myself. The pictures of a man that I don't know, yet I share my name with. 
   I recently had the opportunity to read a letter that was given to my aunt by Owen before he died. In it, he details a lot of his life he never told my dad and aunt, let alone my grandmother. The content in the letter piqued my interest in who Owen was, and to learn more about his relationship with my dad. 
   I may not have met Owen, but I could see in his messy cursive writing his values, and the experiences that developed them. The more I read of the faded, aging letter, the more I understood why my dad talks so highly of Owen. 
   I learned in the letter that Owen was born and raised in Bayfield, Nova Scotia. A small village on the shore of St. Georges Bay that's barely considered a town. The beach there was called Riley beach, after his family name. Owen would tell my dad about the beauty of Nova Scotia, and how he wanted to one day go back with him to show my dad where he grew up. 
   Owen's Canadian roots still resonate within my family, and many of my family members still live back in Nova Scotia. 
   When Owen was twelve, his father suffered a stroke. This left his family with not much money to keep everyone together. Owen was sent to go to school in Detroit with one of his older brothers. This connection to Michigan and the United States would eventually lead Owen here.
   Within the letter, Owen had many stories from his various experiences in life, some more painful and influential than others. One of the more distressing was from when he fought in World War II for Canada, working as a tank operator in Italy. Many of the stories he refused to even detail in the letter, but instead were learnt through my great-grandmother telling the family after the fact. 
   "Owen was traumatized by World War II," my dad said. "When I was in middle school I was fascinated by the war and would try to get him to talk about his experiences."
   Despite his attempts, my dad could not get Owen to budge, "He would never talk about it. Actually, he would get angry with me if I asked him about it," my dad said. 
   At the time, my dad didn't realize that Owen suffered serious PTSD from the war. World War II seemed like just another conflict in human history, not a real, terrifying, and destructive event. The war affected Owen more than my dad and the rest of the family knew. Not until my dad was older did he really see how much of a toll the war had. 
   "My Grandmother would tell us when he wasn't around that he used to hide in the bathroom during thunderstorms," my dad said. "When I was a kid we'd go to the fireworks and he would skip it. He would say that he'd already seen enough."
   While fighting in Italy, Owen was shot and captured by the Germans. Along with some British soldiers, he was put on a train to what most likely was a prisoner of war camp, or concentration camp. 
   Luckily he never found out, as he and some other soldiers made a daring escape on the train, jumping off while still traveling, and crossing through enemy lines back to safety. I wish I could've thanked Owen. If he had not escaped the train, I may not be here today.  
   In the letter, Owen wrote about what he did after the war, "I had no home to come home to. My brothers and sisters were all living in different places." 
   Owen decided to stay in the Netherlands (Holland) and attended trade school while other soldiers went home. He wanted to make sure other soldiers got to see their families before himself, as he had no family to come home to at the time. 
   He still found a way to look after others, even when he had the chance to escape the atrocities of the war. He continuously put others above himself. 
   Even with the chaos and terror, Owen did have the occasional funny story from when he was in Europe, some of the few stories he would tell my dad. One of my dad's favorites was the time Owen and his crew came down a hill in the tank without brakes and drove straight through a building. At another point, they were hiding from the Germans, and Owen accidentally set off the machine gun on the tank. 
   Owen would often tell my dad, "If you ever ask directions from a Brit, walk in the opposite direction," as he never had a good experience with receiving directions from the British during his time in Europe. 
   Owen's stories and ideas always connected with my dad, and they grew close through them. 
   My dad grew up around Owen, since his parents were often working, "For me he was a father figure. My dad was an over the road truck driver so he wasn't around very much. Owen always lived close so he would stop by often or we would go to his place," my dad said. 
   "He was adamant that I go to college to get an education and stay out of the military," my dad said. My dad heard stories of how Owen grew into his hard work ethic. 
   While waiting for his chance to interview for a job position as a janitor, a broom remained on the floor of the hallway. Everyone else walked past it or walked over it, not picking it up. When Owen came up to it, he picked up the broom. The interviewers noticed this, and gave him the job immediately. 
   This job opened up more opportunities, eventually leading to a position as a boiler operator in a Union in Detroit that provided excellent benefits. 
   Even while working as a Boiler Operator, Owen remained committed to staying connected to his family, especially my dad and aunt. This helped define the type of person he was, and made a major impact on my dad's life. 
   In fact, Owen's job as a Boiler Operator continued to support the family long after his passing, as the benefits he obtained helped pay for my great-grandmother's medical expenses, and she received Owen's pension up until she died. 
   My dad specifically remembered a story of how quickly Owen would change his lifestyle in order to fit his family's needs, "He quit drinking when my mother wrote him a letter about how it was affecting everyone. He never had another drop," my dad said. 
   If his family was affected by something he did, Owen took no time to change it. 
   Owen wished to support others, especially his family, and cared immensely for their success. When my dad accumulated debts from credit cards and college while living in Chicago, Owen offered to give my dad a loan to pay off his debts. My dad paid them off soon after, and paid Owen back in full. My dad is forever grateful. 
   With this compassion, people in the community loved his presence, "Owen was a very well liked guy around Lexington [Michigan]. He was funny in a provocative way," my dad said. 
   As my dad grew up and left Lexington, he stayed in touch with Owen. His connection didn't falter with the man who helped him so much growing up.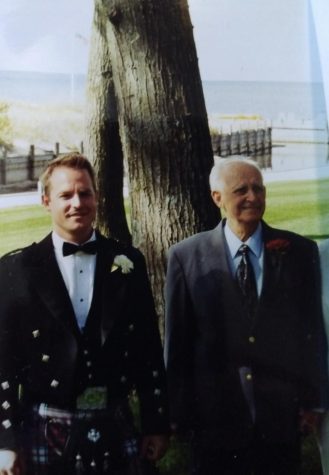 "Owen was one of the first family members of mine that I was very close to who passed away," my dad said. "He refused to have a funeral and make any kind of fuss about his passing. My grandmother, mother, aunt and uncles decided that's how it was going to be so there was never a funeral." 
   "That was probably the worst thing for me because there was never any closure at the time," my dad said. My dad didn't receive closure until a few years later, when he and other family members met in the subdivision Owen lived in for years, spreading his ashes at the beach there. 
   My parents were living in St. Louis, Missouri when my dad found out Owen had colon cancer. My mom was pregnant with me at the time, so my dad knew exactly what he wanted to do. 
   "I immediately decided we were going to name you Owen," my dad said. 
   Owen died the same year I was born. I never got the chance to meet him, talk to him, learn from him like my dad was able to.
   My dad still holds onto the memories of him. Owen lives on through his words and values, his written and spoken adventures. He lives on through me, through my name. 
  His letter exists to be passed down. Seventeen pages of his moments he holds dear, his thoughts and encounters that he wanted his family to have. 
   I never met Owen but I share his legacy. I hold the remnants of his past, and how he's remembered in the future. He may not have affected me personally, but the way he impacted my dad directly influenced my life. 
   "Let's take that trip to Nova Scotia to see where you're from. I put it off for too long," was the one thing my dad wishes he could've said to Owen before he died. 
   It still hurts my dad that he will never travel with Owen to Nova Scotia personally, but he has talked about going soon as a family. One last trip to see where Owen grew up, and more experience for myself to learn about my name, and the man who I share it with.