My journey to find a sport I love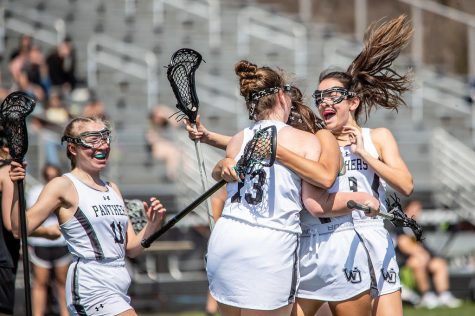 At the end of a soccer game at Winstrom Park off of Perry Street, I ran off the field in tears as I realized that sports were more than just a game.
   I dismounted off the gymnastics beam on a Friday night in frustration because I had to miss my friend's sleepover, because I was at the gym, yet again. 
   I faked the Zeeland High School lacrosse goalie and scored  and my team came rushing towards me.
   The variety of sports that I have played have taught me what is beneficial to me mentally and physically and team sports empower me. 
   I played soccer from the age of five to eleven. I was only ever in the recreational program but I really enjoyed it. I learned that I can be a good team player and still have my personal competitive aspects. When I was in fifth grade, there was one game at Winstrom Park against the red team and I was playing forward. I had a breakthrough, yet missed the goal. I was embarrassed afterward, but my team came up and told me it was alright that I had missed the shot. We ended up winning that game because of the team effort. When I entered middle school, I realized I was busy with my main sport: gymnastics. My short but sweet soccer career had come to an end.              
   Gymnastics started for me when I was about four years old when I did a tumbling class at Avalon School of the Arts; then I started going to a real gymnastics facility where I stayed for five years. I was convinced this would be the sport I did forever and dreamed of becoming a Michigan State Gymnast. In fifth grade, I moved to Champion Gymnastics USA. I made some of my best friends there, they became my second family. I would spend sixteen plus hours at the gym per week and on top of that I would have to travel every few weekends for a gymnastics meet. I remember missing Function on a Friday in the winter because I was traveling for a meet. This sport was my passion yet sometimes it was hard to keep going. 
   There was a summer day I was having a tough time at practice. I couldn't master any new skills. Later that week, I found out I was going to have to do level four for another season. That would be two years in a row of the same level, which means the same routines and no new skills. I was crushed. I began to fall out of love with the sport everyone knew me for. I would arrive home at eight-thirty, four nights a week after being gone the whole night. Then eat dinner, shower and fit in my homework to get to bed at ten. It became draining to my mental health. On top of that I was missing out on so many social aspects of middle school. I felt myself drifting away from my friends. Although I was in the best shape of my life and had made some of my best friends, retiring from the sport was the best for me and from that point on I have thrived. 
   After I stopped doing gymnastics, my mom wanted me to find a sport that could become my new passion. The end of seventh grade, I did track and really enjoyed it; it was a rewarding feeling to be involved in a school sport and actually be good at it. Also, I tried some lacrosse camps because one of my close friends who also retired from gymnastics played lacrosse and really enjoyed it. I liked the camps so I decided to sign up for an actual season my eighth grade year, which ended up being canceled due to the Covid-19 pandemic.
   Freshman year I started with playing golf during the fall season just to take up some time. It's a sport that I enjoyed playing with my dad. During the school season I made some great friends and had fun playing, even though I was shooting 20+ over par. One match at Pigeon Creek Golf Course was what kept me playing golf. My friends and I all went into the match with an attitude that even though we will lose, we will still have fun with it. So from freshman year on, I continued playing golf.
 The spring season came quickly after fall and I made the decision to try out for lacrosse. I made the team but knew barely anything about the game. 
   Throughout the season I began to come close with the team and build up some confidence in my skill. I would look forward to going to practice everyday and getting in a good workout. I always felt so accomplished after. 
   Sophomore year I started all season long. Lacrosse became a sport that I felt like I was good at. Other people's opinions didn't affect me as much as they would in past sports. I began to realize sports that involve teamwork were for me. The team was uplifting during games and if something went wrong, it wasn't only my fault. 
   My sophomore season we went 9-9. I remember a special moment from the game against Hamilton Southeastern, a school from Indiana. It was a Saturday morning home game. We went into the game knowing it was probably going to be a loss. We played so good as a team that we ended up only being two goals behind in the beginning of the first half. It was a shock. We ended up losing by over 10, but I will never forget how proud I felt to be a part of that team. 
   Lacrosse was something that made me happy. In addition to making me happy, lacrosse only took two hours out of my day and rarely ever anytime on the weekend. I had time to enjoy with my family and friends. I had time to finish my homework. I had time to find new hobbies.
   My journey with sports has been difficult. There have been sports that were hard to leave and some that were easy to leave. It all came down to my health and wellness and I feel I have made all the right decisions.