Clash of the cocoas
I love hot cocoa, but definitely not in the conventional way. I like my hot cocoa with cinnamon.
   Hot cocoa with cinnamon? Surprisingly, the spice blends well with the warm chocolate flavor that pops in the mouth. I just discovered the wonders of Mexican Hot Chocolate, and now I'm not sure if I can ever drink a normal hot chocolate again. However you like your hot chocolate (or hot cocoa, who am I to judge), the delicious delicacy is sure to warm your hands sometime during the winter season.
Hot chocolate or hot cocoa?
   The terms "hot chocolate" and "hot cocoa" are often used interchangeably, but technically, they are not the same thing. 
   Many of the average store-bought powder mixes are hot cocoa, not hot chocolate. The main ingredients in these mixes are milk (often powdered), sugar, and cocoa powder. Hot cocoa is easy to make and quick, requiring only the powder and hot water or milk.
   On the other hand, hot chocolate is made from melted chocolate and water or milk, often prepared on a stove. There are many delicious variations of hot chocolate around the world including Mexican Hot Chocolate, made with chocolate de mesa, which contains cacao, cinnamon, and sugar. Parisian chocolat chaud is a darker delicacy made with dark chocolate and milk.
A hot cocoa clash
   I decided that since hot cocoa is more accessible, that's what I should test. I am on the hunt to find the best hot cocoa. So, is the delicacy better dark or light? Is there a better way to prepare each type? I contacted a few "experts" for recommendations, tasted many brands and recipes, and came up with a top three that exceeded my expectations.
#1- Nestle Rich Milk Chocolate Hot Cocoa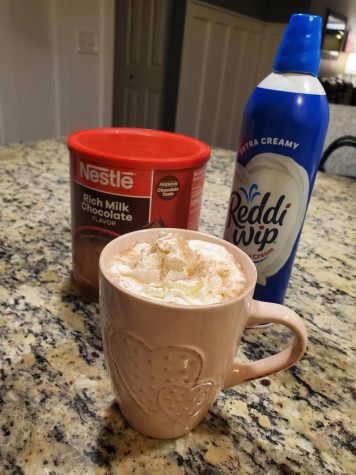 ⭐⭐⭐⭐⭐
Great chocolate flavor, very creamy.
   This is my go-to, so I may have been a little biased in my scoring on this one. This is the one hot cocoa I have found that exceeds my expectations. When I take the first sip, the sweet familiar taste of melty chocolate hits my mouth. It slowly dissolves into a dark rich flavor towards the end, leaving you wanting more. I never even put marshmallows or whipped cream on this: that's how good it is!
   To take Nestle Hot Cocoa to the next level, I often add cinnamon to make a drink reminiscent of Mexican Hot Chocolate. If spice isn't your thing, this also pairs well with whipped cream. I highly recommend this mix!
#2- HERSHEY'S Hot Cocoa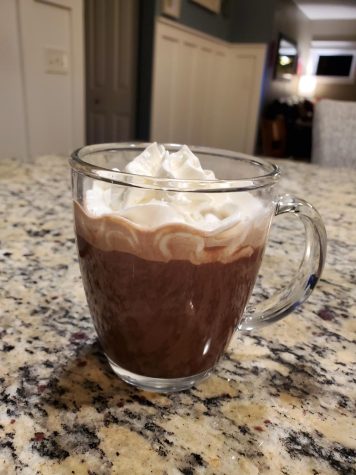 ⭐⭐⭐⭐
Consistent rich dark flavor.
   To make this darker hot cocoa, I combined 8 ounces whole milk, 1 tablespoon HERSHEY'S Special Dark cocoa powder, and 1.5 tablespoons of sugar. The flavor was darker than hot cocoas I usually lean towards, but I surprisingly enjoyed it. The flavor was very rich and consistent, like one of those lava cakes you'd get at a restaurant. I highly recommend this variation for dark chocolate lovers. 
   If you want to make this especially dark, add less sugar. Marshmallows or whipped cream are the best toppings for HERSHEY'S cocoa because the dark chocolate and light creamy flavor pair well together.
#3- Swiss Miss Milk Chocolate Hot Cocoa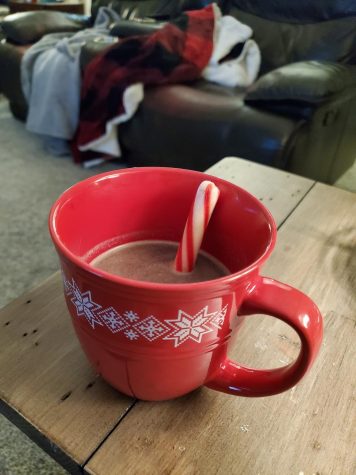 ⭐⭐⭐
Powder fell to the bottom.
   The first sip was delectable and surprisingly creamy for having no milk. The hot cocoa even foamed up a little on the top. The chocolate flavor of Swiss Miss is less rich than that of Nestle, but it still passes. Once I drank about half though, I began to feel a powdery texture interrupting the creamy chocolate experience. I had mixed the drink well, but the powder still fell to the bottom, leaving me with a powdery mess at the end.
   For a minty flavor, I would suggest adding a peppermint stick to this hot cocoa. The mint pairs well with the light milk chocolate, making for a lovely nostalgic Christmas drink. 
   One-third of American adults say their favorite winter beverage is hot cocoa, according to multiple sources. The love of hot cocoa seems to live on from childhood, when many would snuggle up with a mug on a snow day. The delicacy is here to stay, and there are still so many brands and recipes yet to taste.