Mount Doze
On Friday, November 18, Jr. Elliot Dozeman woke up to the first snow day of the year. His first thought was about skiing, but he didn't have to worry about driving on the icy roads to a ski resort. Instead, he stepped outside and fired up his snow guns, ready for a day of skiing.
   Dozeman clipped on his skis, stuck his poles in the ground, and propelled himself down the hill. Gliding closer to a three feet tall metal rail, he envisioned himself perfectly executing a front-side 270 off the rail. He approached the lip and popped off of it hard. Rotating 90 degrees to his left, Dozeman landed on the rail directly under his binding, locking onto the rail. As he slid the rest of the rail, he scissored his feet, stopping his rotation to the left, and popped off the end of the rail, snapping his shoulders to the right and bringing his skis around three-quarters of a rotation to land backward. Bending his knees, he absorbed the landing and skied away to the bottom of the hill. From there, he grabbed his rope tow to bring himself back up the hill, ready to do it again.
   Not many people have the luxury of skiing whenever they want, but Dozeman does. "Having this in our backyard means within about a few steps you can put your boots on and be able to get some laps," Dozeman said. He takes advantage of the convenience, trying each year to have the ski hill open for 100 days. 
   His ski hill, Mount Doze, is a great place to try new tricks on the rails or jumps without having to stray far from home. The hill totals 15 vertical feet, stretching 135 feet from his front yard to his backyard. Illuminated by 5 lights totaling over 40,000 lumens, Mount Doze can be skied day or night. Mount Doze was inspired by Youtuber Caiden Shea, who had a rope tow and snowmaking equipment in his backyard. Mount Doze began in 2019, with only one snow gun and a PVC tube used as a rail. A year later, Dozeman tripled the snowmaking capacity from 1.3 gallons per minute to four gallons per minute. He kept upgrading the hill, constructing more rails, and eventually adding a rope tow a year ago.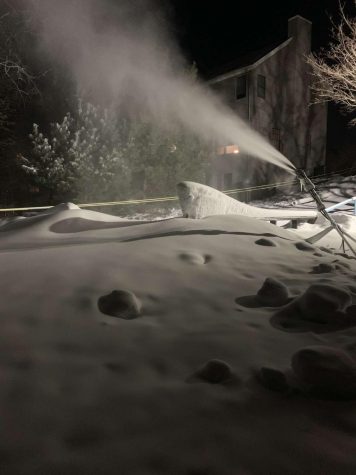 Arguably the most important part of the hill is snowmaking, which helps when the ground first freezes but the snow hasn't fallen. Dozeman purchased two snow guns online and constructed his own with various piping and fittings. "Snowmaking in its simplest form is the act of turning water into small ice crystals. To make this happen you need the wet bulb temperature to be 28 degrees or lower. Then, with compressed air and a pressure washer, the water becomes ice crystals and falls to the ground as snow," Dozeman said. Using the process of snowmaking, he covers a 20 feet by 40 feet area with two inches of snow in one hour with two snow guns running. Covering this area with snow only costs about the same as the water bill in the summer with the sprinkling system. The coverage from his snow guns supports the two and a half inch base necessary to keep skiing through the ups and downs of Michigan winters.
   Before Dozeman installed the rope tow, skiers spent a minute and a half walking up the hill. After installation, that time was reduced to 22 seconds. He repurposed the motor of a boat lift and attached the motor to a post, anchored by concrete at the top of the hill. The ⅝ inch rope attaches to a wheel with a tensioner at the bottom of the hill. "It makes it so much easier to get up the hill so you don't have to stop and take off your skis or snowboard and walk up the hill," Jr. Tyler Kastens said.
   Mount Doze has six features, allowing skiers to use creativity. Dozeman's inventory consists of two metal rails similar to those of a ski resort, three homemade rails constructed with PVC pipe and wood, and a feature similar to a wall ride with PVC pipe at the top. "I usually can finish one rail in about four hours, either wood with PVC or metal," Dozeman said. The short amount of time necessary to build a feature allows him to frequently make improvements.
   He plans to continue upgrading his backyard hill, which recently included the purchase of a new rail and some modifications made to build a new feature. "We also plan on pumping out more water with more snowmaking upgrades," Dozeman said. He enjoys finding new ways to have fun right outside his back door.
   The new snowmaking upgrades excite Dozeman the most. He recently became sponsored by Snow State, an at home snowmaking company. "I think it's great as the money I have spent on all this is starting to pay back," Dozeman said. The snow guns from the sponsorship will increase his snowmaking capacity by more than five gallons a minute.
   "My favorite part about Mount Doze is definitely when it snows early in the season and you look around and the only snow is sitting right here on the hill," Dozeman said. Unlike resorts where he can only ski the features they have, he enjoys building the features that he wants at home.
   Despite the entertainment the hill brings, having a ski resort outside his window can bring some downsides. "The air compressors and pressure washers get pretty loud, so it can be annoying for us and our neighbors," Dozeman's father Ted Dozeman said. His dad does like that Mount Doze gives Dozeman something to do in the winter besides playing sports or sitting on his phone, so the hill remains.
   Dozeman steps back into his house, pulls off his boots and jacket, and grabs a mug filled with hot chocolate, ending the day of skiing having never left his backyard.
   For updates and videos throughout the season, check Mount Doze on Tik Tok and Instagram.