Survivors are selected and ready to compete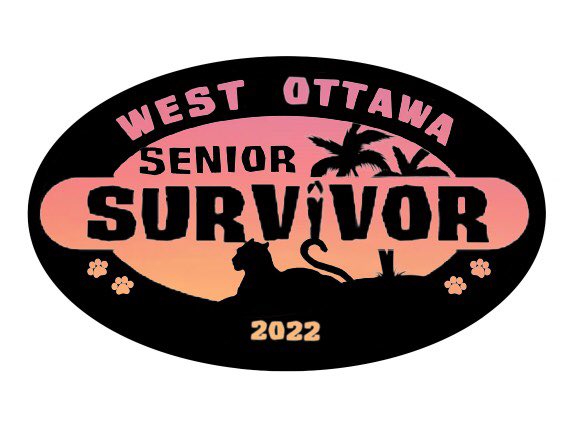 In the U.S the median salary for one week of work is just over $1000. In that amount of time last year's senior survivors raised over $39,000 for WINWO
Senior Survivor is back at West Ottawa High School. It will be another year filled with action packed games, fun activities and most importantly a mountain of money raised. All for the goal to fund "Win Wo," West Ottawa High School's charity that helps their very own students.
Everyone of course is wondering who are this year's contestants. I was given a sneak peak at the list, and this year's lineup appears to be a good one. This year's contestants are Emerson Reimink, Raighen Ly, Kaitlynn Heck, Samantha Correa, Citlali Luciano, Abby Hogan, Lucas Lesher, Julian Carrier, Calvin Ball, Andrew Goddard, Tjorven Snook and Xander Fredericksen. I was also able to fortunately score interviews with some of the contestants.
   Andrew Goddard:
   I personally think that Goddard was an amazing pick from the student council. Goddard is full of energy and a great representation of West Ottawa. "I'm pretty excited," said Goddard. "It might be tough to sleep in a school for a week, but I think I can do it." Goddard has chosen "Dollars for Drewski" as his slogan for this year's Senior Survivor. Goddard has the same plan as most of the survivors will end up having, but he has an idea that he believes will help sell more products than most people do, using a chilling method to ensure that his drinks stay cold and fresh. He has also reassured us that he will win it all this year.
   Lucas Lesher: 
   "I was not entirely expecting to get picked," said Lesher, "but I feel like it is going to be a fun experience and I am looking forward to it." Lesher, although not expecting to get picked, was a great choice; he is a big part in West Ottawa track and is a memorable face around the school. His goal to win is to be the "most likable human," along with "selling what the people need." Lesher was not yet set on his slogan. He planned on going with "Loot for Lucas," but he claims that one of the other survivors, Citlali Luciano, is already using the word "loot" for her slogan, "Loot for Lali." He said that he might switch his or see if he can stand strong and continue using "Loot for Lucas." When asked if he was going to win Lesher didn't skip a beat saying, "That isn't even a question."
Xander Fredericksen 
   "I was absolutely stoked," said Fredericksen. He isan elite member of the West Ottawa soccer team, achieving all conference "Franklins for Freddy" is the slogan that Fredericksen has chosen for this year's senior survivor. He is using the oldest trick in the competitive economy, supply and demand, to help sell his goods and sell them at a price that will make him the most money. Just like the other competitors ,Fredericksen believes that he is going to win it all this year, not hesitating to answer "yes" to the question. He said that the best thing he has going for him is his allies, and that is how he plans on winning it all.
With a great selection of students for the year, this is definitely going to be a senior survivor that you are not going to want to miss. The survivors hope to smash the amount of money made in last year's contest. So make sure you get to your first hour early so that you don't miss an episode and to all of the survivors, good luck!