American crash course: West Ottawa's exchange with Sister-School in Spain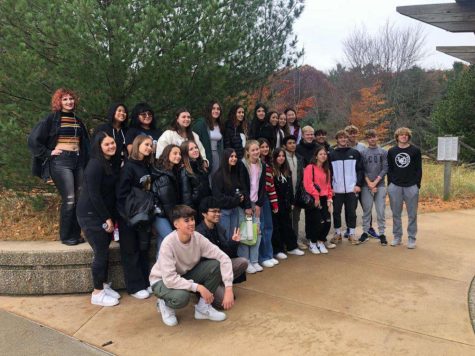 A yellow bus pulled into the bus parking lot at the North high school. The anticipation was over. West Ottawa students and families stood outside waiting at 7 PM. Some families even brought flowers and carried posters, waiting to greet the Spanish newcomers.
The students from Spain stared from the janky school bus windows as they approached. As the exchange students unloaded off of the bus many students and families began feeling ecstatic. Even the yellow school bus, something considered normal or common here, was a new adventure.
"I loved the first night when students met for the first time in person. It was such a joy to watch students from different countries and cultures immediately connect," Spanish Teacher Melody Holmes said with joy, as this was one of her favorite moments from the exchange.
Holmes was not the only one affected by this encounter. This was the moment many of the exchange students will not forget. It was the beginning of a once in a lifetime experience.
Students at West Ottawa High School were given the opportunity to travel to Spain in the spring of 2023 and host students from Spain in the fall of 2022. This past exchange was an unforgettable experience. West Ottawa Superintendent Tim Bearden was one of the trailblazers for this program at West Ottawa.
"I have heard great feedback from hosts and the visitors from Spain," Bearden said on the success of the program.
As for the program moving forward, Bearden is optimistic, "Our hope is that this program grows so that it's not just an exchange. We want to have elementary students here connect with elementary students in Spain. Whether it's meeting through zoom, starting off reading books, or doing educational tasks with each other. We want students to build a connection with each other," Bearden said.
This program will help students from across the world learn and grow from the ability to connect with those different from you. A groundbreaking program and something that has not been done in the Holland area before.
"As a language teacher, I saw immediate benefits. My students became eager communicators when given this unique and authentic learning opportunity. Many students opened up and stepped out of their comfort zone in welcoming our guests," Holmes said.
This exchange has had long lasting effects on West Ottawa students beyond the departure of students from Spain. Many felt inspired to dive deeper into their study of Spanish, and while doing so, became more comfortable with speaking in Spanish. Being able to speak to a native Spanish speaker of a similar age can make learning feel more comfortable and beneficial.
Hosting an exchange student can be tricky and hard to navigate. Awkward language barriers, cultural differences, and living with a stranger can all be new and scary. It may help to have some knowledge and tips about hosting an exchange student. Here are some things you should consider doing and not doing when hosting!
Take them to stores and restaurants they haven't been to before!
Something that caught the eye of many of the exchange students was the plethora of restaurants to choose from in Holland.
Mireia Abi Bernaldez noticed these differences first-hand, "Some things that surprised me a lot were, for example, how easy it is to find a fast food restaurant and how often they go there. But there are also so many different cultures in the United States that you can find all kinds of restaurants that make good food. In Spain, for example, there is not so much variety," Bernaldez said.
Students enjoyed having new options of food and trying food from different cultures in America. Not only are the options different, but the eating culture in America is different from Spain as well. One of the first things Bernaldez noticed was our eating schedule in America.
"Some weird things are how early you eat. While being there, there have been times where I had lunch at 11:30 am. In Spain, I sometimes have breakfast at that time. Or you have dinner at 7 pm. In here, we aren't even at home at this time because we are doing sports or just doing other things," Bernaldez said.
The exchange students had a hard time adjusting to the new eating times. In Europe, It is more common to eat later and smaller serving sizes of food.
2. Take them to high school.
Bernaldez noted some interesting areas about High School that were unusual compared to her own school in Spain. First of all, is the extreme difference in school population.
"In the US the schools are huge, our high school is really small, we are just 700 people in there but it's the usual here," Bernaldez said.
Topics and scheduling varies immensely between Spain and the US, Bernaldez points out, "The subjects are very limited and the schedules are the same every week but you have different subjects each day of the week. We don't do the same class every day. Almost everyone has lunch at their house."
Many American students fail to appreciate the community they have because of school sanctioned activities, clubs, and sports.
"People don't usually play sports at school, they do it at sports clubs," Bernaldez said.
Ferran Gamez, another Spanish student on the trip, had similar sentiment about how much is poured into sports in America, "My favorite part was the sport fields. Football, soccer, volleyball, basketball, tennis… It's very impressive and I hope one day my school could do this," Gamez said.
Many schools don't provide the funding for school sanctioned sports in Spain, so seeing the new stadium, as well as the other well-kept facilities at West Ottawa, was a culture shock for many of the students.
Not only did they see the facilities at WO, some of the exchange students had the opportunity to attend the district Volleyball game at West Ottawa on their last day here. They were able to be a part of the West Ottawa student section and cheer on the team. They participated in chants and had an overwhelming amount of school spirit. This is an experience that the Spanish students loved!
Many West Ottawa students have worn pajamas or athleisure to school. It is often the norm for many students. This is a major contrast to Spain.
"Another thing that was surprising was the clothes people wear to school, in Spain you will never see someone wearing pajamas to class and also many people don't like to wear sports clothes either," Bernaldez said.
Bernaldez also noticed a difference between safety at schools, "What was also weird was that there's security people at the schools," Bernaldez said. "They [police officers] can have a gun, that was shocking."
Safety in schools in Spain isn't similar to the US. There are no Police Officers and there is not a huge concern about safety while they are at school.
Overall, the exchange students enjoyed going to West Ottawa and seeing the life of an American teenager as they navigated through the school day and community. A culture shock to their own learning experience.
3. Trick or Treating is interesting…
You would think that free candy would excite everyone? Think again. Surprisingly, the exchange students from Spain were not as interested in trick or treating as was expected.
"The Halloween day I didn't go trick or treating because I was extremely tired but I would have loved to go," Bernaldez said. Halloween was towards the end of their stay, and being tired could have easily affected their interest in the American tradition.
Another possible reason for the disinterest in trick or treating was that they thought it was weird. Notably, a couple of the exchange students did not even keep their candy, instead donating it to the piles of younger siblings of their host student.
For Gamez, trick or treating was a first, and found himself enjoying the experience, "Trick or treating was a great experience, I never did It, so It was special. I was very excited and I had fun," Gamez said.
American culture is often just seen in movies for kids overseas. The exchange students got to experience first hand a great American holiday just in the short time they were here. Another once in a lifetime experience for many of the students brought forth by the exchange.
4. Don't overbook events during your trip.
It can be tempting to plan a bunch of excursions and jam pack events into the ten days you have with your exchange student. An American crash course seems like an amazing idea, right?
In reality not so much. Traveling can take a serious toll, especially since the students were still adjusting to the time zone in Michigan, causing constant battles with the urge to take a nap.
There is an overwhelming consensus that the students enjoyed the normalcy of how American teenagers lived their life.
Gamez had only good things to say about his experience in America, "I really enjoyed all West Ottawa activities and things so I would recommend all we did," Gamez said.
The exchange students had something planned almost every day of their trip. Bernaldez and other students often expressed their exhaustion during the trip. Bernaldez was often in bed early on school nights and loved getting a good night's sleep.
"If we had school the next day, I would try to go to sleep earlier so I won't be tired all day. I usually ended up being very tired every day but I prefer it like that because we were there to do things, not to be all day sleeping," Bernaldez said.
It is important to listen to your exchange students' wishes when it comes to sleep. They are often suffering from jet lag and sleep is valuable. Who wants a cranky exchange student?
When hosting an exchange student, it is suggested that you find a good balance between on the go and resting. You want to make sure they have fun and see different places, but you also want them to be well rested in order to enjoy their stay!