Minecraft + Friends + $$$ = Fun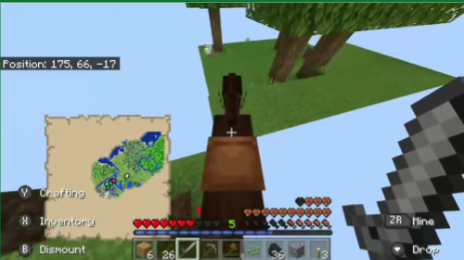 What does it take to run a Minecraft Survival Multiplayer (SMP)? Sr. Mathis Geren said, "It only takes Minecraft and friends." I disagree; it also requires money. 
   It's not that you need money for an SMP to work, but what Geren doesn't think about are the unforeseen costs: Hardware and Software. 
   The lowest-priced hardware that can play Minecraft is the Xbox 360, which launched at $299.99 for the 4GB model, but you can get one nowadays for $60. The lowest-priced system you can play modern Minecraft on is the Nintendo Switch Lite, which launched at $199.99, but you can get one pre-owned for $139.99. 
   The next important part is the software. Minecraft is priced at $29.99 by Mojang, but costs $19.99 on Xbox and PlayStation; however, it's less on mobile:  only $6.99
   Geren said, "You can just run it from a world, and not, like, a realm." Which is true, but running it off of a world is not optimized. You can run into issues where there are five people at spawn you're trying to enter, but the chunks won't load. This is due to chunk loading running client-side because if it ran server-side, they would already be loaded, due to five players being there already. On Realms, you're paying for a server that allows chunks to be loaded quickly if there are people in them. 
   Minecraft Realms is designed for multiplayer fun, but it comes at a price: a monthly subscription fee. All Realms are connected to a club associated with your Microsoft account. There are two tiers to realms subscriptions: Realms and Realms+. 
   Realms costs $3.99/month, with a limit of 10 members to the club; and 2 players on at any time, plus host; however, those are also its downfalls. If I wanted to join a world without the creator, I would like to hang out with at least 2 people. 
   Realms+ is a much better execution, it costs $7.99/month, with no limit of members to the club; and 10 players on at any time, plus host; however, you end up paying $96 per year. 
   The final hidden costs would be the online services for consoles: Xbox Live Gold, PlayStation Plus, and Nintendo Switch Online. 
   Xbox Live Gold costs $10.99 for a month, but only $59.99 for a full twelve. Additionally, there is Xbox Game Pass Ultimate, which is $45 per year. 
   PlayStation Plus costs $9.99 for a month, but only $59.99 for a year. Additional tiers cost more, with Premium costing $119.99 annually. 
   Nintendo Switch Online's Individual Membership costs $2.99 a month, $19.99, for twelve, and $49.99 for a year of expansion pass. Additionally, there is a family subscription for 2-8 Nintendo Accounts. It costs $34.99 annually, $69.99 with expansion pass. 
   When totaling the lowest prices together (Xbox 360 for $60, Minecraft Mobile for $6.99, 1 month of individual NSO for $2.99, and the 30-day free trial of Realms) you get a total of $69.98; however, these are disconnected items and are mostly incompatible with each other. If you went for only Nintendo items, that would get a total of (139.99 + 29.99 + 2.99) $172.97, which is over $70, but under $200 (the MSRP of the Switch Lite). 
   When we look at these numbers from afar, it may seem daunting, but  we need to remember to consider the things we've already purchased when calculating how much something really costs.