WOSWE & Vocalaires Cabaret: Choir members develop deep connection
The last flake of mascara ran down my cheek as Abby Hogan sang the last word of her solo, "Rainbow" by Kacey Musgraves. Nearly every other Vocalaire shared my tears. At this moment, Vocalaires felt like a family. 
   On the weekend of October 14, West Ottawa Select Women's Ensemble (WOSWE) and the West Ottawa Vocalaires went on a choir retreat to Camp Roger in Rockford. I am in both choirs, so I was there for the whole weekend. 
   WOSWE was there for a day and night, and Vocalaires was there for the next day and night.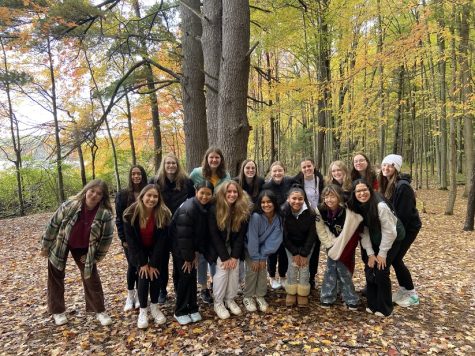 During both of the choirs times there, the choirs participated in their own cabarets. A cabaret is an entertainment show, and ours consisted of everybody singing a solo. Our solos could be anywhere from 30 seconds to a full song length; most sang full songs.
   Before cabaret started, nerves were high. "I was pretty nervous, especially because I decided to play my guitar as an accompaniment for the song. The cabaret was only my second or third time performing publicly with my guitar, and it was my first time using some new techniques," Sr. Anna McCoy (WOSWE) said. It's one thing to perform a solo for an audience, but to factor in an instrument as well brings on a whole new challenge. 
   All of us were given 20 minutes to practice our songs before the cabaret started. 
   "I felt very nervous and shaky, I didn't want my song or my voice to sound bad," Jr. Sarah Drummond (Vocalaires) said. 
But once cabaret started, a new feeling emerged. A true feeling of family.
   "I felt more connected with everyone. We all supported each other equally and learned more about each other through the songs they sang and how they sang the song," Jr. Lorri Deur (WOSWE) said. It was clear that everyone interpreted their songs differently. Some shared a story before their song to explain the significance. Some cried during their performances. Some drew laughter with their songs (in a good way).
   By the time I was done singing at the Vocalaires cabaret, I had three people in tears. This was not a big surprise as the song I sang, "hope ur ok," is a depressing one. Plus, I sang it acoustically with my ukulele.
   "One of my favorite parts was how supportive everyone was during each other's performances. During my song, everyone was swaying along. When someone sang 'Grenade,' we all did the background vocals in three part harmony. For another song, we used our phone flashlights like we were at a concert. It was such a great team building experience, even though a lot of us were nervous," McCoy said.
Each person received wide support after their performances. There was no judgment and it was certainly a wonderful family building experience.
"When Kenzy sang 'Thank U, Next,' we all joined in and I think we all had a blast singing it together," Deur said. At this moment, everyone's worries washed away. Kenzy was the last one to sing at the cabaret, and we all were feeling closer than ever before.
   "Everyone was so talented and it was such a good environment, so it definitely made for an emotional evening," McCoy said. A new level of comfort was reached in both choirs after we showcased our vulnerability for each other.
   The nights of the WOSWE and Vocalaires cabarets are nights that my classmates and I will remember for the rest of our lives. The moments spent being vulnerable with each other were pivotal in the bonding of each separate choir and set strong foundations for the rest of the year.