Friday night to spotlight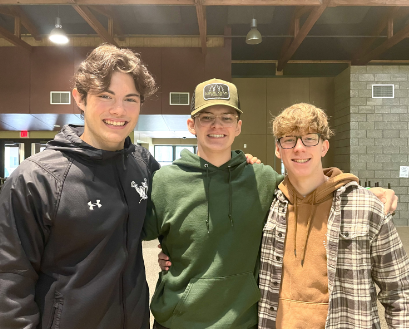 High School Musical lied to us. Students don't break out into song and dance. Pink lockers aren't real. We're not all in this together. At West Ottawa, though, there is one truth: Troy Bolton. Actually, three Troy Boltons. Jrs. Keegan Angel, Noah Carithers, and Mark Cosgrove each struggled to choose between sports and theater throughout high school. This year, though, they made the choice to audition for West Ottawa's production of Elf the Musical. 
   Throughout middle school, Angel, Carithers, and Cosgrove enjoyed performing in the school musical. They also enjoyed athletics. When the boys became freshmen in 2020, Covid-19 precautions deemed the musical as an unsafe activity. It was canceled. The boys wanted something to keep busy in the fall, so they joined the football team. The following school year, West Ottawa administration deemed the musical safe again. The boys had the opportunity to audition for the 2021 musical; they faced a choice, though. Both theater and football require a massive time commitment. They couldn't do both. That year, they ended up choosing football. The theater community missed them, but the football team was lucky to have them. Fast forward to another school year, Angel, Carithers, and Cosgrove had every intention of playing their 2022 football season. For various reasons, though, the boys decided to forfeit their time on the field and take the stage in Elf the Musical.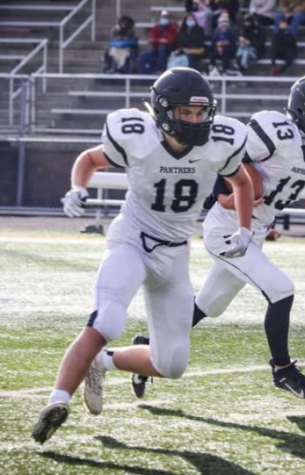 Going from football to theater may seem like a large shift. At first glance, the two are opposites. However, the boys agree that football and theater have many similarities. Both extracurriculars share a teamwork aspect. "In both cases, a group of individuals is working incredibly hard with one another to create a hopefully flawless performance, which is never possible, but always the goal," said Cosgrove. Athletes and actors can't be successful without teamwork. "Both require everyone to know exactly how to play their part or else everything will fall apart," said Carithers. After auditions for Elf the Musical, Carithers earned the role of Walter Hobbs. As a leading character, Carithers has many lines. He understands the importance of learning and reciting his lines perfectly; his fellow actors, soundboard, pit director, and backstage crew depend on those lines as cues for their jobs. For example, the backstage crew knows to draw the curtain when they hear Carithers say a specific line. Similarly, a running back can successfully carry the ball after the offensive line does its job correctly; each offensive lineman must carry out his specific blocking assignment to create a hole for the running back. Without teamwork, everyone loses. "If an offensive lineman misses a block, the play is blown up. It's just like how if someone forgets a line or forgets a dance move, everything falls out of rhythm," said Carithers.
   After the boys replaced football practice with rehearsal, they recognized the nostalgia of being back on stage. "I grew up in West Ottawa theater. Getting to do a show again feels like coming back to my roots," said Cosgrove. The boys enjoyed reconnecting with the theater community, too. Carithers said, "I love a lot of guys on the football team, but the theater environment is like nothing else." The people involved in theater make that difference. "Everyone shows such support for each other," said Angel. Importantly, the theater community's dedication and passion make it a special place. "Everyone there understands each other. In football, you might have a guy here and there who doesn't really want to play or is being forced to play. Everyone in the musical is there because they love it and want to perform," said Carithers. He fondly remembers the last show he, Angel, and Cosgrove performed in: Shrek the Musical Jr. The boys were seventh graders at the time. Their stage presence, vocal ranges, and overall confidence have continued to grow since then. Although their middle school performances were impressive, the boys will be in their prime in Elf the Musical.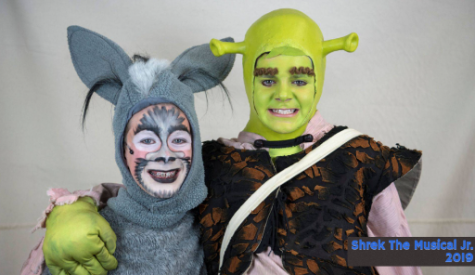 On the football field, Angel, Carithers, and Cosgrove have felt the love from the West Ottawa community. After all, thousands of people pack into the stadium stands every Friday night for the Panthers. The boys know, though, that theater draws much less of a crowd. "I believe that the musical deserves the same type of attention. We do something that deserves to be seen," said Cosgrove. Every person involved in the musical spends countless hours developing what the audience sees each night. This includes perfecting every detail on stage and backstage. Most strikingly though, West Ottawa does it with bold, incredible talent. Angel said, "Overall, I think that partaking in the musical is super nerve-racking, and it takes a lot of courage. The best thing about [West Ottawa's] musicals is the pure talent that our peers possess. It is so fun to watch and listen to the amazing talent that is in our classes that we would never get to experience otherwise." The boys urge the community to come see the talent for themselves. They know that not everyone loves theater, but just as Carithers said, "a musical has something for everyone." Come and see what that "something" is for you, especially if it's watching these athletes become actors. 
   Come to support Keegan, Noah, Mark, and the rest of the cast in Elf the Musical this November! Use the link below to get your tickets now!
https://search.seatyourself.biz/webstore/accounts/westottawa/buy-tix?landingMessageSeen=true#evt=663B758253E1FEB63E51CC8A79D58C43&sc=2&sp=ANY&tab=select-event