A sport lost at sea
The freshly waxed hull of the boat glided over the turquoise water like a torpedo barreling across the strait of Hormuz—with confidence and a killer instinct. Of course, winning the race would take more than a killer instinct. West Michigan is notorious for fierce sailing competition, annually hosting prestigious regattas that draw talent nationwide. This race was no different. Sunlight glistened over the Chicago skyline, and the breeze funneled through the concrete jungle. Tactically positioned, West Ottawa was poised for a photo finish at the "away game" regatta. The sheets lashed the sailors' hands, and the wind howled in their ears. The line was closing in. In a final stand, the crew shifted his weight as the skipper maneuvered their course. Inches apart, West Ottawa jibed their main to propel forward. The air horn sounded. The line was crossed. West Ottawa took second.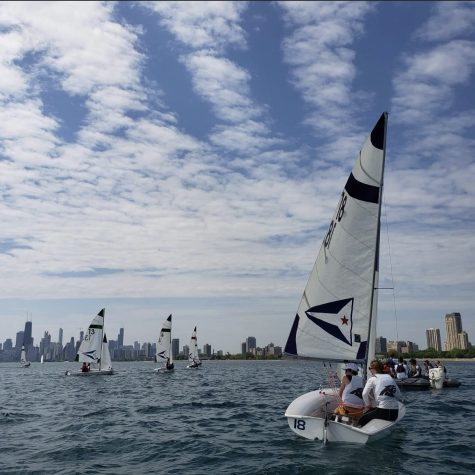 It's no surprise a community surrounded by water would find harbor in the sport of sailing, but it may come as a surprise how little recognition West Ottawa's team receives. Even with strong finishes in races from Traverse City to Chicago, many students are unaware the school has a team. While other schools in the Holland area have varsity sailing programs, West Ottawa does not. In fact, of the three schools that practice in coordination with Macatawa Bay Yacht Club, West Ottawa is the only school where it is a club sport. However, becoming a varsity sport is not a walk in the park. "It's quite a lengthy process," said West Ottawa Athletic Director Bill Kennedy.
   "Take for example rugby. Probably the best example, rugby, is still classified under a club sport. They've been in existence for nearly 20 years including winning a couple state titles," Kennedy said. "There's a couple of factors that go into it. The first and most important is getting coaching positions added to schedule B— that's part of the teacher contract that has to be negotiated by the unions. Coaches have a whole bunch of things they have to go through. Within the district they have forms, fingerprinting, and continuing education every year." He continued, "Any time that we have a varsity sport, they have to go through a 'Coaches Advanced Placement Program,' which is all run through the MHSAA, which includes things to look out for and things to be aware of." West Ottawa is in year two of the three-year union contract. 
   Despite the boundaries, sailing offers a unique advantage. One of the benefits being the co-ed nature of the sport. MBYC takes pride in having a phenomenal talent pool of female sailors. Last year, the organization hosted an all-girls clinic with a U.S. women's singlehanded champion. While many sports have gender-exclusive programs, sailing is a true co-ed sport. 
   West Ottawa graduate Caitlin Derby is continuing her passion for sailing at the collegiate level. "Sailing has given me the opportunity to travel to a lot of amazing places and also meet a lot of great people," Derby said. "I've been coached by really talented people like Chris Rast, a former Olympian, which was a great learning experience. Now in college, I'm able to sail alongside prestigious schools and compete at high level collegiate events." 
   When reflecting on how high school sailing prepared her for collegiate sailing, Derby acknowledged, "I don't feel like high school sailing really did prepare me for college sailing. College sailing is a completely different playing field from high school sailing. At the college level, you're sailing against some of the top sailors in the nation. There are people competing who have won national and even international events. The competition level is way higher than it is against local Michigan high schools."
   Despite the transition, Derby is an advocate for her alma mater, "West Ottawa should have more resources for sailing. Even if people don't want to compete in sailing, just being able to learn how to sail is a great skill. It gets people outside and on the water. You learn about knots, wind, weather, and even physics. I think everyone should be able to try sailing at least once in their life. The problem is sailing is a sport that is not accessible to everyone. However, by providing resources and opportunities, people would be able to have that chance."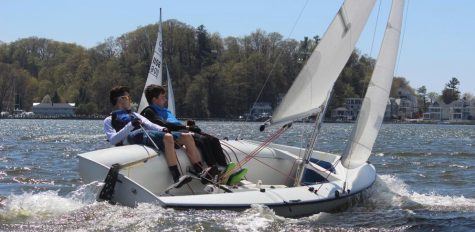 Nevertheless, building a culture in sports establishes a community. Recently, West Ottawa has made that investment in the football program.
   "My goal was to give our student-athletes the best high school athletic experience they can have." Athletic Director Kennedy said. "The number one thing that had to happen was going to be facilities. Our old facilities were ancient and substandard compared to our league. I think we've taken care of that," Kennedy said. In turn, the program has seen tremendous success from the recent infrastructure development.
   When looking at our athletic culture, the influence is "Massive, and you are starting to see it," Kennedy continued. "Success breeds success. You start to see success by program and you want to be part of that success and you want to continue that." 
   Just as investing in football has paved the way for the program's success, investing in sailing's success would pave the way for fostering an athletic community. 
   West Ottawa Sailing is at a point of inflection. The main obstacles facing the program are awareness and financial support—both long-standing difficulties for the team. However, there may be some hope for the program's woes. "In order to compete in the OK Red we have to get kids participating," Kennedy said. "Things like Panther Pathway and the Panther Fund breaking down those barriers to participation are huge." These outreach programs, while positive, take time to develop. Nonetheless, the team continues to achieve despite being a club sport. In a school that is an exemplar of public education, West Ottawa Sailing is determined to grow.