West Ottawa needs a bowling team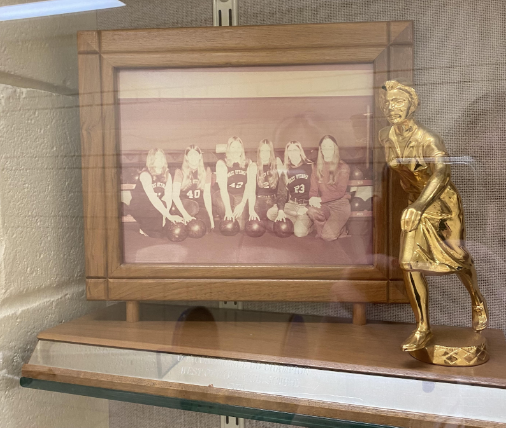 Schools around West Ottawa, including Zeeland and Hudsonville, have bowling teams; however, bowling isn't offered at West Ottawa. Let's make it 30 sports 1 team?
Past bowling at West Ottawa
   As I walk down the gym hallways, I notice the old photographs of previous sports teams. In the very last row of images, I spot a photo of a bowling team. The image is from 1973. This makes me wonder if my school, West Ottawa, offers a bowling team, the one sport I truly love. The sport I have been in since I was seven years old. The image is of women who attended West Ottawa and were O.K. Red Conference Co Champions in 1973. I look further into this and peek at the West Ottawa Hall of Fame. As I was perusing the website, I noticed a person with bowling as one reason they were inducted. 
   The last known West Ottawa Hall of Fame inductee known for bowling was the 2001 graduate Margo Jonker. Jonker is a retired coach at Central Michigan University. She coached softball for 31 years and even got a stadium in her honor. She is the only one listed for bowling in the Hall of Fame. Bowling can be seen as a weird sport, but that doesn't mean that no one likes it. There needs to be a bowling team or club option offered at West Ottawa. 
Benefits of bowling
   West Ottawa is known for its tremendous amount of clubs and sports offered. There are 29 Varsity sports at West Ottawa. The saying WO presents is, "29 sports 1 team." This is true WO is one team, but 29 sports really? The benefits of bowling will affect West Ottawa. It's no secret that bowling is a great pastime for kids to blow off steam and share fun moments with their friends. But whilst bowling is definitely fun for individuals, it's also very beneficial to children's self-esteem, math skills, and social skills.
   Bowling can help your child develop crucial hand-eye coordination and depth perception. With the score keeping, kids can practice their math skills. Even though most bowling alleys have automated counting, kids still end up counting pins and judging angles to figure out the best move. Not only is bowling reliable for developmental skills, bowling is an entertaining environment for kids to just be in. 
Personal Experience
   I was struggling to find a sport where I belonged until I found bowling. Bowling isn't just a hobby many find as a family activity it's a passion for people worldwide. Standing at the forefront of the social society captivated by all the options and opportunities West Ottawa sports provides. Which to choose is the pondered question in the mind, but the deep thoughts that stick, the fear that none of the sports are right, they are missing something. 
   I have received offers from Zeeland to bowl for their school, but I turned them down because of my loyalty at West Ottawa. Having to give up one of my passions just because my school doesn't offer it. I could have gotten many great opportunities from Zeeland if I were to bowl for them. Despite that, I decided to not bowl for them and continue bowling for the youth league held at my local bowling alley. 
   West Ottawa would be more known if they offered bowling. Students would have different opportunities to strive from bowling at West Ottawa. Bowling at West Ottawa would make it "30 sports 1 team," and not just 29.