Gabrielle Reynolds: She's all that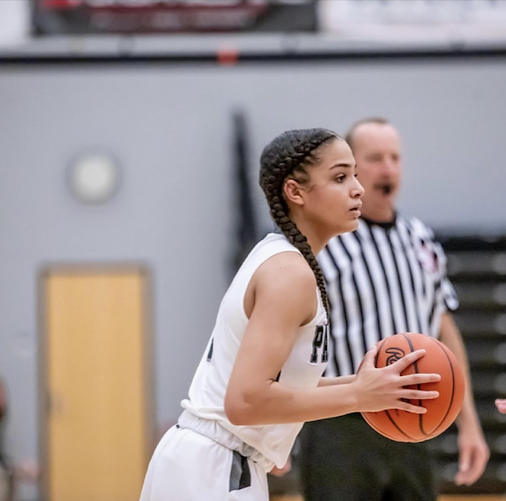 Reaching her arm out to her teammates to receive a high five, Gabby Reynolds was running back to play defense. Reynolds scored her final two points off an assist from her teammate Alyssa Karner to put their team up 67-32 in the fourth quarter. Grandville, frustrated, called a time-out after the West Ottawa freshman scored her 33rd point. Setting a new record for West Ottawa with the most points scored in a game for women's basketball, Reynolds became a threat to every team in the OK Red Conference. 
   Reynolds, now a junior, is highly known for her past two years playing the sport that she loves. With her being a very good athlete, most people don't actually know Reynolds, they simply know her image as the "basketball star". Athletes like Reynolds obviously have a very high work ethic, but often have an inflamed ego. Reynolds is a highly skilled athlete, with a work ethic unlike her peers, but she still remains humble with great character. 
  Jr. Brooke Pederson is a good friend and teammate with Reynolds. When Pedersen was younger she would play little league basketball for West Ottawa with some of her classmates. She's played with Reynolds since middle school, although her first meeting with Reynolds has stuck in her mind all these years later. "In a third grade little panthers game, I met Gabby for the first time. She wasn't playing on my team, but she came to support Sami (a member of Pedersen's team) from the stands." Pedersen explained. "We were playing a team that only had five players, and they really struggled. When we were up 60-0, one of their players got hurt. I just remember Gabby coming down from the stands in her ripped skinny jeans to be their fifth player," Pedersen said. 
    Reynolds knew that she could help and took it upon herself to walk down those stands and tell their coach that she could be their fifth player. Even in her skinny jeans, she played just as hard as she does today. 
   Reynolds will go from school basketball practice, then go practice with her personal trainer after. She spends over 4 hours after school in the winter solely dedicated to getting better at her skills for the sport that she has been in love with for many years. On certain days, Reynolds will lift with her dad and brothers before school. 
  Girls Varsity basketball coach Paul Chapman, has been coaching Reynolds since her freshman year in high school. "It's obvious that Gabby is a really good athlete and player, although what impresses me the most about Gabby, and this deals not just her as an athlete but in all around character, she's so humble." Even though "she's a really super athlete, she's really humble, and she treats other people really well," Chapman said. 
   Reynolds plays for the national level team at Michigan Basketball Association (MBA); they travel around different states for tournaments. People who've heard of Reynolds often mistake that she is solely a Winter sport athlete, but that's not true. Reynolds trains and practices all year round, either on her own or with her MBA team on top of the school season. It's hard to balance time for both club and school basketball, because it sometimes collides with one another in the summer, but she makes it work. "Gabby comes to every single thing that we do in the off-season (even though she travels around for MBA) and encourages other people and things of that nature," Chapman says. 
   Reynolds would come back from tournaments that lasted hours, would wake up early in the morning, just to come back and play practically the entire game with her school team. On top of that she still seems to do well in school. With all the time and effort she puts into basketball she carries that same effort into her school work. She is taking IB courses and has gotten involved in other clubs at West Ottawa. 
   Lyndsay Cherry is an assistant principal here at West Ottawa. When Reynolds was a student at Macatawa bay middle school, Cherry used to teach English at Harbor Lights middle school. She knows Reynolds from her club in Tomorrow's Leaders. Reynolds would walk over from Mac Bay to Harbor Lights after school to come and attend the meetings. "She is just such a thoughtful person, and she thinks about others. She wants to know more about the world and the world around her, and how she can make a big impact." Cherry says. 
   "One thing I remember from last year is she really wanted to help a staff member out. So she found out a need for a staff member and she wanted to do a go fund me page for that staff member. Gabby did this so that her peers would be able to donate and to provide that need to the staff member." Cherry explained. "That just showed me that she thinks about others all the time, she's always willing to help out wherever the help is needed and if she's available. I'm just excited to see where she is going to go, and how she's going to make an impact on this world because it seems like that is what her drive is." 
   Reynolds enjoys helping out people around her, she takes time out of her day to try and help others. She wants to make an impact on the world, so people can live better lives. "Drive to be better and drive to the basket," says Reynolds.