A trove of old photos serve as a portal to the past
    I stumbled across a time machine in room 116 that took me back to the 1950s and early 2000s. I discovered food-eating contests, fashion shows, and sumo wrestling. 
 All right, all right I didn't actually go through a time machine but I did discover pictures of West Ottawa high schoolers from past years. 
   Since school is coming to an end, Journalism teacher Ken Strobel started cleaning out the cabinets. He found a box full of journalism photos of West Ottawa high schoolers. After rummaging through the pile of photos, I picked the most interesting photos. Through my eyes, these teenagers lived the cliched High School Musical lifestyle. 
Homecoming 2003-2004: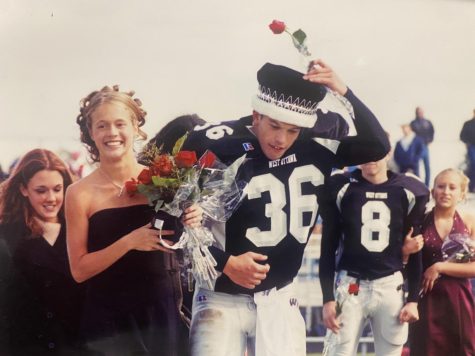 There is a bin titled "Journalism Archives" full of Walgreens one-hour photo lab envelopes. One of the envelopes has "HOMECOMING" written on the photo cover in Sharpie. The receipt is still on the envelope, these images were produced on December 6, 2003.
 From my perspective, these pictures look surreal. Everyone is having fun and laughing. The students participated in so many crazy and "unusual" activities we wouldn't see during homecoming week today. Despite the many differences, traditions do continue to carry on. 
   Spirit week is by far the most traditional event that takes place at almost every school. Spirit week makes school fun, gives students a chance to be creative, and shows school pride. In 2003, confidence shines through the images. Everyone is "overly" dressed and participating. Today if you are "overly" dressed, you might be considered the odd one out. In these images, the school spirit was off the charts. From the over-layering clothing to the crazy hats and bright colors. Some of these styles are making a comeback in 2022. 
  Homecoming activities are the most popular part of homecoming week.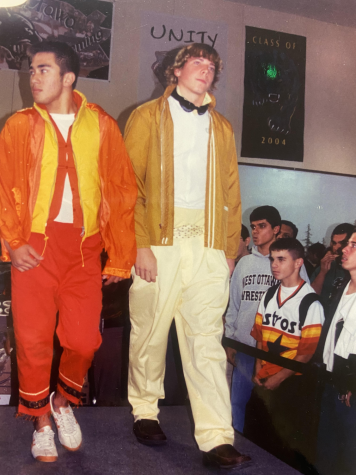 At the former high school, they hosted a fashion show for an activity. Two students are presented on a stage with snazzy outfits with students in the back observing. As tradition continues, West Ottawa still carries the tug of war challenge. Tug of war now takes place inside the gym, grade versus grade. 
   On the last day of homecoming, there is a homecoming assembly that takes place in the gym with activities, mock rock, and dancing. The assembly tradition is still alive today. 
There is a big dance circle where everyone looks like they are having a high school dance scene moment. From the London Tipton hats, low-rise jeans, and the cropped tanks. 
   Pie in the face, Sumo wrestling, and food-eating contests are activities I found the most interesting and entertaining. In the present time, we have a teacher pie in the face but nobody participates and it's the same teachers every year. If we involved students everyone would get more involved and it would be entertaining.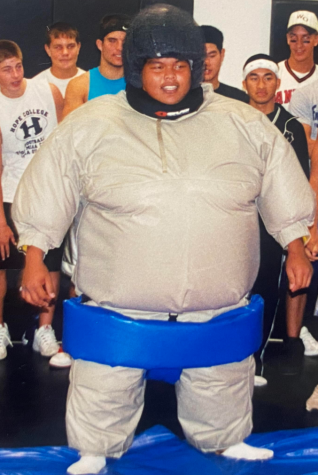 Sumo wrestling in big sumo suits sounds like a blast, minus the part where injury could occur but, there can always be new rules. Could sumo wrestling make a comeback? 
  Food eating contests looked like a blast, the class cheering for you while you shove food down your throat. These contests will not be making a comeback. There are just too many dangers, it was fun while it lasted. 
   A perfect way to end homecoming week is by becoming homecoming queen/king. The queen's look is so 2000s. The sleek black classic tube top dress with a dainty silver necklace is to die for. Her hair puts the whole look together, the updo with tight curls. Today, we would brush the curls out but her fit is still a look. 
Sports:
West Ottawa high school has the saying " 29Sports1Team" and the phrase has been going around for years. Uniforms have changed drastically throughout the years and tradition still lives. 
I picked photos from every album of each sport. These images do not have a certain year set. 
Starting with track: The uniform included a classic black and white tank with West Ottawa written in fancy font paired with plain black shorts with lettering. Now West Ottawa has under armor WO tanks with nice fabric and matching spandex shorts to pair. 
Basketball: The boy's basketball team looked like they accomplished a win against another team. Everyone is hugging each other with excitement. 
 The male and female uniforms were both baggy. Today it's a trend to roll your shorts up 5 times to have a tight-fit look and feel.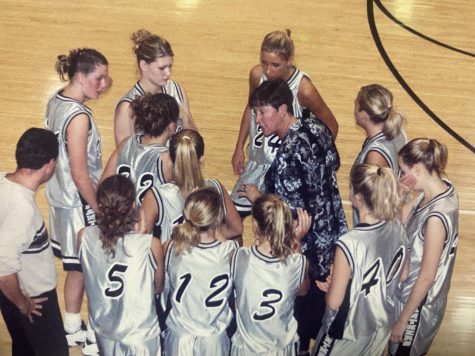 The girls back then had silver retro-looking tanks with matching shorts to pair while guys had the classic black and white set with West Ottawa across the chest and number below. Today, girls and guys have under armor attire with the classic West Ottawa across the chest with their number presented underneath. The only difference is the tighter fit.
Girls Tennis: The tennis team seems to have won a big medal and the tradition continues. These images look like they were taken on a disposable camera. Today, students purchase cameras to have the same effect that these images produced. 
The uniforms did not drastically change. Back then the team would be seen wearing white skirts with a black tank with white outlining. Today, it's almost the same. They change it up back and forth but can be seen wearing a black and white skirt with a black tank.
Football: West Ottawa is in the endzone, seems like he caught the football and scored a touchdown. West Ottawa has always kept the uniforms classy with the black and white jerseys and gray helmets with the panther. In 2021, the football team received new helmets and uniforms. The uniforms have a red accent that represents West Ottawa's third color. 
Sideline Cheerleading: On the sideline, there are megaphones and pom-poms that the cheerleaders still use today. The megaphones are still in good condition but the pom-poms are falling apart every year. 
The girls are wearing long-sleeved uniforms and scarves while cheering. Today, the cheerleaders wear cross-over tops and short skirts. When it is cold they put on matching coats and warm-up pants.
After exploring the piles of images, there were many similarities and differences from the late 1900s to present day. One day, West Ottawa can consider bringing some of the activities back.