The fluttering fiasco: Ducks take over the north building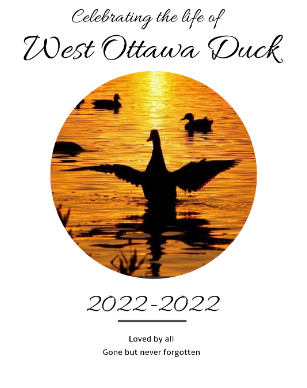 The silence on main street was broken up by a loud beep. Seconds later, students poured into the hall. One by one, students formed a crowd. They couldn't believe what they saw. 
   Between second and third hour on Thursday, May 12, ducks stole the attention of students at the North building. Students watched in shock as a mother duck and her ducklings made their way through the main hallway, supposedly from the courtyard. Quick to pull out their phones, students documented their experience on social media. 
   For Soph. Max VanGrouw, the experience was anything but ordinary. "I noticed them when Archie told his friends that there were ducks on Main Street. Everyone was staring and pointing up at them, like in the stereotypical Superman movies. A bunch of people were taking pictures and videos. No teachers in sight," he said. 
  VanGrouw mentioned he only saw ducklings, and not the mother. "I was trying to figure out how they had escaped from wherever they were being kept. It's definitely not something you see every day," VanGrouw said. Surprisingly, VanGrouw said no faculty or security was on the scene. 
   Ryan Lancaster, head of West Ottawa High School security, gave some background to the incident, "This mother duck seems to land in our courtyard every year to hatch her brood. Without food or water, they do not last long," he said.
   For some other students, the whole experience was fairly mundane. "My whole experience with the ducks was pretty bland. I really just walked past them like it was every other day. I was like 'Dang, there's some ducks. That's crazy' and just walked away," Soph. CJ Guillermo said. 
   Jr. Joe McNutt heard the news of the ducks almost instantly. "I noticed the ducks being posted on social media stories from my friends, and they all found it quite funny. It started with my friends showing me videos of the duck walking throughout the north building, and then showing me videos of the mama duck flying around main street," he said. The experience provided McNutt with some comedic relief from the stresses of another morning at West Ottawa High School. "My initial thoughts were that it's odd that there are ducks in the building, but it was also funny at the same time," McNutt said. 
   Unfortunately, tragedy struck the north building shortly after. Somehow, the ducklings and mother duck were separated. The mother duck found herself on the rafters of main street. Students watch in terror. "I only walked by in the middle of the hour, but I saw a mama duck perched on the beams above the WoZone. She took off shortly after I walked under where she was sitting. The duck flew directly into the window at the end of main street and fell straight to the ground," Sr. Josh Elwood said. 
   The whole experience was traumatizing for some. After Sr. Kate Roudebush heard the news, she couldn't believe it. "I didn't think much else of the ducks until 4th hour when I heard terrible news. The mother duck had been startled, flown into a window, and fallen from the rafters to its demise. I was so distraught to hear that the duck had died," she said.
   According to Lancaster, the rest of the ducklings were chased out of the building by a groundskeeper during passing time. Due to the relative harmless nature of the animals, no real animal control was needed. "Generally, we lean on law enforcement, like the DNR or Animal Control. Being no threat to the student body, this was so low level that both organizations opted to leave it to our own devices," he said.
   Lancaster mentioned how he wished for a different ending to the events on Thursday. "Our idea was to provide food and water until they were old enough to leave, as well as give students a glimpse of how to care for wildlife. That was quickly dashed prematurely by our overzealous groundskeeper," Lancaster said.
   Despite the sad ending at West Ottawa High School that day, students  remember the ducks fondly. For them, they were and will always be family. "Even though she had just been in the building for a short time, it already felt like she was a part of our WO family. I'm still grieving the loss of the duck," Sr. Kate Roudebush said.
   Rest in peace mother duck. Gone but never forgotten.