Live from Good Morning America (You know, after we go viral)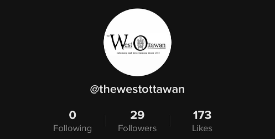 "So Emily, what inspired you to make a TikTok account for your school newspaper?" Robin Roberts said.
   "Well, the idea originated from my dear friend Abagayle Hogan. We were coming up with a good article idea, and we wanted to do something no one had done before. Because of the great popularity of TikTok, we decided to make an account promoting our school newspaper."
   A couple of weeks ago, I set out with a goal to boost the audience reads on our beloved school newspaper, the West Ottawan. To accomplish my goal, I made a TikTok account (@thewestottawan) promoting our website. I chose TikTok as my advertising platform because of the major success and popularity the app has given people throughout the past couple of years.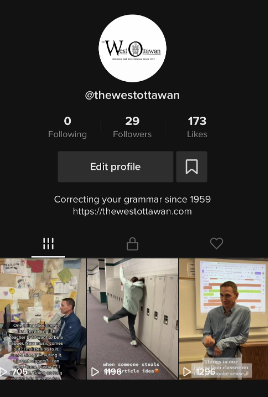 We first put a link to the West Ottawan in our account bio so people could get there easily. Then, I, (with the help of Abby Hogan) made three TikToks in three days. The goal of these TikToks was to showcase the fun(ny) side of journalism class. 
   The first TikTok of the three was one entitled, "Things in our journalism classroom that just make sense." The song, "Che La Luna" by Louis Prima was playing in the background. This TikTok showed Abby and me showing our "chef's kiss" hands in front of multiple places in our classroom. For example, we showed the whiteboard in our room that has labeled rows of writing categories. (Under the categories, we can put an article of ours that we want to be nominated for different writing contests). We also added a comedic kick to the TikTok by showing a hole and stain on the ceiling at the very end.
   The second TikTok we made had a scream-crying audio in the background. Other TikTok users use this audio to show something specific that annoys them. In our version, we took a video of Abby slamming into a locker and me falling off of a chair (because we're "annoyed"). Text displayed on the screen twice; the first text said, "When someone steals your article idea" and the second text said, "When Strobel doesn't approve your article idea." Us journalism students know the pain of finding and keeping article ideas.
   We even got a mean comment under our second video. User "tdog2_0" commented "cringe." We found this comment funny to be completely honest, but took charge and deleted the comment.
   Our third TikTok was a silly video focused on Instructor Ken Strobel. The premise of the TikTok was to show that Strobel wanted to be a rapper more than he wanted to be a teacher.
   Within 24 hours, the first TikTok video we posted accumulated a little over 400 views, a statistic we were not expecting, but were really happy with. The other two videos also gained views and likes quite quickly.
   After looking at the total number of article reads on thewestottawan.com from April 25-27, it was shown to us that not at first, but after April 27 there was indeed a big spike in reads, the biggest spike on our website in April. It would make sense that this spike came from our TikTok videos; a day or two after we posted the third video (April 27), our videos greatly grew in popularity and so did the reads on the website. 
   Overall, the first video reached 63 likes and 1,256 views, the second video reached 59 likes and 1,176 views, and the third video reached 48 likes and 691 views. With this many people interacting with our TikTok videos, it is almost no doubt that these people caused the spike in our website reads. Our goal was reached! Make sure to check out our TikTok account (@thewestottawan) for journalism fun and website promotion!