The Laker Challenge: A step toward greatness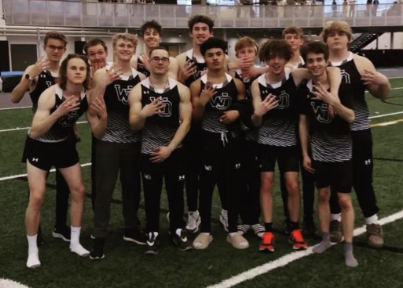 As Soph. Aaro Tikkanen sprinted tight to the curve of the Grand Valley track, he found himself pinned behind a group of runners within the last hundred meters. He wasn't in a bad position, but it wasn't an ideal spot for the relay team. The baton went off to Sr. Isaac Easter, who held his own for the first two-hundred meters. And, to everyone's amazement, Easter caught three whole runners as he flew down the final stretch, taking a firm first place lead. West Ottawa athletes erupted in cheers, and other spectators were left stunned.
   It goes without saying that the West Ottawa track team has been down on their luck for the past few years. The athletes had kept a continuous zero-win streak for 3 years, and the attention put towards them diminished not only in peers' eyes, but also funding. But after a significant overhauling of the coaching staff last season, and a sudden turnaround in the levels of energy and passion put forth towards the sport by coaches and athletes alike, exciting results are beginning to arrive.
   The most determined of runners dedicated themselves to an arduous indoor season, with impressive results. Many athletes worked five days a week all winter, when nobody was watching, and there was no spotlight to revel in. Sprinters worked day in and day out flying up and down the hallways, jumpers focused on plyometrics in the South hallway, and pole vaulters spent countless hours setting up and breaking down an entire indoor pit and runway.
   The indoor season was a quiet grind; and while athletes were training on school property, they were also making moves at indoor meets, cutting down their times without any eyes on them.
   But now, it's their time to shine. The final indoor meet that preludes the outdoor season, The Laker Challenge, hosts 27 track teams from all around southwest Michigan. During their time there, West Ottawa athletes had an outstanding performance.
   West Ottawa's strong suit for the past few years has been field events, and athletes stuck true to this at the Laker Challenge. Isaac Easter came in second overall in the long jump event, with a jump of 21'1", just an inch and a half behind first place. Soph. CJ Guillermo and Soph. Bryce Buckner also performed exceptionally well, with jumps of around 19 feet. West Ottawa long jumpers are now ranked 3rd overall in the indoor season.
   Jr. Lucas Lesher tied for 4th in the pole vault with a jump of 13 feet, which is just 3 inches under a state qualifying jump for the outdoor season. Lesher also threw a shot put throw of 42 feet and 3.5 inches, placing 13th out of 95 throwers. Lesher never fails to impress on the field.
   Sr. Dylan Ploeg stunned everyone last season, coming out as a total newbie on the track and casually jumping just under 6 feet in high jump, which is an outstanding feat. Ploeg quickly cemented himself as the premier high jumper, with Sr. Jackson Kuyers not too far behind. Ploeg placed 7th overall with a jump of 5'10", and Kuyers placed 12th with a jump of 5'8".
   It's clear that West Ottawa's track team is largely dominant in field events, but that doesn't mean they're any less dominant while on the track, either. There were excellent performances in all sprint events, but a few races stuck out.
   The West Ottawa 4×300 relay, consisting of Isaac Easter, Aaro Tikkanen, Ben Monger, and Ruben Esparza, shocked everyone with a blazing fast race. Tikkanen started the run off strong as the first leg, establishing a solid spot within the race heat. Easter came through as the second leg, passing three runners in the home stretch before passing the baton to Monger. And from there on out, their victory was in the bag. The relay team destroyed their heat.
   "Easter was coming in hot, and I needed to get over so I could receive the baton. There was a dude from Lakeview in the first lane, and I told him to move. Needless to say, he did as told," Monger said.
   The relay team ended up placing 4th out of all teams, performing nearly on par with powerhouse schools like East Kentwood, Zeeland West, and Rockford. West Ottawa finished only 0.42 seconds behind Rockford's team; and coaches theorized that if they had run in the same heat, West Ottawa would have caught them.
   It's clear that the track team has reinvigorated the passion that it once knew. The energy present in the team is more than it's been in many long years, and not only are the athletes excited, but so are the coaches. As the season progresses, records will only improve, and spectators will continue to be stunned.