Winning has become a habit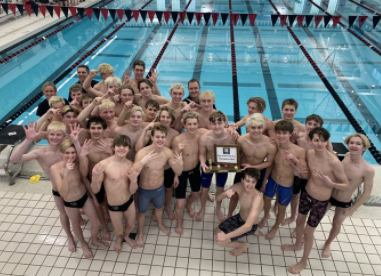 When walking onto West Ottawa High School's pool deck, one wouldn't realize all the great accomplishments that had been achieved there. It looks like every other pool, with eight lanes and an area for diving. The pool is smaller than competing schools, and the stands seat fewer people. But in the early morning and late afternoon in the dead of winter, a team swims lap after lap. A team that hasn't lost a dual meet in seven years.
   For nine years, the West Ottawa Boy's swim and dive team has not lost a conference meet. They're so good, it's needless to ask, "did they win last night?" West Ottawa fans already know the answer.
   On February 26, the team won their ninth straight conference title. They dominated the relays, placing first in all three, scoring major points. Sr. Kevin Maas placed first in the 100-yard freestyle and the 200-yard individual medley. In the 500-yard freestyle, Joseph Engle, Brody Menghini, and Reese Jungblut placed first, second, and fifth, respectively. In the end, West Ottawa scored another win, gathering a total of 435.5 points. They beat second place Hudsonville by 40 points. 
   Though the West Ottawa community has gotten used to winning, it wasn't always this way. In 2014, the beginning of the winning streak, Rockford was favored. In the 200-yard freestyle relay, Rockford was disqualified for an early start. The West Ottawa boys took the lead and won after Rockford gave up those crucial points. 
   Charles Dorn was on the 2014 team. He remembers checking the score on deck using the app Meet Mobile. "I remember watching the results on Meet Mobile before it had been announced that Rockford had been disqualified. We were all shocked to see Rockford had been disqualified and after that everyone was really excited to see how the last few races turned out," Dorn said.
  The first win was a great accomplishment for the team and head coach Steve Bowyer. "I've been coaching here since 2006 for the boys, so obviously from 2006 to 2014 was a lot of work trying to get to that point to where we could compete for an OK Red championship. It was cool to see that all come together," Bowyer said.
   Though the first win will always be special, that doesn't discredit the accomplishments of winning eight more in a row. Each year brings a new group of swimmers with challenges and talents. "Every year there seems to be different challenges, different obstacles, different types of adversity that you need to overcome, so I think they're all special in their own way," Bowyer said.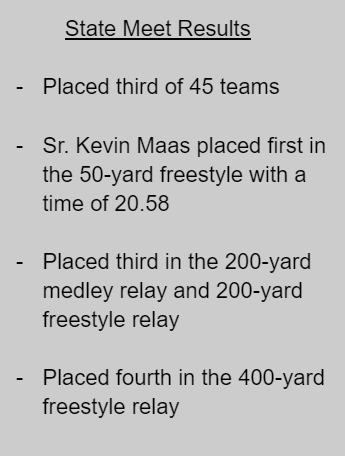 Since 2014, the team has put in work every season to keep up the winning streak. They practice up to eight times a week from November to March to make sure they're in top shape.
   "Obviously there's a lot of talented athletes but I think coach Steve Bowyer, along with all of the other coaches, do a great job of making sure that the team and the athletes are performing at their best," Dorn said. 
   Kyle Maas, who was a sophomore on the 2014 team, believes that the training from Bowyer helps the team succeed. "I think Steve Bowyer's training plays a big role in the team's success. Consistently getting good results at the end of the season is not easy. You see a lot of teams miss their taper at the state meet but West Ottawa has always been known to have great time drops when it counts," said Maas.
   With each season, the team changes, but their success doesn't. "I think it's awesome to see how well the team has continued to perform. When I was in high school, I don't think we ever talked about a win streak. After so many years of consistently good teams, the win streak is a cool reminder of the continued success," Maas said.