Billie Eilish concert exceeds expectations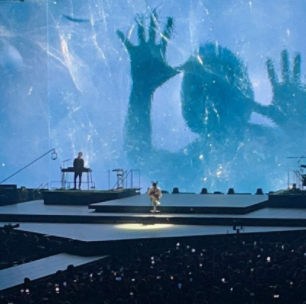 "WHAT?!?!" McKenzy and I shouted as we turned to each other and screamed. Billie Eilish was about to sing a song that wasn't on her concert setlist; a song that we dreamed about hearing live for years, "i love you." Tears filled our eyes as we sang our hearts out, knowing this moment wouldn't last forever. We knew that we would never forget the feeling of this moment.
   On Saturday, March 12, we attended Billie Eilish's "Happier Than Ever The World Tour" concert at Little Caesars Arena. Before the concert, we wrote down five expectations. After the concert, we wrote about what actually happened with these expectations.
EXPECTATIONS
Good Fashion: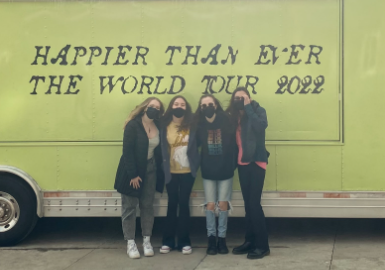 At most concerts, the crowd tends to dress to impress. People like to look their best for the artist who's performing, "What if the artist sees me?" At the Billie Eilish concert, we're expecting to see great fashion, especially from other Gen Z members. This fashion may include the best Nike's, colorful flared pants, crop tops, fancy jackets, good jewelry, and much more. For example, McKenzy is going to wear her new flared leggings, a Billie Eilish t-shirt, brightly colored neon Nike's, and her Billie Eilish necklace. Emily is going to wear black mom jeans, a green and white patterned tank top, Nike Air Force Ones, and her Billie Eilish necklace. We expect to see people dressed to impress, just like we will be.
Fan Interaction from Billie:
Just from seeing multiple videos on TikTok and the internet, we have already seen a lot of tour content from previous shows of Eilish's tour. This has included videos of interaction between fans and Eilish herself. For our concert, we are expecting nothing less. From what it seems, Eilish is purposeful when talking with fans during her concerts and tries her best to make her concerts feel fun and like everyone is a part of a big family. With crowds of over 20,000 people, it can be difficult. From yelling at both fans and their parents to "Get down!" during the song "Oxytocin" and "COPYCAT" song mashup to responding back to a girl saying, "I love you!" Eilish makes sure to keep her crowd engaged. 
Wide Variety of Merch:
People are going to want to show up and show out for Eilish; a good way to do this is by repping her merchandise (merch). We are expecting to see all kinds of merch. This may range from shirts, necklaces, sweatpants, socks, hats, sweatshirts, and even self-made merch. By wearing Eilish's merch, fans are letting Eilish know how much they care about her and how important it is to them to represent her at her concert.
Masks During the Concert: 
Though proof of vaccination or a negative COVID-19 test is required to enter the venue, Eilish has made it very prominent that masks will be highly recommended during the actual performance. Whether or not people will follow the mask suggestion is really unknown until actually getting to the venue. We are expecting that most people will follow the suggestion and wear a mask only because lots of fans hold the same mask belief as Eilish. But, will people actually keep their masks over both their mouths and noses for the entirety of the concert?
Crazy Posters, Lights, & Effects: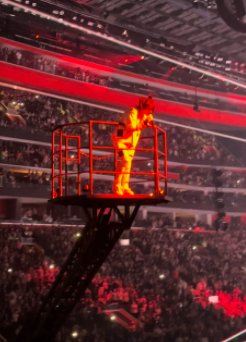 "Officiate our marriage!" "We missed you!" "Will you be my girlfriend?" These have all been real examples of what fans have written on posters. From pictures and videos, the expectation of crazy and funny posters are highly anticipated from both the fans and Eilish. In a recent video of one of her concerts, she sits in a stool asking fans to hold up their posters so she can read them. Whether she decides to read the crazy ones is up to her. 
Eilish is known to have insane lights and effects during each of her performances. During her Coachella set in 2019, she used a large screen as her background, displaying videos from both her music videos and videos of the California wildfires to get the message across that climate change is real. This tour seems no different. The opening introduction before Eilish jumps onto the stage consists of bright flashing lights, allowing fans to get excited anxiously waiting for Eilish to join both her brother Finneas O'Connell and drummer Andrew Marshall on stage. Another wide screen is projected for fans to watch videos of her when she was little during her song "Getting Older" and a video of women and men dancing during "Billie Bossa Nova." 
REALITY
Good Fashion:
It was no shock to us that at the concert, people dressed their absolute best for Eilish. We saw all varieties of Eilish's merchandise, crop tops, flared pants, patterned pants, and more. Someone even rocked a sparkly pink crop top in the shape of a heart, with a matching sparkly pink skirt. Many people also had Doc Martens on. We saw more than one person with flared leggings with little hearts covering them. One specific outfit that intrigued us was a girl who wore pink leggings covered in sparkles, a matching top, and a big fur coat; she made sure to stand out for Eilish.
Fan Interaction from Billie:
At the concert, it was clear that Eilish genuinely cared about our well beings and about us having fun. Throughout the entirety of the concert, Eilish made sure to interact with the fans, making us feel like we were all a part of a big family. She continuously asked "how are we feeling?" at one point saying, "sorry I keep asking that, I just want to know how you guys are doing." This alone made the environment feel safe and welcoming to all 14,000 people in the arena. During her song "GOLDWING" Eilish asked the audience to sing a certain part repeatedly, "now sing it as quiet as possible" she says into her microphone the crowd singing the lyrics quietly then singing the lyrics as loud as possible per Eilish's request. During a song mashup of "Oxytocin" and "COPYCAT," Eilish made sure everyone got down as low to the floor as we could and jumped up super high during a very loud count of three.
Wide Variety of Merch:
From Eilish's face on multiple shirts and sweatshirts, blohsh (Billie Eilish brand) beanies, Billie Eilish Jordan's, and blohsh necklaces, fans undoubtedly represented Eilish to the full extent. From where we were sitting, we could see the top of everyone's heads who were in the pit. It was cool to see all the neon green blohsh beanies sticking out. We also saw someone with printer paper ironed to their shirt; their own homemade merch.
Masks During the Concert: 
Unfortunately, it was pretty noticeable that people either didn't know that they should be wearing a mask or they simply ignored the rule that they wanted people to wear masks in the arena regardless of their vaccination status. Although, it was reassuring knowing everyone in the arena was either vaccinated or had a negative COVID-19 test in the past 48 hours. Yet it was still surprising to see how many people didn't wear a mask at all. 
Crazy Posters, Lights, & Effects:
"Can we adopt you?" "It's my 13th birthday!" "I love you more than my own family!" These are all actual posters we saw at the concert. To our surprise, we didn't see as many crazy posters as we thought we would see. Eilish didn't read any of the posters aloud, but there's no doubt in our minds that she saw them.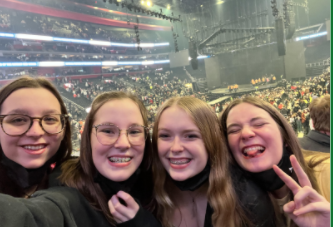 It would be an absolute understatement to say the lights and effects at Eilish's concert were just "good." They were absolutely incredible. To begin, there were light beams hovering over the audience before Eilish came out. Not just your average light beams; they moved slowly up and down, and made sounds compared to lasers. Once they lifted up all the way, Eilish's brother Finneas came onto the stage and started playing staccato beats of a drum while crazy instrumental music blared through the arena. Smoke lifted over the stage, and white lights were flashing from everywhere, nearly blinding the crowd. After over 2 minutes of big anticipation, Eilish was shot up onto the stage from a spring box below the stage, making the crowd roar.
Another crazy moment was when Eilish floated over the crowd on a lift. She was only feet away from us at this moment, making it the most memorable moment of the concert. During Eilish's song "Getting Older," there were multiple videos of Eilish as a little girl playing on the giant screen behind her, some videos were even of her brother, Finneas. One specific moment that we will never forget was during the song "when the party's over." Eilish sat on a stool singing this song, while the giant screen behind her played the music video to the song. This was a very emotional moment for many Eilish fans, as the music video was taken years ago when Eilish was just being introduced to fame. The feeling of knowing we've watched her grow an astonishing amount over the years was really bittersweet. 
   Saturday, March 12, 2022, is a day that will forever live in our hearts. Our expectations of nearly every aspect of the concert were exceeded. Most importantly, we got to live out our biggest dream that night. To say this Billie Eilish concert was perfect would be an understatement.