Up from the ashes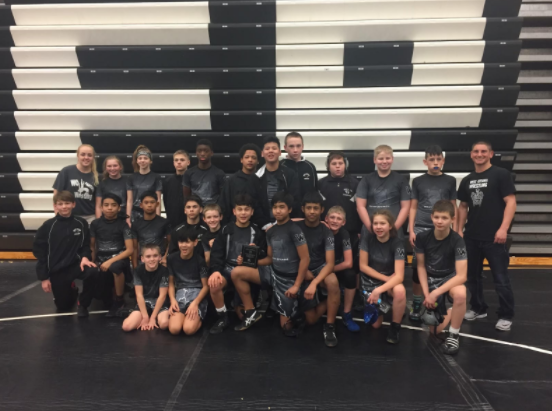 Culture is not built in a day. Not in a year. Sometimes not even a decade. West Ottawa wrestling has been waiting for its own culture to build since Ryan Lancaster became Head Coach. In recent years, West Ottawa wrestling has faced low numbers, bottom placement in the OK Red, and hardly any state qualifiers sent to Ford Field. 
   The tides have shifted at West Ottawa. Hard work and program building are growing, and the strength in numbers continues. 
   Considering just four years ago, the High School team had just 19 wrestlers on the team. The middle school six years ago, just ten. Drastic change for such a short amount of time. The High school squad boasted around 40 wrestlers this past year, with the Middle-school averaging around 35. 
   Lancaster recognizes this change in numbers, "Since the inception of our Panther Elite program, we have seen our numbers swell at all levels and filled weight classes with experienced wrestlers," Lancaster said. 
   This is true, a lot of change can be credited to the youth program. Panther Elite and Little Panthers have vastly improved the pipeline of wrestlers moving through the grade levels. Just eight years ago little panthers did not exist. Under previous coaching staff, it was reduced to a once-a-week, month-long practice schedule only open to 4th-6th graders. 
   Not only did this reduce numbers, but interest in the sport hit all-time lows at WO. Kids were committed to other sports, not willing to come out for wrestling because they never were interested early. No one identified as wrestlers because nobody had wrestled enough. 
   Identity is key for Lancaster and building the program, "I knew that we would need to get athletes to identify as wrestlers early on to be a competitive team," Lancaster said. "My goal was simple: get kids to say, 'yes, I play (insert sport), but deep down, I am a panther style wrestler.'" 
   Remember, building a culture is strenuous. Historic programs are historic for a reason. 
   The development of youth wrestlers, an essential for success in the highly competitive Michigan wrestling scene, was non-existent for West Ottawa.
   "A youth feeder program is paramount if you want to be a successful high school program, especially in the OK Red Conference," Lancaster said. The consequences of not having this program are sadly very apparent. However, there are changes developing. 
   Now, the youth program numbers are exploding, with Panther cubs (Kindergarten-3rd grade), Little Panthers, and Panther Elite combining for 78 kids this year alone. The most youth wrestlers within the program compared to any point in its history. 
   In addition, eight youth wrestlers qualified for MYWAY State, the highest level tournament in the state of Michigan for youth wrestlers. There are also multiple girls wrestling in the MYWAY girls tournament from the High School. The future is bright. 
   Moving up the chain, the Middle school team has now cemented itself as the dominant team in the area. The team has beaten multiple Middle School teams that feed into division one schools in high school. This list includes Mona Shores, East Kentwood, Grand Haven, Hudsonville, and Grandville. Jenison was the only OK Red opponent WO fell to, and it was a close duel that came down to only ten team points. 
   Not only did they beat these teams, but they also did so quite handily. The margins of victory stretched as much as 50 team points. 
   Leading the way at the Middle School is a key group that went through Little Panthers and Panther Elite. A few members of this group are seventh-grader Abel Anaya, and eighth-graders James Foster and Zandir Kladder, who through the youth program when they were younger. Now, they are highly successful (all having only one or two losses on the season). However, these are just a few of the wrestlers, with the eighth-grade group moving up to the High School next year looking extremely promising. 
   For multiple years, the Middle School team was winless, never able to fill a lineup or put out enough wrestlers to stand a fighting chance. This all changed with the revamping, and reinstitution of the Youth program, which sparked immense interest in wrestling and funneled dozens of wrestlers into the school teams. 
   In 2018, the Middle School team was able to field almost a full lineup and beat rival teams like Grand Haven. Now, the team wins the majority of their duels, with this past season recording an impressive record of 14-3. 
   At the High School, there were numerous milestones reached. West Ottawa had its highest finish ever in the OK Red at 5th and had the most state placers in the conference (five). The team sent six wrestlers to state; four girls, and two guys. Yet another first for the program as that is the most wrestlers sent to the State Finals ever in West Ottawa wrestling history.  
   The team tied the record for dual wins at 20, beating rival teams like Zeeland East and most importantly Holland. By beating Holland, WO brought back the hammer, an award passed between the two teams based on who wins, for the first time since 2016. 
   The high school team also defeated eighth-ranked Pine River (Division Four) at the Fallen Bucks Tournament in January en route to a team title there. 
   Coach Lancaster, the mind behind the growth of wrestling at WO, received a plethora of accolades as well. Lancaster reached his 100th career dual victory as head coach and was also nominated by his fellow coaches as the Girls Coach of the year. 
   If any key point can be taken away from the wrestling program's rising success, it's the importance of youth development and growth. Change comes from the youth. Previous attempts lost touch with the big picture, and the program suffered because of it. 
   No more waiting for "the next year". Everything that has been put in place is coming to fruition. Big things are coming for West Ottawa Wrestling. The Holland area, and the OK Red conference, are on notice.