Blakes push their limits through climbing
1997, Central Michigan University. Instructor Dan Blake is sitting idly in his college dorm when his outdoorsy roommate suggests going rock climbing. A minor exchange would spark a lifelong passion for Blake. The birth of a hobby that would consume his free time and that he would eventually pass on to his kids. 
   They made their way to Grand Ledge in Lansing and did Top Rope Outdoors. This wasn't the first adventure for Dan and his roommate, who had introduced him to backpacking, ice climbing, and caving. He didn't know this activity would click. 
Dan began climbing regularly when he graduated college and moved to Holland. He worked part time at the Inside Moves gym in Grand Rapids, climbing three days a week. Dan enjoys being outdoors and pushing himself physically, which climbing combines.
  As his lifestyle changed, Dan adapted rock climbing to fit parenthood. "When I had kids, it was too much to go back and forth, so I built a wall in my garage and that's where I climbed for like 10 years," he said. The kids would become a crucial part of his climbing journey.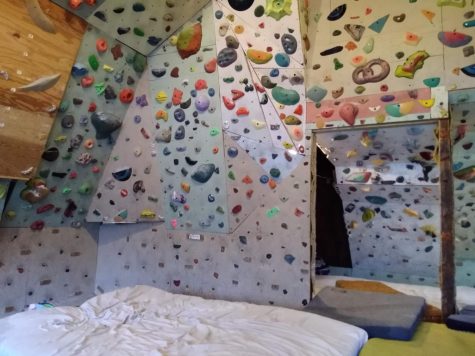 "I started climbing as soon as I could walk," his daughter, Sr. Natalie Blake said. She started by practicing on their home wall. Here in his garage, Dan would develop a love for another aspect of climbing – setting. 
   He created the boulder problems on his wall and later started setting routes for his friends. "There's a bunch of us that have home walls throughout the state of Michigan and we did this whole backyard climbing series and so I started setting routes for other people with that," he said. 
Dan started route setting for the climbing community when Soaring Ledge (now Scrapyard Climbing Collective) opened in Holland,  and he has been the primary route setter since. His job is to ensure that the climb is efficient and smooth.
   "I definitely enjoy that process. It allows me to be creative, trying to imagine what type of move I want people to do or the sequence I want people to follow," Dan said.
As time passed, his children grew and followed in his path. "I never wanted to force anything on the kids, I just wanted to give them opportunities. It's been a lot of fun seeing them progress," he said.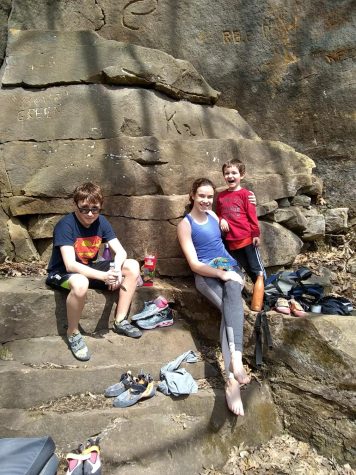 The Blake children started climbing very young. "I started going to gyms when I was five years old, and I started doing some competitions when I was seven," Natalie said.
Blake's youngest son, second-grader Micah Blake, has undertaken the hobby as well. "It's cool to see someone so little challenge himself, and it can scare other people because he's climbing 16 feet up in the air. At first, it was just fun, but now he's trying to challenge himself and develop as a climber," Dan said. 
   The hobby has strengthened the family's bond, allowing them to connect through climbers on social media and discuss techniques. "It's something that we share and we can talk about. Especially now Natalie's at the point she's climbing just as strong, if not stronger, than I am, so we can work on similar problems. It's definitely a bonding thing," Dan said. 
   Dan has always coached Natalie, which has brought them closer. "He has taught me so much about how to push myself and how to have confidence in myself on the wall and in my other sports, too. I will always be grateful for the times we got to hang out in the gym together or spend a weekend down south, climbing outdoors," Natalie said. 
 Climbing has promoted personal growth for Dan by teaching him the importance of persistence.
"It helps a person become comfortable with failure. Climbing should actually be called falling because you're falling a lot more than you're actually climbing up something. It's like repeated failure, failure, failure, failure, then eventually you succeed. The persistence to accomplish a lot of things in life definitely carries over," Dan said.
   Climbing has even helped Dan overcome a fear of heights. "I've become more and more comfortable being up high, especially when I'm outdoors. There's a whole mental component in facing my own fears, and overcoming those fears has been big throughout my climbing career," he said. 
The challenging sport gave Natalie more confidence as well. "I can't count the times when I thought a bouldering problem was impossible, but with some focused efforts and reminders from my dad that I am stronger than I think, I have climbed stuff that I never would've thought I could do. I've definitely applied this to my other sports and activities."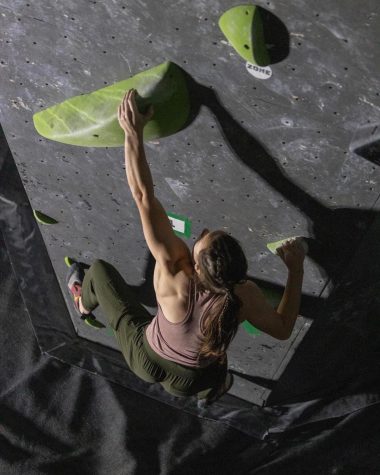 "I've realized that the only way to accomplish what I want to accomplish is by being confident and giving it my all, and that is a skill I have refined through climbing," Natalie said. 
Scrapyard emphasizes having a tight community, which pushes the Blakes to advance. "It's really supportive, and it's also multi-generational," Dan said. He is one of the oldest climbers. "Everyones at their own spot with their ability, so we're all just trying to improve. It's very encouraging, it's very collaborative too," he said. 
   Scrapyard brings people together from all over West Michigan. In a recent session, Dan was climbing with Zeeland high school students, a man from Grand Rapids, and an older guy from Fennville. "We're all focused on climbing these problems that are there and trying to push our limits so it feels really fun," he said. 
Natalie believes the climbing collective is the most supportive group she has been a part of. "When I started climbing, I was the only girl and the only kid at the gym, but now the climbing community is super diverse. There are people of all ages, abilities, and backgrounds. Everyone is super uplifting and never judgmental," she said. 
   Both Natalie and Dan's favorite memories are the rare excursions across the country. "Whenever I've gone on climbing trips and had the experience of hanging out with friends, being in nature, camping, and also pushing my limits physically. I just absolutely love it. So that's what I train for, that's what my gym is for. Those few times a year when I can go on a trip somewhere with some of my climbing friends," he said.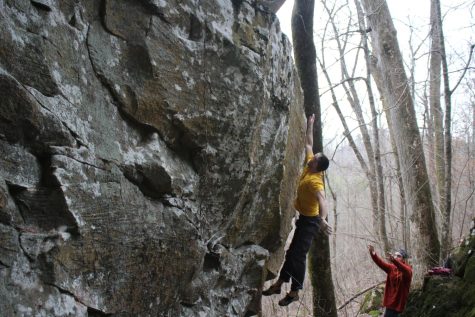 "I've climbed in Maine, Vermont, Arkansas, Tennessee, Georgia, Colorado, and Canada on trips with my dad, and I love getting to climb outside on real rock," Natalie said. 
   Dan's favorite place for outdoor climbing is near Chattanooga. "There's a bunch of areas down there that are really incredible," he said. He looks forward to traveling with Micah when he is older.  
Living far from natural climbing locations is a disadvantage. "That is a challenge to make the time to travel. It costs money, and it takes time and it's not as convenient as if I lived in Boulder, Colorado, where there's rock all around me. I could climb outdoors every day of the week if I wanted to," Dan said. 
   Fitting space for climbing into busy schedules also poses a challenge. Dan aims to go two weekdays and the weekend. "It becomes consuming. Especially when I'm married and I have kids and I have a job and I'm coaching in my free time. I basically want to climb if I can. That can cause conflicts with other responsibilities that I have," he said. 
They've found success when they make room for the gym.
   Natalie has won local contests, the most recent being the Scrapyard Sends competition in December. Since she views climbing as recreational and trains inconsistently, Natalie is not only excited but surprised by winning.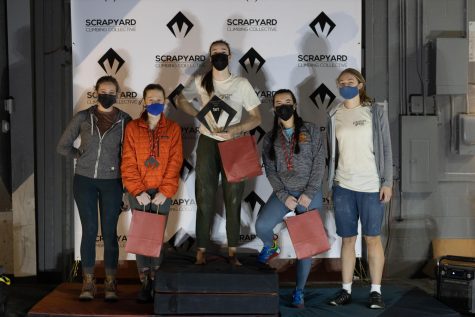 "I always go into competitions to have fun and climb with my favorite people, and when I win comps, it shows me that sometimes, having fun in the moment pays off," she said 
She is proud of her accomplishments, especially due to back injury. "I ended up climbing pain free and winning the competition. It was probably my last time competing in a competition at my home gym for a while since I'll be out of Holland for college, and it was a great way to wrap up competing at Scrapyard."
   Dan qualified for nationals twice by placing in the top ten in the region. "I can't compete at the national level necessarily. I went to the comp, but that's where you see the big dogs," he said. He is competing next on March 26 in Grand Rapids. 
Dan is proud of his improving ability despite his increasing age. "I'm able to climb harder things outside than I did even when I was physically stronger in my late 20s and early 30s. I wasn't mentally as focused or daring," he said. He credits his comfortability with heights. 
   "I'm still able to achieve some pretty good goals, and can still push myself pretty hard even though I'm 44 years old. That's been really rewarding, so I'm pretty proud of that. I'm still improving and not becoming fat and lazy like a lot of people my age," he said. 
Dan's biggest target is to climb a V10 outside while in his 40s. "I've never officially done one outside. I've done plenty in the gyms. So that would be pretty cool. I've done up to V9s but I've never done a V10," he said.
   Natalie shares this ambition, but hopes to achieve it at a younger age. "A few years ago I climbed a V6, and I think now I could climb even better than that," she said. 
She wants to master another climbing style – lead. "I have only ever bouldered, and I would love to learn how to lead so that I can climb some bigger walls," she said. Natalie plans on working toward these goals once she has finished competing in school sports and collegiate track.