Rugby looks to regain championship form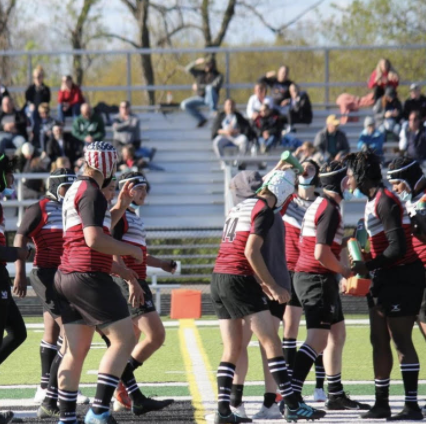 "Winning a state championship in the first year was wild!" head coach Sean McTaggart said. For one group of guys, rugby is everything. Unfortunately, the majority of students have no idea the school has a team or even what rugby is. However, what many students don't know is how successful rugby once was. 
   In 2008, the first West Ottawa rugby team was founded. The club started when former student Joey Morkes returned to WO after playing a year for a high school in Chicago. Interested in starting the new club, he and another student approached McTaggart. "He friended my oldest son and approached me to coach the team he wanted to form," McTaggart said. Once they had enough players to form the team, they were off and running.
   The first season for WO ended at the top. Division 3 state champions. During the regular season, the team finished 7-2, getting them into the playoffs. Being a new club, WO was placed in Division 3 for the playoffs. The team easily cruised through to bring home their first state championship. The season had become a staple of the WO rugby team and set them up for success the following years.
   Between 2009 and 2012, WO rugby won three state championships and one state runner-up. These included two Division 1 championships and a Division 2 championship. The team also had a summer 7's league and won championships in 2012, 2014, 2015, 2016, 2017, and 2019.
   Unfortunately for the team, their success started to collapse. The team has not won any state championships since 2012 and has experienced a series of losing seasons. In the 2020 season, the team went 3-5, winning only 37.5% of their games. Many factors have contributed to the struggle. 
   Due to the COVID outbreak in 2020, the season was forced to shut down. This caused many people to miss a year and others to not get a chance to play their first year. "Many people have skipped a year due to COVID. A few people on the team did not play for a season," Jr. Zack Broersma said. Due to players skipping a year and others not coming out to play, the team was small which made practices hard and games even harder. The lack of players correlated with a lack of strength. Plenty of guys were strong on their own, however, there were not enough guys to move the ball down the field consistently.
   Another struggle the team has faced recently is participation "We struggled due to us having low numbers," Jr. Lee Silva said. With little participation, it is hard to get better in practice and players are working harder during games.
   To increase participation in rugby, the team has put up several posters around the north and south buildings. This has brought in a few players; however, veteran players took it to themselves to recruit more students. "So many new people are filtering in from advertisements and our own players bringing players in," Broersma said. Sr. Erick Lozano from Zeeland has recruited many new players to join the team. Not only has Lozano recruited his fellow classmates, but he has also gone the extra mile by driving them to practices.
   Bringing in new players is showing improvement in the team; however, recruits don't have the knowledge of the game like the returning players. To help teach the many new players, the team watches games played by the best players all over the world before practice. Watching film helps both new and returning players build their knowledge of the game and build off of their own skills. Players are consistently asking questions about what they see on film like "why did he pass to that guy?" or "why was that a penalty?" Current head coach Garret Daniel, assistant coach Cole Sanders, McTaggart, and alumnus Darion Fisher, who often helps at practices, provide answers to any questions a player may have.
   The most important part of building the team again is putting in the work at every practice. Working on drills, watching film from games, and consistent conditioning has been beneficial. "We are at practice doing team drills and games that help build our love for the game and our willingness to compete," Broersma said. The team has built a secure foundation for the season and is getting better every practice. 
   One of the best parts of the game for many players is working well with teammates. For WO rugby, comradery may be the biggest part of their game. "Team chemistry is stellar, helping each other improve our skills, learning from the coaches, and desire to improve from last year," Sr. Jack Palacios said. "Hanging out outside practices, planning team events, being able to joke with one another, wanting to help and assist each other, and constantly coming to the practices." The team has done a fantastic job building a strong bond.
   "Make more set plays, way stronger defense compared to last year, ball movement, decreased penalties, more people trying out the sport, and most of all having a good time," are just a few goals Palacios has for the team this year. When asked what players would like to see from the team this season, both Broersma and Jr. Andrew Feliu mentioned winning a state championship. The team has big goals and they are starting to see the hard work pay off.