The scholarship process is frustrating and time consuming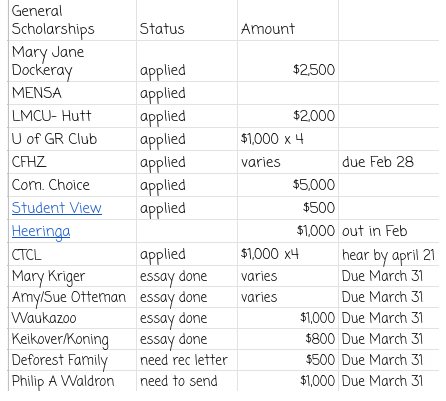 Recording achievements. Collecting recommendations. Proofreading essays. Submitting applications. These are steps of the college application process. Each takes time and contributes to high schoolers' stress. Then they face even more stress: applying for scholarships. 
   The individual deadlines and requirements of scholarship applications are far more stressful than applying to colleges. 
   "For the most part, it's just that each separate scholarship has a different essay requirement and deadline, and often what they want are longer and more rigorous questions than the college applications themselves," Sr. Ian Krueger said.  
   The variety of topics that scholarships are interested in makes it extremely difficult for students to cut down on the number of essays they need to craft. "I wasn't able to reuse the same essays, or really even the same ideas between scholarships, which was far more time-consuming and stressful than any other part of the college application process," Krueger said. 
   On top of having to craft a variety of essays, Sr. Kaitlyn Meyer said, "It's really hard to find scholarships that will help me out." 
   Many scholarships have very specific criteria. For example, the David Wiersma Memorial Scholarship is available to varsity golfers. Golf is not a very large sport in our area, making the scholarship available to a select few. Criteria like this makes the scholarship process very difficult.
   "Sometimes applying for external scholarships just feels pointless because I'm writing all of these different essays and filling out several applications for a slim chance of getting anything back from it. It's a really stressful and demotivating experience compared to college applications, which I have a much higher chance of succeeding in," Sr. Noah Boggs said. 
   Personally, I have applied to eight external scholarships and have had to write a specific essay for each. The process has taken me away from my friends and family and forced me to stay glued to the computer, constantly typing and revising my essay of the day. 
   Instructor Ken Strobel has seen the other side of the scholarship application process as a parent. Strobel said, "He [his son] earned some merit-based money from schools, but no external scholarships. He applied to many scholarships, including the Lakewood Elementary and CFHZ scholarships." On top of putting in countless hours of work, Strobel's son had an impressive resume; he was a valedictorian, an athlete, and a part of the Peer Assistance Listening program (PALs).
   Reflecting on his son's experience, Strobel was frustrated that "someone can put in as much work as he [Strobel's son] put in both in class and applying, then not get anything out of it." Such frustration might be relieved by including a caveat on scholarship descriptions would prevent kids from wasting their time and accumulating stress by applying for scholarships that they have no chance of receiving.   
   In addition to including caveats, making a universal scholarship site similar to Common App but for scholarship purposes would relieve stress. The CFHZ scholarship organization is headed in the right direction by allowing students to apply for multiple scholarships through one application with options to submit additional essays for specific scholarships. 
   Other smaller scholarships must adopt the idea and join with other scholarships through a universal platform in order to relieve stress from students and increase the number of students they can help. A universal system would cut down the amount of time put into applying for scholarships, incline students to apply for scholarships, and increase their chances of receiving scholarship money.
   The price of college has been increasing faster than wages, and students cannot financially keep up. With the increased need to have a college degree, it is becoming more important that students are able to gain scholarships to be able to afford college. There needs to be a system in place to aid students in the scholarship process so that students can apply for the most amount of scholarships in the least amount of time and without unnecessary stress and frustration.