Leading the charge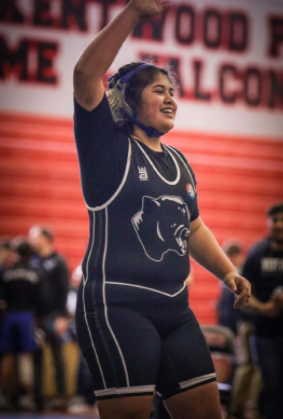 Stepping onto the mat, Frosh. Isabel Anaya stared down her opponent. She bounced in anticipation, while the other girl checked into the head table. Anaya played out the match in her head. The setups she'd use to get takedowns. The footwork she'd need to make her adversary off-balance, keeping her foe in the dark of what she'd do next. 
   Checked in, Anaya jogged to the center of the circle, strapping her ankle band around her ankle. Getting in her stance and shaking hands, Anaya looked at her opponent. She knew she could take whatever the girl threw at her. The ref blew the whistle. 
   Wrestling season is underway for the West Ottawa Girls team. Having the largest team so far since forming in 2017, the Lady Panthers are leading the charge for girls wrestling in West Michigan. 
   Last year saw the first state-sanctioned state championships for girls wrestling in Michigan. Girls turnout continues to rise throughout the state. Jr. Kaitlynn Heck, one of the captains, took part in the state championships last year. 
   "It was my first year wrestling. I didn't do too well, but I did win a match. But it was a really cool experience to see so many girls wrestlers in one place because I wasn't used to that situation quite yet, so it was really enlightening," Heck said. 
   A substantial increase in girls wrestling isn't contained to Michigan but has been seen throughout the country. Thirty-three states have now started official girls wrestling state championships, a substantial increase from the original six states. 
   Colleges like Adrian College have started highly successful women's wrestling programs that compete on the national level. Even Division I schools, like the University of Iowa, one of the most storied and successful wrestling programs in the country, are starting women's programs, highlighting just how far the sport has come. 
   In light of the increasing popularity of the sport, West Ottawa has seen a rise in girls' numbers as well. 
   "I'm extremely excited. The team started out with just four last year to now having seven girls. And even though it's only a gain of three girls, it's huge," Heck said. 
   Anaya also voiced her support for the growing numbers, "I'm really excited! More girls that join, the more girls I get to wrestle, and the more fun it becomes," Anaya said. 
   With the rising numbers comes an increased amount of opportunities for girls regarding competitions. For years, girls were reserved only to wrestle JV guys, or make the varsity lineup only to fill a spot. Now, tournaments, and most importantly state championships, are open to them. 
   Heck has seen first-hand the possibilities opening up for herself and her teammates compared to when she first started wrestling. "There's a lot more opportunities this year. We're at different girls tournaments every single weekend. Last year we wrestled at Montague and had about four total [tournaments], and this year we've done it every single weekend," Heck said. 
   In addition to the increases in opportunities, Heck outlined how wrestling has helped her as a student and person, "Personally, I've learned a lot of new skills, and become a lot more aggressive. I feel like my personality became a lot less of a pushover and I was a lot more assertive," Heck said. 
   Wrestling affects everyone differently. Seeing her growth and development as not just an athlete, but a person as well, Heck knew wrestling could benefit other girls at West Ottawa. 
   The girls all had different introductions to the sport. For Anaya, she had already been around the mat with her brother, Abel, being involved, "I was first introduced when I went to a youth practice at Holland, and I was watching my little brother. Honestly, slamming kids looked fun. I wanted to do that," Anaya said. 
   Anaya's attitude hasn't changed since reaching high school. Her dominance on the mat this season has shown just that. Boasting a record of 8-3, and being ranked sixth in the state at the 255 weight class, Anaya is on pace for a very successful year. 
   Anaya credits her success to the difficulties she's faced with having to wrestle guys. "I think I've been successful because of all the times I've had to wrestle bigger boys," Anaya said. 
   In many cases, a lot of the mat time for the girls has to be against guys in JV matches, often meaning having to wrestle someone stronger and bigger than them. "I've had to push myself. Like, oh if I want to beat this kid, I have to try harder," Anaya said. 
   Wrestling guys does not stop Anaya from her desire to win. Many girls have problems with the fact they have to wrestle guys on occasion. In response, Anaya expressed how at first it can be difficult, "At first it was weird because obviously, they're stronger than you, but after a while, you just get used to it, and it won't be weird anymore. It'll be fun because once you beat them they will be like, wow, you just lost to a girl," Anaya said. 
   Heck learned of wrestling from one of her fellow teammates, "Lee [Silva] shared a presentation in choir and she said she wrestled. I didn't know girls could wrestle or were allowed to. I looked into it and talked to Mr. Lancaster and went from there," Heck said. 
   Heck is currently wrestling in the 155-pound weight class. She has beaten multiple state-ranked girls in her tenure here at WO and hopes to continue that success through the state tournament. 
   Individually, and as a team, The Lady Panthers have big goals for this year and the years to come.
   "I want to place top 4 in the state this year, and hopefully, by the time I become a senior I'm placing first," Anaya said.  
   As for Heck, "I would like to potentially place at state. If I work really hard I can get there."
   Being a team captain, Heck hopes to see improvement and growth as a squad, "I hope we can advance together and learn more skills," Heck said.  
   These goals are most definitely not out of reach for Heck and Anaya. As evidenced by their hard-work ethics and dedication to the sport, success is imminent for the two. 
   With many girls still being on the fence with wrestling, whether that be due to issues with wrestling boys, not knowing enough about the sport, or being scared to try it, Anaya and Heck both share a similar mantra.  
   "Just give it a go, try it out, and stick with it," Heck said. 
   "Just do it. Nothing's going to stop you. It's going to be hard, but you'll get through it," Anaya said. 
   Just do it. Strong words of encouragement from two strong, aspiring wrestlers hoping to make their mark at West Ottawa, and in the growing sport of Girls wrestling in West Michigan.