My Papa: the singer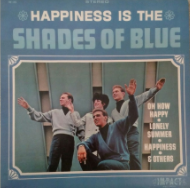 The other end of the phone is silent as my grandpa recollects one of his fondest memories. He chuckles a little before responding: "Me and the group were driving around and we had a car full. We brought a girl, Linda, and that's how she got in the group. We were all singing. Your grandma was with me and she goes 'is that you guys?' So, we cranked up the radio and, sure enough, it was us! That was really neat. We sounded really good. That's when we were like 'big things are gonna happen.'"
Back to the Roots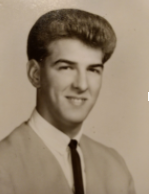 My grandpa was a famous singer. I say "was" because nobody in my generation would ever recognize the name "The Shades of Blue," but also since my grandpa's group was only truly popular during the 60s.   
   Times were much different back then. Women wore their hair up with scarves. They dressed in angora midriff sweaters and matching flats with straight shirts. Men wore their hair slicked back into a waterfall. They dressed in either leather or plaid, depending on whether they were a greaser or a frat.                                                                                  
  The 60s were years of war and rebellion. The civil rights movement was in full force. People wanted to get away from all the tension, and their escape was usually dancing. Dance clubs were everywhere. People would do popular dances like the Jitterbug, the Twist, and the Stroll.
   "For me and I think other people it was a ball," said Nick Marinelli or Papa Nick, as I know him. "We were able to do a lot of cool things like go to ball games on our own. We could go exploring. We'd leave home in the evening and come back in time for dinner. Load stuff up in a knapsack for camping. The nice thing is we didn't have to worry about stuff. You know, these days everyone is so worried, but back then we could do whatever."
   He started making music with his buddies in junior high, and they formed a group called The Domingos. "I got into chorus class in junior high and that's when we put together our first group. That was four guys," Papa said. The original group members were Dan Guise (baritone), Bob Kerr (baritone), Ernie Dernai (first tenor), and of course my grandpa, Nick Marinelli, as the lead. 
   The group was tight. Even when they weren't singing, they were hitting up burger joints including one of their favorites "Burger Chef."The joint had a jukebox set up and 20 to 25 teenagers would pack in to eat, dance, and talk. "We'd come home smelling like burgers." said Papa as he laughed.
   Having a band in junior high was common. Papa said that many people put their own groups together. They'd have competitions and go to different gigs. "We had school dances and we would perform there. We had five-six different places we could go on Saturday nights."
   The group had fun for a while. They'd go to dances and other various gigs on the weekends, go to school and study during the week, and then go right back into singing. Once they got around to high school, they started to realize just how good they were. They started going to gigs that paid money.
   They were off to a great start, but the group needed to go just a step further to truly make it in the music industry. They needed to land a recording contract. 
   Fortunately, they were friends with a big doo-wop group called The Reflections who agreed to help them get a contract with Golden World. "Where we lived in Livonia, there was a group called The Reflections that lived two blocks away from me. I went to school with the lead singer's sister and she suggested to her brother that we were good. We saw them hanging around and they were like 'Why don't you come down to the Golden World and do a demo?'" 
   "That led to other things and one of the producers was there, Edward Star. They hooked us up with [Golden World] and we made a lot of songs."
   John Rhys, an independent producer working out of Golden World, suggested a name change. Forming a new name took a while but they knew they wanted "blue" in the name because they were a completely blue-eyed group. The Shades of Blue eventually stuck and the group was on their way to becoming one of the best doo-wop groups of their time.
Going Steady
  Grammy Carol is full of love. Her twinkling blue eyes are joyful and lively, reflecting her love of life. She always tells me the story of how she met Papa Nick. "I met him when he was washing windows at McCauley's and I worked at Woolworths behind the soda counter." One autumn day, she was on break and decided to walk around the mall. She ran into Nick and his buddy cleaning windows. "He didn't say a word. His buddy did all the talking and I Carol Marinelli(left) and Nick Marinelli (right) was like 'Oh, but he's so good looking.'" 
   Later on, she and her friend were closing up. Grammy was cleaning the grill, which was a messy job, when the two guys decided to come over. "They ordered banana splits. I was cleaning the grill, so I had grease all over me. And I was like 'I'm not waiting on them'." But the guys insisted that they wanted her to wait on them. She was so mad because they had just cleaned up, but she still gave them their banana splits.
   The following day, Nick's buddy stuck a note on the window that Nick wanted to ask her out. She was still irritated and said that he would have to ask her himself. So, he came over and asked her out to the Homecoming dance. Of course, she couldn't resist. 
    She said that they dated for only a little while before he asked her if she wanted to "go steady" with him. "Back then, this meant that you couldn't date anyone else." Grammy said. She thought for a while and finally decided that she would "go steady". 
   "It was raining and I looked like a washed out puppy. I went to the Coney Island because that's where we agreed to meet. I was messing with him and I said 'Well, I have some bad news.' Then I smiled a big smile and said 'I'll go steady with you!' He picked me up and whirled me around. It was like a movie. From then on we dated for about a year and a half and married in high school."
   My papa didn't even tell her he was a singer. Instead, she learned on her own on a car ride with the group. 
   "This was what I really liked about Papa: he never boasted or bragged. He never told me he was singing. We went with group members in the car. They started singing, and I was like 'Wow you guys sound great!' Bob leaned over to talk to papa and I heard him say 'didn't you tell her we just cut a record?' He wanted me to like him for who he was. I thought 'Not only are you good looking, you're a singer too?'" Grammy said.
   "Oh How Happy" was released in 1966 and met with open arms. The lyrics "Oh how happy (you have made me)! In our years together we've got stormy weather, but our love has been so strong, for somehow we carry on," resonated in the hearts of countless couples. The Shades of Blue's masterpiece was such a success that the song quickly shot to #12 on the pop charts and #7 on the R&B charts. 
   My grandma recounts the day she first heard "Oh How Happy". "One day, he picked me up from school. We were on our way to the A&W to get root beer floats. He turned up the song and he's like 'Oh, this is our song!' We got out of the car and jumped for joy. It was so surreal. I mean, his voice. His song." Grammy said.
   The group got a running start with "Oh How Happy", their first real hit. "The first year we were on the road we only came home once or twice." said Papa Nick."We got booked with Dick Clark that summer. We did something like 40 shows for a little over a month. That was the highlight of the beginning. We started doing TV shows in Detroit and four shows for Dick Clark in his show 'Where the Action Is.' We toured for about four years after that."
Wrapping up
   The group split around 1969. "Around 1977 I tried to get us back together. We got in the studio, did four songs, and found Bob wasn't in it. I haven't told many people this, but he was into drugs, so he didn't want to do it anymore. Bob and Linda married and had a child. Ernie didn't want to travel. I was on my own." Papa said. 
   He went off on his own for a while, making Country and Christian music. He worked with a few groups. Then, he found a small group called The Valadiers around 2003 and they decided to join up and call themselves "The Shades of Blue". He did some gigs here and there, but nothing could compare to the original group.
   He couldn't rely solely on music for a living, though. When he went to college, he majored in art. "I wanted to be a car designer. I worked at General Motors because I had two kids to take care of." He was very successful as a car designer and still did some singing on the side.
Fast-forward    
   Now, in 2021, my grandpa has been done with singing for some years now. He has an office where he keeps all the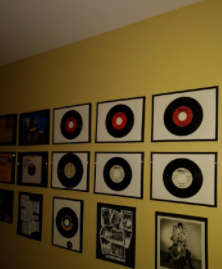 mementos of his singing days. Frames are aligned in rows upon rows, covering the walls in cherished memories kept alive by love. The frames hold records and old monochrome photos. 
   These photos depict a Papa Nick that's the same, and yet distinct from the one I know today. He's younger, but still just as intelligent and kind-hearted as my papa.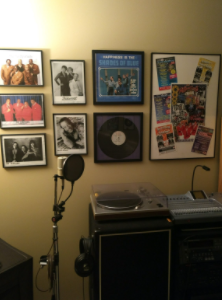 Now, after so many years, Papa has decided he's going to put together a CD set. "What my goal is now is to put together a 3 CD set with thirty songs or more that we sang as a legacy collection. Once I do that, we'll probably release it. I'm trying to figure out how to do that. There's so many avenues today." 
   As I look at his photos of bygone days of happiness and success, I am inspired to follow my dreams. Papa worked so hard to make his dream a reality. I push myself every day because I have a perception that I believe my papa would agree with: "The future belongs to those who believe in the beauty of their dreams" (Eleanor Roosevelt).