The science behind snow days
 Drowsily, Sr. Erika Allen opened her eyes and focused on the dark ceiling. She rolled over to look at the clock. 5:55 a.m, ten minutes before she needed to get ready for school. With a large sigh, Allen rolled over to stare at the wall. 
   She was almost back to sleep when she heard footsteps approaching the door. The door creaked open and her mom said, "Turn off your alarm, snow day!"
   On January 7, families all over the district of West Ottawa received a phone call around 5:55 am. No school; the third snow day in a row. 
   While these calls seem robotic, hours of observation and data collection are behind every snow day decision. 
   Superintendent Tim Bearden and Head of Transportation Paul Wegmeyer are at the forefront of West Ottawa's weather cancellations.
   "Snowdays, for me, are actually more difficult than if we had school," Bearden said.
  The first step, he explains, is simply monitoring the weather forecast. "We have contacts with the national weather service but we also follow some of the same things students do: Accuweather and local forecasting," Bearden said. 
   Local meteorologist and renowned snow day predictor, Blake Harms has forecasted snow days since his days as a student. 
   "The first year I did them was the winter of 2013-2014 which makes it my eighth winter doing them," Harms said. When he was first starting out, Harms only predicted closings for his district, Hudsonville, and the neighboring district Jenison.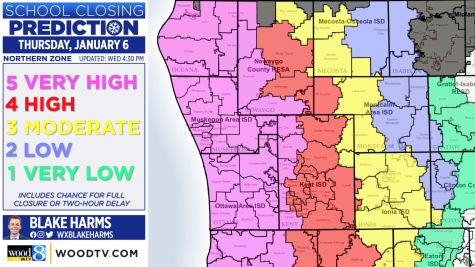 However, as years passed, Harms expanded his scope to other districts. In the winter of 2018-2019, Harms gained a large following due to the large amount of snow West Michigan received.
   "There was that week where just about every district in the area closed for the entire week. It was that week where my following doubled on almost all my accounts," Harms said.
   Harms explained that the advancement in meteorology technology in the past decade has allowed weather stations to put together forecasts that schools can trust.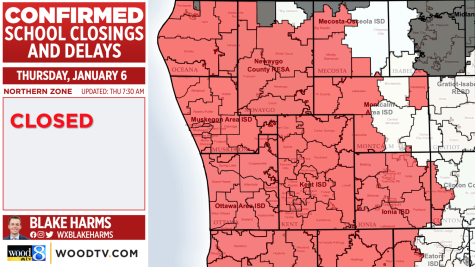 "It was so gratifying to see the schools close on Wednesday before we had that heavy snow because the forecast panned out exactly as expected. We have a solid enough forecast by the day before to where 9/10 you can pretty much know what to expect that day."
   After years of predicting snow days, Harms says there are a few signs.
   "If I know that freezing rain is going to occur, that is usually a pretty safe bet that you are gonna see a lot of school closings," Harms said. He also mentions that snow can be an indicator depending on the timing.
  "The hardest events I have are the 3-6 inch snow events because schools can go either way depending on the timing. Those are the ones I dread the most," Harms said.
   On days where the forecast predicts harsh conditions, Wegmeyer starts his day early.
   "I am typically the person that gets up super early in the morning to head out and check road situations," Wegmeyer said.
   Due to the sheer size of the district, Wegmeyer starts driving around the district in his personal vehicle and assessing the roads as early as 4:15 am. "I have had my commercial drivers license (CDL) for 40 years… so I have got a real good idea what the bus will do," Wegmeyer said.
   While driving, Wegmeyer observes the road conditions and considers the risk for West Ottawa's students. 
   Wegmeyer explains that in most weather situations he focuses on the risks for students waiting at bus stops rather than the buses' ability to get to those stops. 
   "The buses will get through a lot, but it's always the fact that we are sharing the road and so I am concerned a lot about the other motorists that make it a lot riskier for students," Wegmeyer said.
   After his initial assessment of the roads, Wegmeyer reaches out to transportation supervisors in the area and compares their findings with his own.
   From there, Wegmeyer provides Bearden with his observations. Bearden then contacts other superintendents in the area.
   "We have a group text with all the Ottawa County superintendents and we all confer with each other, kinda ask what one another is thinking. We like to try to be on the same page, especially those of us who are on the Lakeshore, who generally have similar weather concerns," Bearden said.
   During the cancellation process, Bearden and Wegmeyer work against the clock. 
   "We like to consider our deadline to be 6:00 am," Wegmeyer said, "Once you hit the 6 o'clock hour, you have a lot of staff that have already reported for bus driving or food service and that kinda stuff."
   Bearden explains that, when they can, they prefer to call snow days the night before. "That way people aren't scrambling for childcare and transportation on the day of," Bearden said.
   Once the decision has been made, the administrators alert the community. "We get the news out to all the media outlets, the staff, students, and families. Numerous phone calls. It is more time consuming than one might think," Bearden said.
   While the process of canceling school due to weather is thorough, the decisions don't satisfy everyone. 
   "There is always the contingent group that is like 'why didn't we have school?' and the other group that says 'why did we have school?'…you never get a thumbs up from absolutely everyone," Wegmeyer said.
   Bearden and Wegmeyer do their best to make the right calls for the safety of West Ottawa students, families, and staff.
   "I always have confidence that West Ottawa will make the right call," Harms said.