The West Ottawa Toy Drive brings joy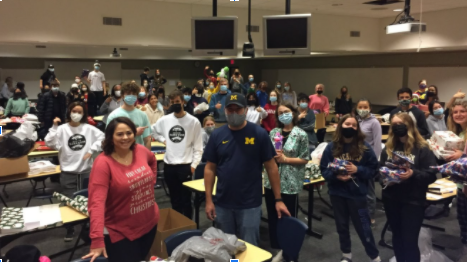 Knowing that the meak Christmas tree he walks by every day will continue to be empty underneath and there will be no stockings hanging on a fireplace, he longs to stay in bed on Christmas morning. Minutes turn into hours as he waits for someone to retrieve him, but nobody comes. 
   He reluctantly gets out of bed and walks towards the living room, but it only takes ten steps for him to realize that something is unusual. There were in fact presents under the tree, wrapped with bows and ribbon. He thought it was a Christmas miracle, but later finds out it was all because of the West Ottawa Toy Drive. 
   The Toy Drive is an event where the high school gathers toys and winter clothing for younger students in the district to give a happy holiday season to families in need. Running from the middle of November to the beginning of December, it provides presents and winter clothes for children in the district who may have difficulty receiving the items elsewhere.
   The first step to get the Toy Drive running is to find families who can benefit from some holiday support. Students are identified, mostly within the elementary schools, by teachers, staff, and principals. Then, these families are contacted to see if the Toy Drive would be helpful to them for the holiday season.
   If families are interested in benefiting from the Toy Drive, staff and families can fill out a google form to enroll students in the Toy Drive.
   "We never want to offend any family by trying to overhelp or thinking we know all of the intricacies of their family. We just want to support families in the way that would be most impactful for them," Great Lakes Principal Dave Stefanich said.
   Once families are enrolled in the Toy Drive, spreadsheets showing kids' interests and needs for the season are sent out to the Student Senate at the high school.
   The Student Senate uses spreadsheets to assign students to teachers. The spreadsheets become one-page descriptions for each of the students' needs. These pages are color-coded for the different schools that have students receiving gifts from the Toy Drive.
   Every first hour at the high school is assigned an anonymous student using a made-up name. Each first hour gets a description of what they need and like, with their age and clothing sizes. The students at the high school have a few weeks to donate as much as they can.
   This year, the Student Senate dropped off the boxes that classes collect donations in on Friday, November 12, giving students the weekend to start collecting donations for the Toy Drive kickoff on Monday, November 15.
   Students collected donations until December 3. Several students bring in toys and clothing for their assigned student. Many teachers will even ask for cash donations from students who don't have time to donate but would still like to support their community. These teachers will use the collected money to go out and buy gifts that fit the description of their anonymous student.
   In the meantime, the Student Senate continues to organize the next steps of the Toy Drive including planning for when they host the gift wrapping, as well as setting up their storage room for the boxes that classes will return to be sorted and wrapped.
   During the Toy Drive season, the Student Senate at the high school works tirelessly to ensure every student who is in need receives what they asked for. Their grit was especially imperative this year because there were nearly fifty additional student forms sent in after the deadline, which means those students wouldn't have received presents or a warm winter coat this year. 
   However, the Friday before they wrapped the presents, senate members went to Target and bought everything needed for those additional fifty families and ensured a successful Toy Drive.
    "It truly was a bonding experience as we were all there to shop gifts for kids in need this holiday season," Sr. Issy Ruiz, the Toy Drive Committee Co-Chair, said. "I loved it, and I appreciate Target for helping us out by reserving a lane for us."
   The next morning on December 4, these same students went to the school at nine in the morning to wrap presents for nearly four hours, with the help of some National Honor Society (NHS) members. 
   "We had a massive turnout of people that showed up to help wrap gifts for all the donations we've received in this year's Toy Drive," Ruiz said. "In all honesty, it looked like we had become Santa's workshop!"
   During this time, senate members also reorganized the boxes to ensure every student had what they needed and necessarily dispersed gifts into other boxes when necessary.
   Toy Drive Committee Co-Chair, Sr. Halle Pratt, said, "It was super fun being able to pick out the toys and put them into the boxes and just know whatever kid got them was going to love them." 
   With Christmas music blasting and scraps of wrapping paper all over the floor, the toys were finally ready to be sent out to the West Ottawa students. 
   Filled to the brim with presents by students in the LINKS program, vans, driven by teachers, were sent out to the elementary and middle schools. After two and a half days of nonstop loading and delivery, all of the gifts were distributed by December 8th. 
   "To see the smiles on our students' faces or to see tears in a parent's eyes when they come to pick up the gifts is heartwarming and priceless," Pine Creek Principal Jessia Rios said. "Giving our students and their families a Merry Christmas is really what it's all about."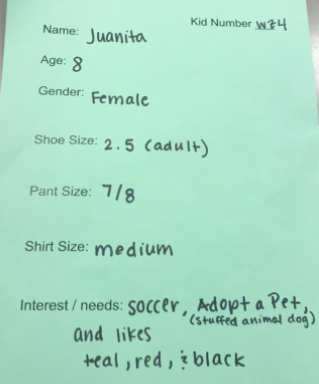 Every year, students who wouldn't have received presents during the holiday season can enjoy their time during the holiday break because of the Toy Drive. Even though the Toy Drive is open to all ages, the majority of recipients are from elementary schools, especially Great Lakes and Pine Creek. 
   "As a principal, the Toy Drive gives me a more settled feeling because I know that some of my students who need this type of support are getting it," Stefanich said. 
   One of the most exciting days of the year for all ages, but especially for kids, is December 25th. Waking up in the morning to presents gives hope to young students. The goal of the Toy Drive is to give these students the best holiday experience, which was definitely met. 
   "The way that our West Ottawa community comes together to help support families and students in need is truly remarkable," Rios said. 
   The Toy Drive is just one of many examples of how the West Ottawa community shows compassion and support for those in need. Families with financial deficits within the district can get the help they need during the winter season because of events like the Toy Drive.
   "I think even though we're a big school, it feels close-knit and people care about each other so I think this just shows that people are willing to think outside themselves and make donations and care for other people in our district that may not be in a position to have a good holiday otherwise," Student Senate Advisor Kevin Klassen said.
   The Toy Drive also allows for everybody to participate and incorporates every level of education within the district. "The Toy Drive is an expression of the committed group of staff, students, and families that represent WO," Macatawa Bay Middle School Principal Kristin Graham said. 
   This time of year is exciting for many people, but for others, the holidays can be dreadful. The West Ottawa community believes in the importance of providing a holiday full of cheer to as many people as possible, after all, it is the season of giving. "For me, it is what makes West Ottawa, West Ottawa," Stefanich said.