Starting Monday, masks are optional in West Ottawa schools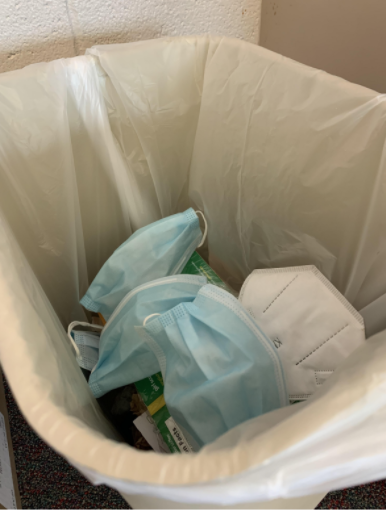 On January 17, the West Ottawa Board of Education made the decision to no longer require masks during the school day. After a long discussion, the board unanimously voted 7-0 to make masks "strongly recommended but not required for students and staff, effective with the start of the second semester, January 24, 2022." 
   The school will continue to make N95 and/or surgical masks available throughout the building to those who need them. In addition to keeping masks available, teachers can manage their classrooms as necessary to feel comfortable. As part of a federal mandate related to public transportation, students and bus drivers will still be required to wear a mask at all times on the bus. Lastly, families who wish to have their student(s) attend school virtually will have until January 24 to be registered through WOVA. 
   The district has been evaluating data since the start of the pandemic and followed all recommendations from local health experts. WO has also looked at data from area schools that are not requiring masks and has done a side-by-side comparison with schools that are requiring masks. 
   This decision does not change any mandates on isolation requirements. "The health department still requires isolation and quarantine for COVID positive individuals and household contacts," superintendent Tim Bearden said. The health department also requires a minimum of 10 days of quarantine for any COVID-positive individuals unless there is a mask mandate. Schools were also the last entity to require contact tracing, however that required principles to take time away from important responsibilities for several hours a day.
   The most recent data taken from January 10 shows that there were 74 current confirmed cases among students and 12 among staff, for a total of 86 current cases. "For comparison sake, there are several area schools with a mask recommended but not
required policy. These include Zeeland, a neighboring school district of similar size, whose
dashboard shows 81 current student and staff cases, and 613 YTD cases," Bearden said. Jenison does not require masks and shows 66 current student cases, approximately 1% of the student body of 5337 students.
   Generally, there is not a huge difference statistically between schools with and without a mask requirement. With the new updates from the health department, the board has adopted some new recommendations such as wearing masks, social distancing and emphasizing to families to keep sick students home. These recommendations will keep the community in line with the health department requirements and give families the option to protect themselves based on their own needs.
   The board recognizes that no decision will satisfy everyone. "This decision is based on the actual efficacy of part-time mask-wearing in the community weighed against the associated hardships and the opportunity for each individual and individual family to make decisions that meet their needs," Bearden said.
   "I feel like it's good for people with different opinions. It's good that people are able to make their own decision. I think we still need to make sure we're respecting people who choose to do those things," physical wellness coach Andrew Biedenbender said.  "I've only been here 4 or 5 months. I finally get to see some kid's faces so that will be kind of nice."