It's too late; your Spotify Wrapped 2021 is here and it's shameful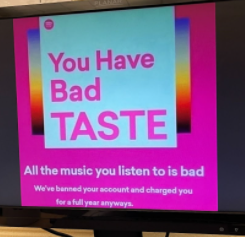 Ah yes, the one time Spotify users wait all year for, our own personal Spotify Wrapped. For those who aren't familiar with the phrase, it's a summary of artists and songs you've listened to throughout the year, and categorizing your music picks. At West Ottawa High School, approximately 77.3% of students use Spotify as their streaming service. At the end of each year, you get a little slide show of what you've listened to and it also shows you how many minutes you've listened to, top genres, most replayed song, the list goes on.
It can go either way; it can be amazing and something you'll be proud of, or it can be embarrassing enough that you can't post it on your public social media in fear that you'll get bullied. If, like me, you have an outstanding taste in music, the special little gift from Spotify will surely satisfy you and you can proudly post it showing off what you listen to. 
Yet, many people decided to not mind what music they listened to and now have to suffer their musical consequences and embarrassment of their Spotify Wrapped. No one wants to know that your top genre is Dream SMP. But even though it's mainly your own fault, Spotify should also take some responsibility. This year's Spotify Wrapped ended back on October 31. They don't even give you an early reminder in the year. This crucial and silent deadline is a backstab for all Spotify users and doesn't let us get a chance to alter our musical ways. 
Take Sr. Addison Corell for example. Her luminescent taste in music brings a sense of creativity in her world and carefully curated playlists, such as Workout, Love embodied in lyrics <3 and Down pouring and driving, create the perfect soundtrack for any emotion. "I would describe my music taste as broad, I love a lot of artists and will always listen to new songs. I love my playlists because they are very coordinated to my moods whether I feel like listening to sad music or music that I blast in the car with my friends, it's cheesy but they're like little soundtracks to my life and it makes me happy which is all that matters to me," said Corell. 
Others, like Frosh. Joshua Morales is satisfied and even proud with his end-of-the-year results. "I'm proud of my Spotify wrapped because the kind of music I love to listen to is metal music, and my Spotify wrapped is a way to show people that I love metal music and how much I love it," he said. 
However, Sr. Angelina Onkeosy has different feelings. Her barbaric taste in music showed who she really is as a person, someone to watch out for when passing the aux in the car. "..My 4th most listened to genre music was "Dream SMP " and I swear I was only a dream stannie for 2 years. I swear I wasn't obsessed with him. I didn't even know Dream SMP was a music genre. However, am I lying that I was never a Dream Stan…..Yes. I LOVE YOU DREAM, THAT'S WHAT THE MASK IS, THAT'S THE POINT OF THE MASK," said Onkeosy. 
People at West Ottawa are very passionate about their taste in genre, like Soph. Kim Maya. Her top genres go from indie pop, dance-pop, to melodic pop and bedroom pop, and said she's mostly satisfied with her genre results. A song Maya recommends is SWEET/I THOUGHT YOU WANTED TO DANCE by Tyler, the Creator. 
Jr. Reda Simih has more of a captivating taste, however. His top genres are Midwest Emo, Indie, Neofolk, Bubblegrunge, and Shoegaze. "I have the worst music taste of all time and it probably defines me because the first thing people notice about me is me being a Weezer fan," said Samih in an interview. A song Simih recommends is Movember by Mom Jeans.
Even staff at West Ottawa High School are checking out their Spotify wrapped, such as our very own Josie Cheney. Her top artists (from 1st to 5th) are Khalid, Cautious Clay, Steely Dan, Chris Bowers, and Oscar Peterson. A song that Cheney recommends is Coaster by Khalid. 
It's interesting to take a look at different people's tastes in music. As for myself and as great as my music taste is, I'm solely not responsible for how my own Wrapped came out since I played certain songs whenever a minor inconvenience occurs or I just wasn't feeling it (cough Fine Line by Harry Styles, Gold Rush by Taylor Swift and/or Sparks by Coldplay cough). But I can say that Bon Iver is one of my top five artists, which I am very proud of. As the new year starts, remember that you have a chance to take note and balance what you listen to so your Spotify Wrapped isn't as embarrassing as it was last year.