Heaven's Kitchen – Amateur baking competition
"If you think this is a donut, you're wrong." Jr. Josh Pohl did not hold back on his critique of Bosma's donuts. But unfortunately, this wouldn't be the only criticism Bosma and Ruby received during our baking competition.
   With very limited baking experience, we tasked ourselves with making one special pastry to bring into second hour Journalism for a taste test. From there, we would let the people decide the winner. Bosma tested his luck with glazed and sprinkled donuts, while Ruby opted to bake Oreo cheesecake cookies. Throughout baking we experienced many triumphs and failures, so let's take a step back and experience our baking firsthand.
Bosma's baking experience: 
   With my apron across my chest, and chef's hat bestowed on my head, I began my baking. I quickly realized I didn't know what I was doing. I had my recipe, but that was only half of the baking process. There wasn't anything else to do but begin, so I mixed my ingredients: 1 egg, 3/4 cup milk, 2 tbsp oil, 1 tbsp sugar, and 1 tsp salt. Once thoroughly mixed, I added in 2 ½ cups of flour. 
   The dough took shape, but I still had to knead it before I could flatten it. I didn't know how to knead, so I awkwardly crushed the dough under my palms for a while, until I thought the dough was ready. But I hadn't kneaded long enough, because the dough would not flatten, even with a rolling pin. Not to mention, I did not add flour to the table, so the dough was sticking everywhere. I decided the best move from here was to just bunch up the dough and try again. 
   This time I kneaded for longer, and added ample flour to the counter. Finally, I got the dough flattened to about ¼ inch. In hindsight, I should have flattened down to ½ inch, but I could still work with what I had.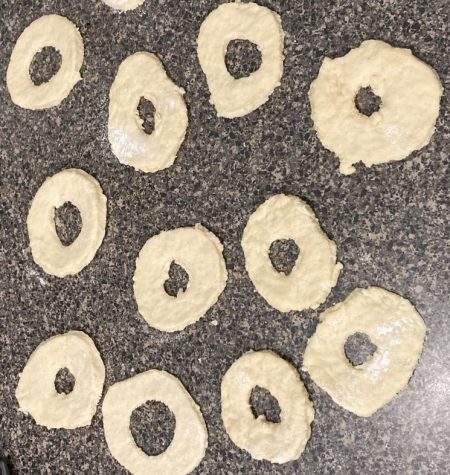 The next step involves a donut cutter, but unfortunately I did not have one. So instead, I had to cut the outlines of the donuts with a knife, resulting in many differently shaped donuts. But right now, that was the least of my concerns. 
   Up next was frying them in oil. I heated a pan of oil about an inch or two deep to about 370⁰F. The directions said to always keep the temperature at 360⁰F-380⁰F while frying, which was tough since adding in donuts absorbed oil, and decreased the temperature. But I managed, adding in a donut one at a time, and flipping them over after some time. I quickly realized about 8 seconds on a side was the sweet spot, after burning my first few. My donuts were now fried, and looked a bit like mangled onion rings. 
   Nevertheless, I pushed forward and made some glaze. The recipe was simple enough, 1/2 cup powdered sugar, and 2-3 tbsp milk, which I whipped together quickly.  I dunked my donuts face down in the glaze, and then put them on parchment paper to dry. But to my disappointment, the glaze didn't harden well on the donuts. So I had what looked like soggy onion rings with a few sprinkles on them. 
   At this point, I hoped something catastrophic happened to Ruby's treats, or I probably didn't have a chance to win our competition.
Ruby's baking experience:
   Looking at my recipe, I knew I had taken a little easier route compared to Bosma, but I had to stay focused. Knowing myself, I would be the one to mess up a simple baking recipe. I started the process by mixing 4 ounces of cream cheese with 8 tbsp of salted butter until it was a smooth consistency, then added ¾ cup of sugar and 1 cup of flour. The mixture was looking rather bland, and I was starting to worry about the presentation points that I was going to lose in the competition. 
   My worries were washed away when I added in the crushed Oreos, which added much needed personality to the dough. I finished mixing the creation together and let it rest in the refrigerator for 30 minutes. As the dough sat, I re-watched the recipe video multiple times, making sure I was not leaving out any steps. 
   Once the dough finished chilling, I removed the mixture from the refrigerator and lightly greased a few baking pans, where I scooped out the dough and rolled out equal sized portions. 
   Final step was to bake, so I threw the pan in the oven for about 14 minutes at 350⁰F. Once the timer went off, I put the second batch in, and let the first batch cool. After letting the first batch rest for a couple of minutes, they were looking pretty good. 
   I checked the bottoms which were a little crispy, but I could live with that. Second batch turned out very similar, and I was thrilled with how they turned out. Considering my limited skills, I was pleased to make an appealing treat for once.
Tasting:
   With help from journalism students and Instructor Ken Strobel, Bosma and Ruby's creations were tasted and rated on a scale from 1-10. The first volunteer was Jr. Josh Pohl. Looking at both the donut and cookie on the same plate, it was obvious Ruby's cookies outmatched Bosma's donuts. Bosma hoped that the taste of his donuts would make up for the lack of presentation. As Pohl took his first bite of the donut, you could tell something was off. "If you call this a donut, you're wrong." Those words pierced through Bosma's skin like icicles on a cold winter day. But Pohl at least finished the entire donut, which was encouraging. His final score was a whopping 5/10. Not good by any means, but it could've been worse. As Pohl took a bite of Ruby's cookie, his reaction was much different compared to trying the donut. He took his time chewing the cookie, hitting every taste bud, and locked in his score of a solid 8/10. He even downed a second cookie right after giving the rating just to be sure.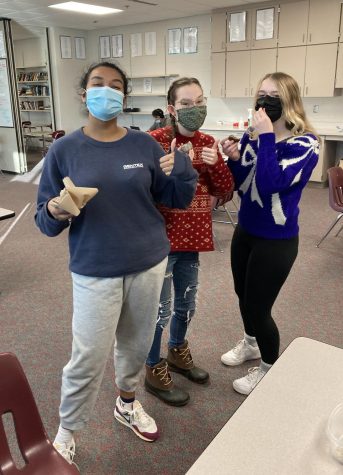 Next up was Senior Addie Corell. With her first bite, Bosma's heart sank as Corell's face instantly scrunched, showing disapproval of the treat. She worsened Bosma's wound when she exclaimed, "It smells like the dead food rats sit in." Whatever that even means, Bosma was obviously disappointed. The cookie was much more appealing to her, which she gobbled down quickly, giving a 10/10. She also demanded that Ruby give her the recipe for herself. 
   Our last judge was Mr. Strobel, who was arguably the most important judge of them all. He took his bites slowly, taking in as much detail as possible. "Consistency is funky. I think of donuts as light and fluffy, but this is dense and soggy." Not exactly what Bosma wanted to hear, especially from Strobel. After some consideration, he settled with a 6/10. Moving on to Ruby's cookie, here's what he had to say. "That's quality. Looks were deceiving, not overwhelming, not too sugary, and the consistency is fantastic." After hearing that, Ruby's hopes were high, but to his surprise Strobel only gave him a 7.5/10.
   After all the judges gave their peace of mind, it was pretty clear who the winner was. Drumroll please… Brody Ruby! His simpler recipe played in favor of his weakness in baking, and Bosma was clearly not ready for the tall task of baking donuts. But credit where credit is due, Ruby outperformed Bosma in this baking competition.