Setting an example for Blakey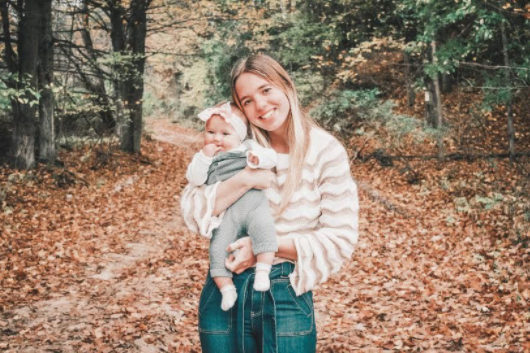 I want to personally thank Hannah Pearson for making this article possible. Hannah's courage in allowing me to publish this article might influence other women out there that are struggling with having a child in high school. She is also setting a great example for her daughter. I hope Hannahs's courage helps other mothers in high school to keep on working hard at school and know they aren't alone.
   The beginning of Hannahs's life was simple, she was born and raised in Holland. When she started freshman year at West Ottawa it was like any other person's freshman year, trying to find new experiences and to make new friends.
   She loves her family and she is a strong believer as a Christian. Hannah loves hanging out with her friends and she used to play sports. Last year in 2021 she became pregnant.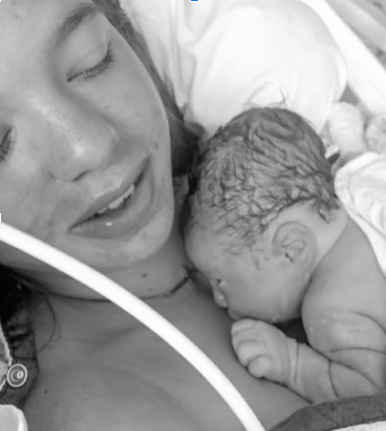 Hannah had a baby girl named Blakey in May.
   Hannah is still planning on graduating early, which means she would be done with high school on January 21, 2022. 
   Graduating early takes a lot of work; not everybody can get approved on graduating early. Hannah needed to be ahead in credits to have that privilege. By working hard, Hannah got enough credits to graduate early. Hannah isn't only working hard for herself, she is also wanting Blakey to know that whatever she works hard for she can get it.
   Even with getting all of her credits she still needed to write an application request explaining why she should graduate early, then the principal needed to approve her request so she would be able to graduate early.   
   Being a mother in high school isn't easy. Hannah realizes how much work it takes to take care of her child. "It's a lot but I manage, in the morning we get ready together then she goes to her babysitter, or my mom, then when I get home we hang out until bedtime." Hannah hopes one day when Blakey grows up, she knows what her mother did for her.
   Out of all the mothers today in America, 35% are single parents, which means they have to deal with their children on their own, plus if they have a full-time job or school. 
   Hannah is also a single mother. "Her father has nothing to do with her, he just stepped out when I was pregnant." She also has to deal with keeping up on her grades so she would be able to finish high school early, and she works at an ice cream shop to make some money. 
   Imagine being a single mother in high school and with all of the stress that comes with the responsibilities of taking care of a child. There are thousands of single mothers out there that feel the same stress because of all their responsibilities. 
   Being a single mother today takes a lot of time especially if they are in school or working a full-time job. There are some single mothers that do have their family to help them.
   Hannah is fortunate to have people in her life that support her. "Luckily I have my family where I get hand-me-downs and random things." Hannah is also living with her parents who are helping her with essentials like food and free rent.
   There are many single mothers that don't have people to support them, especially if they are young.
   Hannah could have decided not to take on the responsibility of being a mother. Hannah wanted Blakey to know even in the hard times you still need to get up and keep on fighting.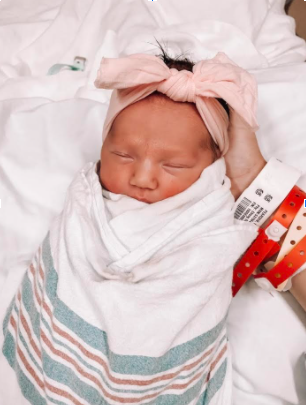 A lot of young pregnant women think the only way to make life normal again is to forget they ever had a child by giving the child away. Even though it's hard for Hannah to have this child, she still feels this will have a positive result " Right now it's more of a struggle but overall, in the long run, I feel like this is the better outcome."
   Most women talk about is how much work children are to take care of or how some of them aren't ready to have a child, but there is also pride in taking care of a child. One of the biggest responsibilities that a person could have is taking care of another human.
   It's really amazing that Hannah can graduate early especially with all of the time she puts in with work and with Blakey. One day when Blakey is older she will realize how much work Hannah did for her and she will keep on the fight because she knows to never give up.
   School isn't a big priority for Hannah. It doesn't mean she doesn't work hard at school, it means she can put more focus on making sure she is financially stable later in the future.
   Hannah isn't sure if she wants to go to college. "Possibly I don't yet, I'm still looking at my options." If somebody has a child in high school it's important they are financially stable after they are done with high school.
   Hannah is becoming an adult sooner than most people in high school. Dealing with a child in high school helped Hannah to learn some lessons that she might not have learned until she was ready to have a family. The lessons Hannah learned will help Blakey later in the future.