Arianne Olson makes national debut
   Eastbay national championships. One race. Four teams and the top 40 distance runners in the country. 
   It is no secret that Jr. Arianne Olson is the best distance runner to ever run in a Panthers uniform, but coming into her third high school season, Olson wanted more. She wanted to prove herself on a national level.
  The race began long before she saw the starting line. Olson's teammate Sr. Kaia Denhof said, "Ever since middle school, Arianne has been training for these moments. She has run miles and dedicated so much time, so that when it was her time, she could be successful." 
   According to Olson's coach, Kyle Barnes, "Arianne set a goal way back in June or July to qualify for Eastbay Nationals." 
   Barnes helped Olson throughout her training, "I watched the past ten years of National Championship races on YouTube so I gathered as much info as possible. Based on this info we also made up some very specific workouts like the San Diego Simulation (San Diego is the site of the National Championship) to try to mentally and physically prepare her for the race."
  After extensive training and a very successful high school season, Olson hoped for the chance to compete at the Eastbay National Championships in San Diego, but she had to qualify first. 
   On November 27 in Kenosha, Wisconsin, Olson had the opportunity to punch her ticket to San Diego. She needed to finish in the top ten.
   Olson was anxious, but stayed focused on the mission at hand. "I was trying to not think about qualifying or not qualifying. I wanted to finish the race knowing I gave it my all. I knew if I could give my best effort I would be happy with it and would probably qualify. I was trying to define success that way. If I focused on qualifying, I could easily let my stress get the best of me and that's not what I wanted."
   During the race, Olson's goal was to stay in a position that would lead her to qualify, while still giving a hard effort. Olson recalled, "In the first mile it was like a super big pack and I was just trying to stay relaxed and pretty chill with the big pack. My race plan was to break away and start passing people after the mile when it started to go downhill. But I was already at the front because the race went out a lot slower than I expected, so I initially thought I may be behind. So I was in the lead for a little bit, but on the back hills it got really hard and the last mile I was just trying to hold on to my position and qualify. Qualifying was ultimately the most important thing, not winning the race."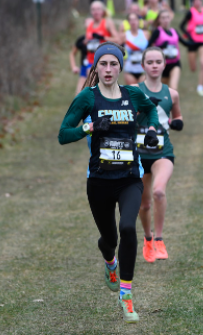 With a time of 17:19.5 and a hard effort, Olson placed fourth in the Midwest region and earned her way to San Diego for the national championship. After the race, she remembers feeling really excited and proud. This was her dream and because of her hardwork and dedication, she made it a reality.
   In the weeks leading up to the National Championship, Olson continued to train and prepare for San Diego. In order to maintain her fitness, but not overwork herself, she stayed on her lowest mileage of the year and ran short threshold runs on her workout days. To help her stay focused and maintain her excitement, Olson said she enjoyed playing the song California on repeat. The verse "California here we come" reminded her of what she wanted and what she was going to do.
   On Thursday, December 9, two days before her race, Olson and her parents flew from Grand Rapids to Minneapolis, Minnesota, where they had a layover before arriving in San Diego. Olson said, "My coaches were on the same flight as my parents and I, so we all flew to Minneapolis together. In Minneapolis, I got to meet one of the other girls competing for the Midwest region and it was nice to have another athlete to talk to. She was actually on my flight from Minneapolis to San Diego. Once we arrived in San Diego, we were taken to our hotel, which ended up being most of the first day."
   After most of the runners had arrived that first day and everyone was settled into their hotel, Olson received all of her free New-Balance gear. While professional athletes are used to getting free gear, this was new for Olson. 
   Every athlete received multiple pairs of shoes, t-shirts, warm-ups, a jersey with their region on it, and anything else the runners might need. Olson said, "Getting all the gear was definitely a fun experience. It only makes me more excited for college."
   Once everyone tried on their gear, both male and female athletes went on their first group run and finished the day by playing games in the hotel. Olson said, "We went on a group run down a rail trail. The hotel is on Coronado Island and there is a really skinny part that we ran down by the ocean and that was really cool. Then all the girl athletes had dinner together and after dinner, they had a bunch of games like ping pong, corn hole, and giant Jenga. We played games with all the other runners and just had fun."
   On Friday, December 10, one day before the race, everything began to feel real. Olson said, "Friday, we got up and went over to the course to preview it. Then we had to practice our entrances when they announced our names. After that, we all went our separate ways and did our normal meet routines. Once I finished my premeet, we had to practice awards because they did that live and they didn't want to mess it up. Then we went back to the hotel and had lunch. Throughout all this, I was just trying to be present and take it all in. No matter what happened on Saturday, this was an amazing experience and I didn't want to lose sight of that."
   That afternoon, Olson spent time relaxing and taking care of her body before her big day. "They had all the games out again and I spent some time playing those. They also had normatecs and theraguns for us to use. It was all a nice distraction from thinking about Saturday," said Olson.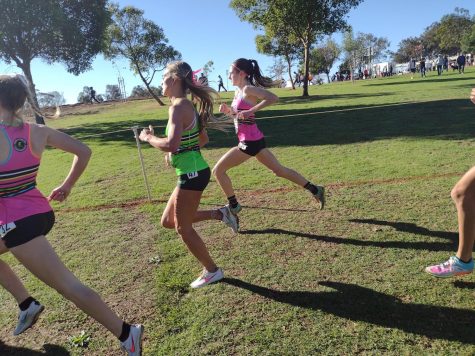 Saturday, the pinnacle of Olson's season had arrived. "I woke up earlier than my alarm just with the time change, but the bus left at like 7:30 so I was awake by 6:30. I rolled out in my hotel room and then I went down to breakfast where they had a bunch of food for us. We went over on the athlete-only bus and drove over to the course, which was like 30 minutes away. Once we got there it was up to us to do our normal routine. I started rolling out for a little bit and then I started running my warm-up. During my warm-up run, I tried to remain calm. Most of what I was feeling was excitement. It just felt so surreal to be there."
   After warming up, it was time for the introductions. One by one each name was read off to the crowd of parents, cross country fans, and college recruiters. It was now or never and Olson was ready for her national-level debut. "They had former footlocker qualifiers or elite athletes as our coaches so they kind of guided us at the beginning and then it was the start of the race. Boxes were assigned for each team and we all had a spot on the start line. When I stepped on that line and the gun went off, I was ready to dig deep and be tougher than the girls next to me," said Olson.
   As the race took shape and Olson put herself in a good position, she let the excitement and adrenaline rush through her body pushing her harder. Olson said, "The course was hilly. Right after the mile is the really big hill. It was steep and long. Then it curved and I was on the side of the hill but I was still going up. Once the course turned again there was more incline. When it finally flattened there was the downhill, but it was so steep that it was hard to run. Normally going downhill it's easier and helps you but this wasn't really like that. I was able to pass nine or ten people on the downhill, a big pack, because that was really one of the points I wanted to focus on. It definitely worked to my advantage. The course was two loops so at two and half miles I had to go up the hill again, which was harder the second time. While the course was difficult, I liked the challenge. It was like real cross country."
   As the finish line came into Olson's view, she gave it all she had. "I was in an all out sprint with a girl. I was going as hard as I could and I was so tired by the end, but we were battling. Normally I can get other girls on the line or by a lean, but she got me on the line. It was different because normally I'm the one doing that, but that's the type of competition I expected at nationals," said Olson.
   With a time of 17:43.4, Olson crossed the finish line in 13th place earning her title of All-American.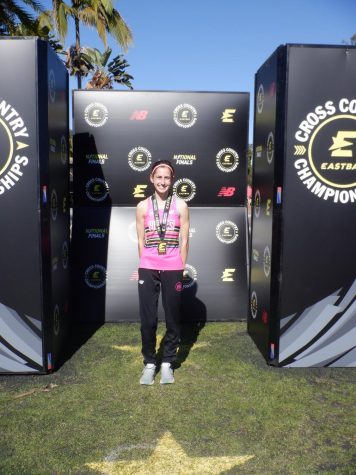 When Olson stepped onto the podium to receive her medal, all the sacrifice and pain she put herself through was worth it. "I couldn't really process what was happening, it was like a dream. It was so crazy. There was a crowd with their cameras and everyone was cheering. It was either Molly Huddle or Shalene Flanagen that were giving out the medals. That was really significant for me because these were women I watched do amazing things and now they were giving me my medal. Overall, the experience was everything I had hoped for and so much more," recalled Olson.
   Olson's teammates are just as proud as she was. Fellow XC runner Kaia Denhof said, "While we couldn't be with Arianne when she became an All-American, I am extremely proud of her… Arianne is an amazing runner and earned everything she has done in this sport. I'm lucky to have her as a teammate. Her work ethic and passion for the sport inspire me to be better."
   After becoming an All-American, Olson isn't done. Instead, she is even more motivated to hopefully return to the national stage. "My experience at nationals has shown me that doing what I need to do in training and working really hard is really important, but the most important thing is getting out of my own way and just letting myself run. Nationals was another place to dream big and to perform well on a national stage, something that I have wanted for so long; it is extremely gratifying. Next year, I want to go back and hopefully do even better," said Olson.