The grind doesn't stop at the donut shop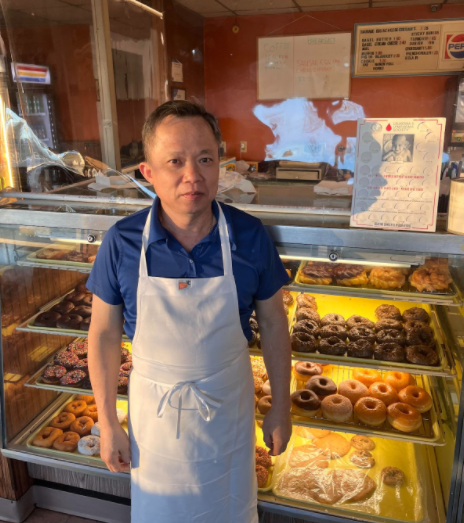 Sr. Kate Roudebush knocked on the door. The night was cold, and the building was vacant at first glance. Nonetheless, she waited. Only a minute later, a man with a bright smile answered, "What can I get you?"
   For over twenty years, Good Time Donuts has been serving donuts to the Holland area. Nestled in the rapidly growing location of downtown Eighth street, this small and humble building has stood the test of time. However, it hasn't always been there.
   During the 1970s in Battambang, Cambodia, teenager Kav Luong lived with his six sisters and six brothers. While his dad was away managing his brick business, his mom raised him and his siblings. "In Cambodia, I was still a kid. All I did was go to school and then come home and eat," Luong said. For a while, they lived in peace. 
   This peace all changed in the mid-1970s when the Khmer Rouge turned Cambodia upside down. As the communist party rose to power, cities all over Cambodia waited in fear. Luong watched from his window as the military came into his city. He watched as his neighbors were pulled from their homes and put to work in the jungle. 
   "They made people leave their houses and live in the jungle. In the town, it turned into a ghost town. They moved everyone into the woods to work, you couldn't stay in your house. They make you work. If you're lazy, they kill you," Luong said. 
   His family made a decision. They had to leave. "I left Cambodia at that time, I had to leave at night. If they see you, they shoot you. If you tried to cross the border, they shoot you. I go at night," Luong said. 
   This journey was the only way out for Luong. Battambang is located near the Thailand border, meaning he and his family would have to flee Cambodia at night. This trek was extremely dangerous at the time and would prove deadly. They had to leave. "Take a chance, you know?" Loung said.
   That night, Luong's family left their house behind, their country. They left their lives behind. As they fled to the Thailand border, they were shot at. They had to keep going. Despite making it to the Thailand border, that night was devastating for Luong. "I lost my parents, my parents got killed. My four brothers and four sisters got killed. I only have four left," Luong said.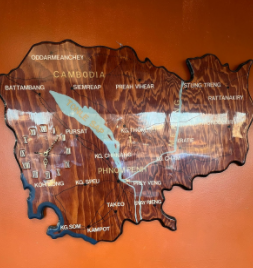 For the next eighteen months, Luong would spend his time in a refugee camp in Thailand. After a brutal journey, Luong's fragmented family awaited their uncertain future. While in camp, Luong's nephew was born. His birth gave them hope. It gave them a fighting chance.
   When Luong was 17 years old, his family got sponsored in the United States. The remaining family members began their journey. "They write the serial number on the board and take a picture, just like a jail picture, but we wore normal clothes. That way, when we transferred from plane to plane, they knew where to send us," Luong said. 
   Luong's family flew from Thailand to Hong Kong. From Hong Kong to Japan. "We went from Japan to Seattle, we stay in the air and we see day and night. It was a long flight," Luong said. Finally, they flew from Seattle to Grand Rapids. There, Luong's sponsor waited for the family. 
   "My sponsor held my picture to find us. I don't speak any English, so they held our hands and drove us to Holland," Luong said. They found themselves in a completely unique world-a new country, language, and life. 
   "In June 1981, I arrived in Holland. A lot of my friends moved to warm states. I stayed here," Luong said. Soon, Luong found work at Haworth on the factory floor, where he drove a forklift. However, Luong wanted to start his own business. In the United States, Luong hoped to find that independence he missed while he was in Cambodia. 
   "Here, it is much more free. Freedom of speech, you can do whatever you want to. It's okay. Nobody makes you do anything. Over there, you cannot say what you want to say. If you say it and they don't like it, they come to get you. They come get you," Luong said. 
   With a solid worth ethic and a desire to be his own boss, Luong bought Good Time Donuts. Finally, he could work for himself.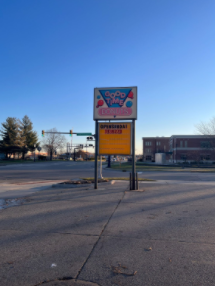 Kav Luong's wife, Chhorvy Yos Luong, helps run Good Time Donuts alongside her husband for over twenty years now. While he makes the donuts, Chhorvy helps the customers. "Since he [Kav Luong] sponsored me from Cambodia, I learned. I went to ESL class since I didn't know English. My sister owned this one [Good Time Donuts], so I helped her every morning before I went to school. She get old and her husband got sick, so nobody can help her. So, she said, 'Would you like to buy the business?' So, we do the business here," Chhorvy said. 
   The journey as business owners has not been easy. "Oh, it's not easy. You have to work hard and take care of the customers. You don't have much life, you know? If you want to go somewhere far away with the family, you can't. You have to stay. It's tough," Chhorvy said. 
   Luong's business means a lot to him. Good Time Donuts provides for his family and puts food on the table. Despite always having something to do, the business presents a sense of normalcy for Luong. "I come to work then go home. It's normal. But I have been doing it for over twenty years. It's normal to me," Luong said. 
   For customers, the shop looks no more than a simple donut shop. A low iridescent glow shines down on rows upon rows of golden trays. An array of glazed and colorful donuts fill the trays, meticulously lined up by flavor and type. However, upon a second glance, Luong's story is clear. A map of his home country hangs on the wall. His family's photos are displayed. A Holland Sentinel article plastered on the wall. 
   Luong recognizes where he came from, and continues to strive for the better life his family risked everything for by leaving Cambodia.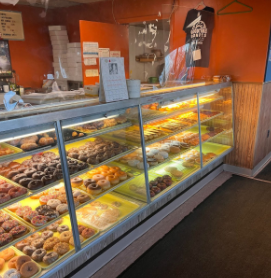 Roudebush first discovered Good Time Donuts from her friends. "I had always heard good reviews, and getting donuts late at night sounded pretty fun, so I figured I'd check it out," Roudebush said. She also mentioned that her favorite donut is red velvet.
   The place has become a local legend for the Holland area. "I have never been to Good Time during the day, I usually go around 11 pm or later. When you go that late, the inside portion of the restaurant is closed, so you have to knock on the door and order there. Even though I've only been there late, it's a really fun place to go. It feels like a small-town tradition that's really fun to be a part of. Plus, you can get really good donuts," Roudebush said. 
   Another customer of Good Time, Nola Voskuil, describes the donut shop as, "a hole in the wall, but a Holland staple."
   "I didn't know the story behind Good Time until the Instagram post came out," Voskuil said. Like many Hollanders, the story of Good Time Donuts, first seen on the Instagram page Humans of Holland, was a surprise to many and ignited lots of interest in the donut shop. 
   Luong hopes that people will learn more about his story and business. Open all night long, Good Time Donuts is more than a donut store for Luong, it's his life. "I'm happy if a lot of people know my business is doing good. If they keep coming, my business stays running. If people don't know, I won't have the business," Luong said. 
   At the end of Eighth Street on a Saturday night, Luong's in his kitchen whipping batter and frying donuts. Luong is tired but happy. He's happy about what he's created, proud of what he overcame. In the middle of an empty downtown street, Luong's kitchen and dream stay alive.