He led with compassion, empathy, and cheeeeeese cuuuuurrrds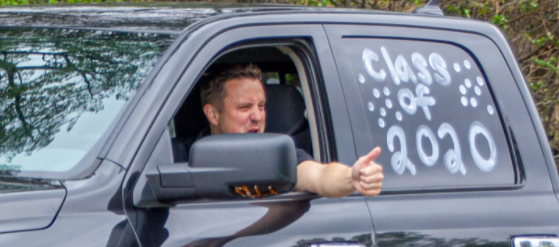 "When you're around him you feel like you're just laughing all the time." West Ottawa enjoys Jason Reinekce's leadership. Administrators and staff expect his cheery attitude and sense of humor every day. Students expect his voice to come over the loudspeaker every Friday, ready to give away free cheese curds. 
   Now, it's time for him to move on. Reinecke has decided to end his time at West Ottawa to become the Assistant Superintendent at Grand Haven Public Schools. Though students and staff are happy for him, we'll miss those things we got comfortable hearing and seeing almost every day. 
   Through his years as principal, Reinecke has built close relationships with staff and students. Students could always depend on him for answers to our questions or comments, even if they seemed unimportant. 
   "He does really well at being an approachable person and a person who's gonna understand what you're going through," Assistant Principal Audra Bolhuis said. "Sometimes we expect a principal to be super authoritative and kind of 'lay the hammer down.' I think he really leads with a lot of compassion and empathy for others and with that great sense of humor," she said.
   During the beginning of the Covid-19 pandemic, one thing we could rely on was Reinecke's leadership. We couldn't be in person for school, but that didn't change his attitude. He sent us emails encouraging us to keep going and take care of ourselves.
   "If there's one thing I needed to do during these challenging times is be there for the people that made the true difference at West Ottawa High School," said Reinecke. The teachers and staff members faced a huge challenge during this time. With Reinecke's leadership, West Ottawa got through the toughest moments of the pandemic, when we couldn't see each other face-to-face.
   Sr. Meagan Rockafellow is a member of Student Senate who knows how supportive Reinecke is. "Because of my role in Senate, I have to present to the school board. I was super nervous my first time presenting but Reinecke reassured me that I would do great," she said. 
   Even though Reinecke is busy, he always takes the time to get to know students and staff. "It's just really awesome that even though he has a lot on his plate as a principal, he still worries for and supports students on an individual level," said Rockafellow. 
   Kamryn Dumas, a member of Student Senate, notices Reinecke's genuine care for everybody at West Ottawa. "Reinecke's dedication to each student and the fellowship he's created with the West Ottawa community will be missed," she said.
   Anyone who has a conversation with Reinecke will quickly understand that he cares about West Ottawa as a community; he speaks highly of all the students and staff members. Instead of taking time to talk about himself, he speaks about how unique West Ottawa High School is. 
   "One of the really fun parts about this job is being able to be there with people when they have great accomplishments," Reinecke said. Even though he's had many achievements during his time as principal, he chooses to recognize students' greatest accomplishments. He remembers the Boy's Swim and Dive team's State Championship win in 2019 and the Panther Awards he's given out over the years. 
   "Just being able to be there with people when they achieve something great is something that I will never forget," he said. 
   West Ottawa will miss Reinecke's true passion for West Ottawa, but that same passion will surely be seen in his new position; Grand Haven is lucky to have him as their new Assistant Superintendent.   
   As he leaves, there's one thing Reinecke wants the West Ottawa community to know. "I spend a lot of time with building principals from around the area or statewide, and WO is truly a special place, and it's because of the people here."