Survivor: A look behind the curtain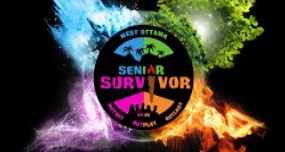 With Senior Survivor coming up in the week ahead, it is a busy time of the year for Advanced Broadcasting students; the editing, the planning, and of course the fundraising. However, aside from the obvious work that goes into the production of Senior Survivor, most people wouldn't know the amount of planning and preparation that is done by these students before Senior Survivor even begins. 
   As many West Ottawa students know, Senior Survivor is an entire week of games, challenges, and activities all with the end goal of crowning a Senior Survivor champion and ultimately raising a considerable sum of money for the WinWO foundation.
   Dani Perkins, this year's Survivor host, has much to say about the work that she has done individually as a lead role in Senior Survivor and an Advanced Broadcasting student.  "We have to set up the confessional room as well as elimination ceremony spaces. Basically, any decoration that goes into Senior Survivor is done by Advanced Broadcasting students. A lot of the games have to be tested and many Advanced Broadcasting students are a part of that too. Not to mention that the hosts have to come up with scripts going right into the games and the elimination ceremonies," Perkins said. 
   Perkins has been working tirelessly to complete the tasks given to her over the course of the past four weeks. She is not alone. The entire Advanced Broadcasting class began thinking about what needed to be done for Senior Survivor in the middle of November.
  Steph Lebster, a lead editor, described the rigorous editing that goes into creating a show, "I would assume that most people wouldn't know that we've actually been working on this for about a month. Every single video that is in the show, I'd say there's probably over a hundred little clips, every single one of those was intricately edited by someone. For a lot of the videos we had to learn new editing software that is pretty challenging to use. Personally,  I've made hype videos, intros, bumpers, and a lot of behind-the-scenes setting up," Lebster said.
   Going into the first week of Senior Survivor, a lot of the work has already been completed. Nonetheless, there is still much to be done through the upcoming week. Apart from the work that any West Ottawa student or staff member sees, the complex details that make Senior Survivor a respectable production are the most time-consuming parts. 
   "Before I helped out in Senior Survivor I didn't appreciate how much work and effort goes into the process of making it. There's a lot of small details that have to come together in order for the shows to run smoothly. As an outsider, you wouldn't know what was going on behind the scenes because everything has to be perfect. Everyone has to pitch in and help out otherwise everything would fall apart," Perkins said. 
   Senior Survivor is an enormous production with students from multiple organizations and groups coming together. These students have put a lot of their own time and effort into making Senior Survivor enjoyable and successful in order to raise money for WO students in need. So while watching the episodes throughout the next week, keep in mind the vast amount of time and energy that each show requires to create such a fun event for an amazing cause.
For daily Survivor updates, check the West Ottawan. Our embedded reporters will give you some of the details you don't get on the show.