Graduating early (VERY early)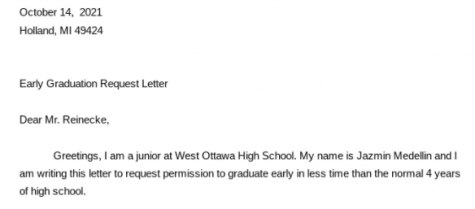 The nervous feeling tingles all over Jazmin Medellin's body. Her legs, bouncing every second with a tap, tap, hitting the floor. Sweat almost seemed to run down her forehead. Her finger headed shakily toward the computer's mouse. Jazmin was about to open a document from the principal regarding if she was qualified to graduate an entire year earlier than usual. 
West Ottawa High School is a school full of determined students; one story of a student, in particular, catches gasps.
Most seniors at West Ottawa High School graduate at the age of 18. 
But this is not the situation for Medellin. Her academic achievements such as advanced placements classes, IB classes, GPA, and STEM classes show how outstanding of a student she is. 
    "By the time the second semester ends I will surplus the 21 minimum credit requirement." 
Most students know that the process to graduate early is difficult and most students don't get the opportunity to graduate an entire year early, not to mention at such a young age of fifteen, but Jazmin Medellin breaks the stereotypes. 
The journey  
 "When I entered high school I noticed that I could have the opportunity to graduate early, and it has been my goal ever since." Medellin says "As of now, in my first semester of 11th grade, I have achieved 19.5 credits." 
"Immediately I would meet with my counselor Mrs. Kramer what seemed like every week to discuss the topic of graduating early. I would be in the office for some time and missed my class time as well but I was getting the information I needed to graduate early, so it was partly necessary for me too, at least in my opinion. Ms. Kramer was convinced I could do it. I just needed to get approval from many people such as the principal, counselors, and parents. I needed to write an early graduation letter that had to be a strong persuasive letter. I had to ask peers and teachers to revise the letter several times before I submitted it, the deadline was November 5."  
"I have always been a determined student in and out of school."
     Jazmin has had the opportunity to be in accelerated fast-paced classes since the eighth grade. "Till now, I am challenged in the best way possible in these current courses so I can push myself to meet more academic achievements."
Medellin wants to graduate early because she is close to her sister Lizette Medellin who is a senior and will graduate next May. Together the sisters can both graduate high school the same day and receive their diploma together as they have always planned. 
Medellin also says that there is no need for her to still be attending school if she already has all her credits. Her 6 classes would all consist being elective classes as her senior year in 2023 which would be unnecessary and classes are not in her interest, and the classes that are in her interest she has already taken. Instead, Medellin can be a step ahead and start her college career a year early.  
"Not only do I strive for excellence school work-wise, but I also work well with students and communicate well with teachers. I have shown great communication skills and experience working with others due to being part of Leaders of the 21st Century since middle school." 
Support
"I would say my counselor, Ms. Kramer, was my biggest hero during this process. I'm really thankful for Ms. Kramer. She has helped me step by step since the beginning". Kramer is a new counselor at West Ottawa this year. She works with students M-Z at the north and south buildings.
   "My family, parents, and current counselor have been the biggest supporters by my side pushing me because they know I have the potential in me, and I am forever grateful for their support. I thank my teachers for doing what they do best and making teaching interesting, helping us when we need help, and always checking up on us to make sure we will do the best we can and be ready for not only college but the real world."  
Senior activities 
Now that Jazmin is considered a senior she gets to experience senior activities early at West  Ottawa. She has attended senior meetings. "I was not part of the senior crowd during the homecoming assembly because I did not know if I was considered a senior and did not have the verification so I sat with my class. Now I know that I actually would have participated with the class of 2022 and ran in." 
Medellin has already ordered her cap and gown. "She is on a roll, ready to go. She is always on top of her game, responsible, organized, and mature, " Jazmin's mother Martidalia said.   
"Early in August this year, my family took a trip to New York. We visited Niagara Falls as well as New York City." 
"During our trip, I took a senior photo session. It was still summer break. 2021-2022 school year did not start until September 8, but it was my plan to graduate early so I decided to take my senior pictures there.  I loved the city and my senior pictures here would be something different than taking them at for example the Holland State Park, and so I did."
 Jazmin felt a little uncomfortable and anxious when taking her pictures in New York because there were hundreds of people everywhere. She felt nervous to be taking pictures in front of everyone. 
Medellin says how her sister would just continuously tell her to not worry about the people looking at her because she will never see them again.
   "That did not help at all. It was still nerve-racking having to strike a pose in Times Square, the busiest avenue, in front of people from all over the world."
Jazmin took a deep breath and relaxed. "3,2,1, smile!" *Flash*
"The deadline for senior pictures rolled around in November. By that time I found out I was able to send mine in since I was considered a senior now, I was relieved I took those photos in New York."
Medellin says how being fifteen, which is considered young as a senior wasn't a big deal since most of her friends are seniors and eighteen or seventeen. 
"Being a senior also means being able to go out during lunch during school, which I like. I always remember looking forward to this benefit as a senior, luckily now I am able to go out with my friends and grad food." 
Jazmin also plans on attending prom next year. "My first and last prom, I hope it's a night to remember," Jazmin said.
Regrets
     "I'm ready to start this new opportunity that will help me better understand my future career."
    But graduating early also means having to say farewell to high school. Where most of her friends are considered almost like family.
 "Most of my friends are seniors but I do have some junior friends. They know I'm graduating early and they are proud of my accomplishments but we will miss each other." 
    Memories made at a high school are unique. Oftentimes new friendships are made just by being polite in the hallway. "One of my favorite memory at school was when I had a science class of some sort and we would have to work together in lab groups. I would make new friendships during those lab experiences. It was fun." 
    "Another one of my favorite memories at school is when I and my sister who looks like me went to each other's classes for the whole school day and our teachers did not notice, only our friends noticed that my sister and I switched. To be fair my sister and I looked identical at the time and it was hard to tell who was who. We did this on the last day of school."  
    Graduating early also means I won't have the opportunity to do drivers training during school. "I'm only 15 and to do driver's training, you have to be the age of 15 ½ to enroll.  When I graduate I will have turned 16 but that means I have to wait to earn my permit."  
Plans 
    Jazmin has her school life planned out like a birthday party on a planner. Fifteen-year-old
   Medellin applied to Grand Rapids Community College in early October where she will take her general education classes to get the basics of learning and receive her Bachelor's degree in business. She is stuck between considering taking dentistry or fashion merchandise as her minor. After her two years at GRCC, she will transfer to a university in a bigger city such as Houston, Texas, because being in a small town is not the same experience. 
    "Not only because of the city, but my family is planning to move to Texas in the next following years, due to the majority of my family living in Houston, Texas.
 I would prefer if I could finish graduating high school here, in West Ottawa, and receive my diploma. And by the chance of graduating early, it would let my family and I gain one year sooner to be able to move." 
Case: Senioritis 
Senioritis is a "disease" known by seniors and it is a very contagious disease that mainly affects seniors in high school. 
Students stop caring to show up to class, fail to turn in work, lack motivation. This is because seniors believe they are already done but in reality, seniors need to finish strong. 
    Jazmin does not believe she will be infected with senioritis. She is determined to finish the year strong. "Although sometimes I do find myself not having the motivation. I always manage to get back on my feet." 
"I know some friends who say they have senioritis. They aren't doing their work and they have already given up, which makes their grades dramatically lower. When I hear this it motivates me to make sure to not do the same. I give my friends motivation as well, we all need to finish the year strong." 
College, career, and life ready
   "West Ottawa is truly all about pushing its students to be college, career, and life ready. And I think West Ottawa has done its job not only for me but all students. I will miss high school but the next step in my life is calling me. I can confirm that I am a well-ready college and life ready student and am prepared for what the world has to offer and whatever happens is in my hands." 
Jazmin will graduate in May of 2022, probably one of the biggest milestones in her 15 years of life.  
Jazmin is not the only student who was able to graduate early. There are many students in West Ottawa and we as a united school community should start being aware of these students and their accomplishments. 
Be a panther and give them a pat on the back, or a high-five, and congratulate these people.