Just one of the guys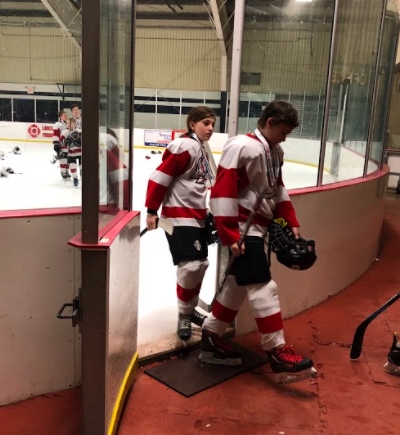 While other kids were learning to walk and run, Frosh. Dani Denhof was learning to skate. At just two years old, Denhof was enrolled in Learn-to-Skate classes, a decision that changed the course of her life.
   Playing hockey was an inevitable part of Denhof's life. "I don't ever remember a time when I didn't want to play hockey. I looked up to my brothers since I was younger and when I watched them play hockey, I always wanted to do it too. It was chosen for me in a sense because my brothers and sister played, but it was the best decision I ever made," said Denhof.
   Before Denhof could play with a stick and puck, she had to learn the fundamentals of hockey: ice skating. As Denhof recalls, these Learn-to-Skate classes were a pillar of her childhood and solidified her love for hockey and skating. Denhof said, "My earliest memory of hockey was playing red light green light in Learn-to-Skate. I vividly remember lining up on the boards, about to start the game, and looking over at the figure skaters on the other side of the ice. I immediately thought, nasty, why would anyone want to do that?" 
   Kaia Denhof, Dani's older sister, said, "Dani always wanted to play hockey. She was always outside shooting pucks and everywhere she went, she had a hockey stick in her hand. In order for her to play dolls with me, I would have to bribe her with mini-sticks."
   When Denhof started playing travel hockey, she played on a boys' team. This may deter some girls, but not Denhof. Her love for hockey and the friendships she formed in Learn to Skate made the transition to a travel hockey team an easy one.
   Girls hockey doesn't exist in West Michigan. If Denhof wanted to play with girls her own age, she would have to travel to Detroit or Chicago. Traveling hours away to play hockey was not feasible or realistic at the beginning of Denhof's hockey career, so instead she played on the West Michigan Ice Dogs, a boys' team.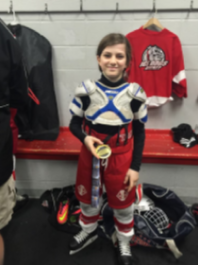 For many girls, playing on a boy's team would be intimidating, but Denhof had a positive experience, one that made her a better player. Denhof said, "I know the game better because I played with boys. They are so much more fast-paced. With girls, they try to be your friend, but with guys, they are always on you. Boys work hard all the time in practice and outside of. They're tryhards they naturally just want to win. I feed off of that competitive spirit, which pushes me to do and be better. Playing with boys, you have to be confident, otherwise, they won't trust you. That allowed me to develop my confidence, which is helpful especially in hockey."
   One of Denhof's coaches, Eric Green, said, "Dani was always a hard worker and a driven player. She was constantly trying to get better and improve whether it was on or off the ice. Not all the kids on the team were like that."
   While playing with the Ice Dogs bolstered Denhof's confidence and work ethic, the way other teams and even some kids on her own team treated her taught her a different lesson.
  Denhof was seven when she started playing travel hockey for the Ice Dogs. She was often the only girl on the ice, but that didn't change how she felt about her team or the game. However, the year she turned 10, she noticed her gender was now an issue for others. "As a kid, all my best friends were guys. I would play sports with the guys. I would hang out with the guys. I would go to recess with the guys. I would eat lunch with the guys. I did everything with them because they were my friends, but as we got older, the gender thing became more of a barrier. In my last year on the Ice Dogs, guys on other teams would just make fun of me for being a girl. I could've been great, I could've been awful, but what they made fun of was the fact that I am a girl, and that kind of sucked," said Denhof.
  Denhof knew she couldn't play on a boys' team forever, but why she couldn't become clear her last year as an Ice Dog. Denhof said, "I never really felt excluded. The only time I did was the last year I played with the guys. I had to go into the girls' locker room by myself. Every single time I needed to change, I would have to leave to get ready. I understand why I had to do it, but it was annoying because the locker room was an important part of being on the team."
   For Denhof, it was never about the way her teammates treated her, but the anatomic disparities between boys and girls that inevitably separated her from her team. Denhof's teammates were getting bigger and stronger in ways that her body never would. It was no longer about her effectiveness as a player, but about her safety. Thus, when her teammates started playing bantam and could legally check, she did not join them. Instead, Denhof joined an all-girls team in Grand Rapids.
   The transition to an all-girls team was an adjustment for Denhof. The level of intensity, competition, and work ethic of the girls on the team varied. It was like playing a whole new sport because the challenges and atmosphere were so different. Denhof said, "Girls are less hype. You score a goal and they act like it's nothing, but with guys, they go wild. The ability to actually execute the game and the way it's supposed to be played is not the same either. The skaters are not that good. Even guys playing AA can skate, but not girls. The competitive level goes way down."
   "Dani would complain more about the people on her team being annoying when she switched from girls to boys. She was also annoyed that people seemed to care way less about hockey. Dani came to win and some of the other girls on Dani's team didn't; that made her mad," said Kaia Denhof.
   However, Denhof found the real difficulty of joining the team to be something more trivial off the ice. "I had to find my spot on the team again. The guys I was with my whole life and coming to the girls' team, I didn't really know anyone. They had been with each other their whole lives and some of the girls could be so mean. There was a lot more drama. One person would do something "bad" on the team and the whole weekend was ruined. The drama was quite horrible. I just wanted to play hockey," said Denhof.
   After playing on the GRAHA 06 girls' team for two years, Denhof was ready for a change. Finding a team that shared Denhofs competitive drive and hard work ethic in Grand Rapids was a challenge, but not impossible. At 14 years old, Denhof joined a GRAHA U19 team that aligns with her values and passion for the game.
   Joining the U19 team was another major adjustment for Denhof. The girls are 4-5 years older than her, some even play on college teams. While she isn't in the same place in life as her teammates, Denhof and her teammates share experiences. Denhof said, "Now that I'm playing on the U19 team, most of them played on boys' teams when they were younger. They transitioned either when they were 10-11 like I did. Most of the good ones, like all of our captains, played boys at one point. I think this is definitely a reason they care more about winning and understanding the game than the other girls' team I was on."
   Currently, Denhof's team is ranked 7th in the country, but any success Denhof has had is because of her unwavering dedication and sacrifice; it has never been handed to her.
The success women can have in hockey is extremely limited. For Denhof and most other female hockey players, there are no options. Denhof said, "One of the biggest limitations is where I can play. I can't play in Holland anymore. If I want to play AAA, I can't play anywhere but Detroit, Chicago, and Lansing, but the Lansing team sucks. Those are the closest ones. I just hate being limited to certain options because there are literally no girls' hockey programs."
   Denhof has been aware of the limitations of females in hockey since she was a kid. When all her teammates dreamed about playing in the NHL or other professional leagues, Denhof knew collegiate was as far as she could go. Denhof said, "Playing in the NWHL, you get none of the recognition, benefits, or money that you do in the NHL. You can't support yourself playing professional hockey as a woman. When guys say I want to play in the NHL, I want to go into this. I know I can't do that. There are no juniors for girls either like there are for guys. You can go play juniors in the U.S., you can go play in Canada, you can go all over: Russia, Czechoslovakia, but I can't play. That was their dream, but I couldn't really have those dreams."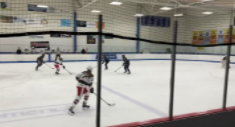 While Denhof recognizes that her hockey career has an expiration date, she still loves the sport and appreciates the time she has left. "The fact that I have a more limited time to play in a way makes me love it more because I know that this is my time, my opportunity. It's frustrating being limited to certain options because there are literally no girls' hockey programs, but I love hockey so much that I would choose it every time," said Denhof.