From the band room to the recording studio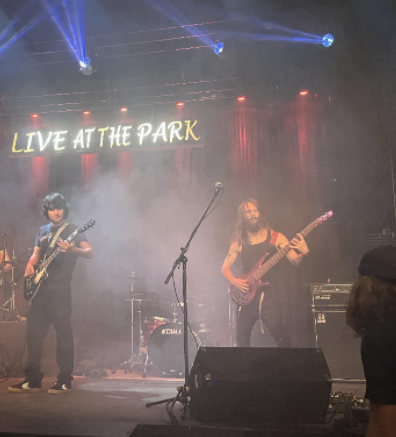 Rodrigo Riquelme steps onto the stage. His dream finally comes true. His family and friends surround the stage. He can hear the claps and cheers from below. When he looks at his band members, he can see the smiles on their faces. As they conclude the concert with their last song on the album, "Stuck With Me", Riquelme sets his drum sticks down and exhales.
   Riquelme knew he wanted to continue playing in a band after graduating. High school band taught Riquelme everything he needed to know about percussion, but he wanted more and set a goal to create a successful band.
   Growing up in a home filled with music. "I knew I wanted to create a band when I picked up my first pair of drumsticks at the age of seven. I'm so proud of myself for pursuing it with Lost Magic," Riquelme said.
   In 2018, Riquelme decided to take the big step and create a band. Riquelme and Mason Kobylenski, the lead vocalist, knew they would work together well, so they created Lost Magic. Prior to creating the band, Kobylenski and Riquelme were familiar with each other, but they weren't close. 
   Less than a year later, Riquelme and Kobylenski realized they needed a bassist, so they began to look. They were unsure until they met Ian MacDonald. After many failed attempts to join a band, MacDonald felt defeated until his teacher told him about an opportunity. He was then invited to play with Riquelme and Kobylenski for a night. Right away, he knew he found his place.
   Riquelme wanted to make sure he was the perfect fit, so MacDonald played with the band for a few months before being invited to join. Now, the band felt complete. "Never say never, but we do not plan on adding any more members," Riquelme said.
   As the band began to finalize their plans, they began to practice more and more. "As a band, we practice once a week for two hours," Riquelme said. On top of that, Riquelme personally practices for 30 minutes to two hours a day. 
   They also began to finalize their style of music. Riquelme, Kobylenski, and MacDonald all knew they wanted to create an interpretation of rock music, but it was finally time to decide. In the end, the three of them decided to shape their music around bands similar to Green Day, The Smashing Pumpkins, and Nirvana. "We do take inspiration from those bands, but we try to create our own personality," Riquelme said.
   They began to look forward to bigger things. Planning their first large concert wasn't as easy as they thought. With Coronavirus delaying their plans, it almost felt like a concert would never happen. 
   They stayed hopeful, and eventually, an opportunity came. They were given the chance to play at Park Theater with another local band. Before they could play, they knew they had to finish their album they've been working on. Most songs were nearly done, but it was time to head to the recording studio.
   All of their long nights spent in the recording studio finally paid off. On November 12th, the band released Lost Magic. "We recorded for 21 hours in two days," Riquelme said. On top of that, the process of recording their album was stressful. "Some songs we recorded in one take, and others it took ten takes and boy does playing the same song over and over take a toll on you," he said. 
   Riquelme remembers the pain his fingers were in after playing the same songs repeatedly. After all, he wanted the songs to be the best version, so it was definitely worth it. MacDonald and Kobylenski can agree with this statement as they were exhausted by the end of the process.
   They were proud of the progress they made in such a short amount of time, even though they had only been playing together for less than four years. They were able to strengthen their bond throughout the time they spent in the recording studio.
   With an increase in streams, the band finally felt confident and prepared for their concert. The concert was set for November 13th, only one day after their album release. They were at ease since it wasn't their first concert, but this one was different from before. The band now had an album to publicize and actual songs to perform.
   As their friends and family members began to enter Park Theatre, the band was overwhelmed with many emotions. Stepping out in front of a crowd is never easy as many things could go wrong, but the band was prepared to enjoy the night. 
   Starting with "Strife", their first song, the band's confidence only began to rise from there. Lost Magic varies from slower to more upbeat songs. Each song has a personal connection to one member if not all.
   Towards the end of the concert, the feeling of anxiety was gone, and everyone was enjoying the night. If the concert could be described in one word, it would be magical. Not a single person in that room was unhappy. From kids to adults, everyone was dancing and laughing.
   After recovering from a successful night, the band had more important things to think about. What does the future hold for them?
   Looking forward, Riquelme is determined to keep his dream alive. "I definitely see this being my future, whether I play part-time or full-time, I want to keep music in my life," Riquelme said. He understands that in order for him to achieve this goal he needs to continue training personally by himself and with the band. 
   Kobylenski gave his thoughts as well. "I'd like to hit the point where I can simply say 'I am a musician,' Beyond that if we can have some minor success, everything after that will simply be a bonus for us. If we can play shows out of town, interact with fans, and write songs, that's really what it's all about," he said. Kobylenski is sure if they continue to put in the effort, they will be successful.
   MacDonald's future plan was a little different compared to Kobylenski and Riquelme. "I really hope to spend at least part of my life supporting myself by just playing music. I'm kind of hoping that making music could be like a nice break from the food industry for at least a couple years at some point. However, if I ever go professional as a bass player and end up not wanting to return to the food world, I wouldn't be that upset," he said.
   Lost Magic is only starting to grow. With more opportunities opening up for Riquelme, Kobylenski, and MacDonald, they are sure they can continue to grow. As they continue to strengthen their bond through their music, their confidence is also increasing. Their album, Lost Magic, is available on Apple Music and Spotify.