Armani Chanthavong's martial arts journey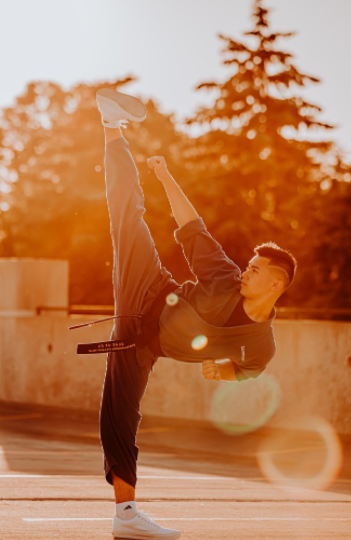 Four years of dedication. Literal blood, sweat, and tears. At 10 years old, Armani Chanthavong steps up for his final exam. His body is numb, his body is sore, but he pushes through the hardest tasks he has ever experienced without reluctance.  
 "I felt tired, but it's worth it in the long run. Because it's not just a sport, it's a lifestyle," Chanthavong said. 
When Chanthavong was little, he had a tremendous interest in Power Rangers. He has always wanted to learn how to fight, flip around and impact the lives around him, which got him interested in Taekwondo martial arts. 
Chanthavong started his martial arts journey at age six at Championship Martial Arts in Holland. His team is called Team Intensity. Team Intensity is a performance group. 
At age ten, Chanthavong received his long awaited black belt. Earning a black belt is no joke; it requires a four-month testing process. Each month is a major test that challenges everything the individual has learned their whole martial arts life. 
"The black belt testing was one of the hardest things I've ever experienced. I couldn't even tell you how many bruises I had and how many times tears had dripped down my face," Chanthavong said.
Receiving the black belt is the last part of the journey for most, but not for Chanthavong. After he received the black belt, he reached the next level, 2nd degree black belt, which he earned at age 13. At 16, Chanthavong reached his 3rd degree. 
Chanthavong's journey is something that needs to be heard. He is passionate and dedicated to martial arts.
Performing 
Chanthavong started traveling around West Michigan to perform at 8 years old. He performed at parties, parades and tournaments. At the performances, he breaks boards, acts out funny skits, breaks bricks, and flips around the stage with weapons. He says he usually performs by himself or with his teammate, Ajay Atsaphanthong.
At first it started with 100 people in the audience, then escalated quickly to another 100, then he started performing for even bigger events and it quickly erupted into thousands of spectators. Chanthavong knows how to perform. He knows how to make the audience electrified. 
Tulip Time is one of the bigger events he performs for. Chanthavong says the funny skits crack the audience up and literally make them stand up on their toes.
Jr. Kam Manikam, a member of Champion Martial Arts, said "I really enjoy watching Armani perform. He makes it look so effortless and the audience seems to be interested in him the most."  
While Chanthavong makes performing sound like a breeze, in reality, there is still stress that comes with it. Chanthavong has been performing for over five years and said that he receives major goosebumps before he performs.
"[I am] afraid I'm gonna mess up, but I always know deep down that I know what I bring to the table and it sparks me up and creates that confidence to walk out and do what I do best," said Chanthavong.  
Chanthavong still continues to perform today. 
Becoming an instructor
Once Chanthavong received his second-degree black belt, he wanted to take his martial arts journey a step further by training adults and kids. He started by becoming an assistant instructor, by helping around the place and volunteering as much as he could. He wants people to feel the love for martial arts as much as he does. 
Master Chan, former instructor of Chanthavong ,said, " I have always had that strong gut feeling that Armani would be a star one day. Not even for martial arts, but for life. He always had this passion and is taking it a step by helping kids and adults feel that same passion he's felt." 
In 2020, Chanthavong has reached one of his goals. He is a full on instructor leading groups and is one of the top tier leaders of his martial arts school. Chanthavong gets the opportunity to watch his kids and adults grow up just as he has experienced.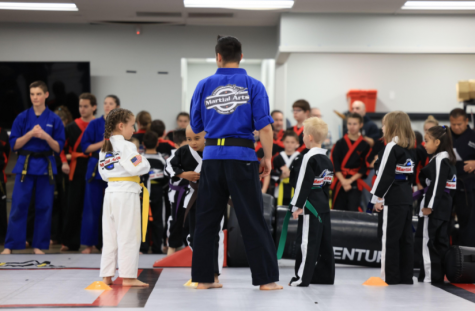 Jr. Shylee Sellers, a member of Champion Martial Arts, said "It is so easy for him to teach 500 something people all between the ages of 3 to 50 the same move and I think that is so beyond impressive." 
The future
Chanthavong is a West Ottawa high school graduate of 2021. Although he did not pursue going to college, he plans on sticking with martial arts. 
Chanthavong has been going with the flow lately and is branching out to different areas of skill sets. He has been stepping out of his comfort zone to try professional wrestling, photography, modeling. 
Currently, Chanthavong is an instructor and trying to keep himself busy. In his free time, he models for his friends and works on his photography skills. He says he is thrilled with life and the opportunities will come soon; it is just a matter of time when his moment will come. 
Chanthavong is interested in becoming a professional wrestler the most. He said it would be the coolest dream to pursue, being on the grand stage and doing what he loves in front of thousands of people. 
Chanthavong is now working on his 4th degree black belt, which is ranked as Master in Martial Arts. In 2024, he will earn the master's title. 
Chanthavong's journey is not over, it is just beginning.