Searching for the best chicken sandwich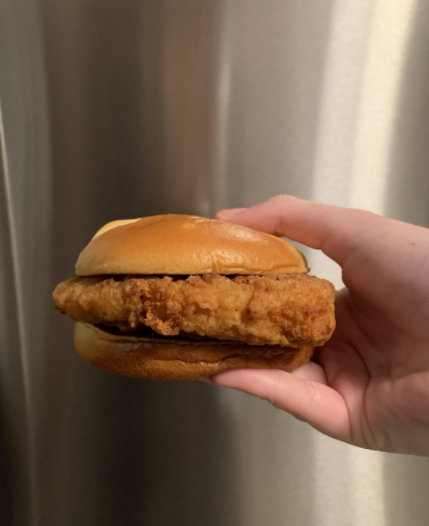 I immediately knew that there was something about this chicken sandwich that was unlike the others. The crispy crunch, the soft and sweet buttery bun, and the creamy mayonnaise. Immediate satisfaction. The overplayed commercial was actually right. Fast food restaurants have been in a competition for a while now to see who has the best chicken sandwich, and I am here to answer that question.
Chicken Sandwich:
1-5 stars for presentation
1-5 stars for taste
Overall Score:
1-5 stars based on both factors combined
(Before I begin, I would like to note that I ordered every sandwich minus pickles because, honestly, pickles are gross.)
Chick-fil-A:
Presentation: ★★★★★ (5/5)
   The chicken sandwich from Chick-fil-A was presented steaming hot, looking delicious, and smelling like it was freshly made. The bun was buttery and moist, making it that much more appealing. Sometimes at Chick-fil-A, the sandwich is presented looking sloppily thrown together by a stressed-out worker, but not this time.
Taste: ★★★★★ (5/5)
   This chicken sandwich tasted wonderful. The bun was steamy and warm, and the chicken was near perfect; a good crunch on the outside, but soft and filled with juice on the inside. I did find myself missing the mayonnaise on the Chick-fil-A sandwich because most other chicken sandwiches come with mayonnaise, but it still tasted very delicious and fresh.
Overall: ★★★★✩ (4/5)
   The Chick-fil-A chicken sandwich was certainly not disappointing. It was presented very well and tasted significantly better than the other sandwiches. The batter it was fried in tasted like it had a recipe that included tastier spices. But, it's missing the last star because there was no mayonnaise present. In order to have sauce on this sandwich, you have to add it. I would prefer to have the sauce on the sandwich when it is given to me.
Popeyes:
Presentation: ★★★★★ (5/5)
   This sandwich by far looked the most appetizing. It was hot and steaming, the bun looked like it was smothered in just the right amount of butter, the piece of chicken itself was massive, there was so much mayonnaise that it was leaking out of the sandwich, and it smelled heavenly.
Taste: ★★★★★ (5/5)
   As I tasted the sandwich, it immediately became clear to me that this was not just a fantastic sandwich, but one of my new favorite foods. Everything about this sandwich was perfect. The piece of chicken was so big that it was heavy, and it was incredibly juicy. There was the perfect amount of warm mayonnaise that tasted exquisite on every bite. The bun was probably the best part. It was buttery, hot, and toasted to perfection. The best part, the bun had a sweet flavor. The bun was the cherry on top of a perfect sandwich. 
Overall: ★★★★★ (5/5)
   Without a doubt, this chicken sandwich is certainly the best chicken sandwich I've ever had. Every component of it was perfect and divine. The crispy chicken, the overflowing warm mayonnaise, and the sweet bun checked every box. The tastes in the Popeyes sandwich all worked together flawlessly.
KFC:
Presentation: ★★★★★ (5/5)
   This sandwich was presented quite well. I went into trying this sandwich with high expectations because KFC is known for having spectacular chicken. The sandwich smelled luscious, and the smell filled up my entire car on the way home. The sandwich looked big, crispy, and had the perfect amount of mayonnaise.
Taste: ★★★★✩ (4/5)
   It was not surprising to me that this sandwich tasted as great as it did. It had a very nice crunch during every bite, it was filled with moisture in some parts, but in other parts it was dry. The mayonnaise is what really stuck out to me on this one. The mayonnaise was warm, and had its own unusual taste. It was almost sweet and tangy at the same time, providing a perfect blend of tastes. The bun was toasted perfectly.
Overall: ★★★★✩ (4/5)
   If there wasn't a slight dryness in the chicken, then the KFC sandwich would have earned a 5/5. But, I was definitely missing the full moisture. Every other component of the sandwich was wonderful.
Burger King:
Presentation: ★★✩✩✩ (2/5)
   The Burger King chicken sandwich was presented only decently. When I received it, it was cold, and there was little mayonnaise on it. But it did look crunchy and crispy unlike some of the others. The sandwich smelled very appetizing and I was eager to taste it.
Taste: ★★★✩✩ (3/5)
   This sandwich tasted good and savory, but it was lacking some key components. To start, it was dry. As I was taking bites, I didn't have the same feeling of, "I want to keep eating this," as I had with the other sandwiches. It was moist in the middle, but dry on almost all of the rest, causing me to continuously add more sauces. There was hardly any mayonnaise on it.
Overall: ★★★✩✩ (3/5)
   The Burger King chicken sandwich was a little disappointing. It lacked enough mayonnaise, was dry, and was cold. Although these factors did add a lot to my score, I enjoyed the taste of the sandwich. It was also crispy, which made it earn the third star.
McDonald's:
Presentation: ★★★✩✩ (3/5)
   At first glance, the McDonald's chicken sandwich (not the McChicken) looked quite tasty. The chicken looked nice and crunchy with some possible spices on it, and the bun looked well toasted with a slit down the middle, making it look extra fancy. At a closer glance, I noticed there was no mayonnaise on the sandwich, and that the piece of chicken was kind of small.
Taste: ★✩✩✩✩ (1/5)
   The McDonald's chicken sandwich truthfully did not taste good. The bun was so dry and had little to no butter, so I could hardly taste any flavor. The bun was also close to burnt. The chicken was slightly moist, and had a flavor that was not appetizing. Some parts of the chicken were rubbery. In order to make this sandwich taste good, I had to drown it in sauces. This could have been much better with mayonnaise. The only good component of this sandwich is that the chicken was crunchy.
Overall: ★★✩✩✩ (2/5)
   I am genuinely disappointed with the outcome of this sandwich, I was expecting much better from one of the biggest fast food chains in the world. I was really missing the mayonnaise on this one, and was missing flavor. This sandwich was half-flavorless, half-poor flavor.
Wendy's:
Presentation: ★✩✩✩✩ (1/5)
   The Wendy's chicken sandwich was not presented well. It was lukewarm, the piece of chicken was small, the bun looked nothing close to moist, there were only tiny dots of mayonnaise; it did not come in a heat retaining bag like others, and the sandwich did not look very appetizing. It looked like a premade chicken sandwich from a store. The only good thing about the presentation was that it smelled good.
Taste: ★★✩✩✩ (2/5)
   To be completely honest, I think that I could have made a better chicken sandwich than Wendy's. To start, the chicken itself tasted like it had been frozen and warmed up in a microwave for not long enough. It also had little mayonnaise. Even in the bites where I received mayonnaise, I did not know I was tasting mayonnaise because it was flavorless. The sandwich was dry, and the bun was falling apart by just holding it. Also, the skin was falling off of the chicken, I almost didn't finish this sandwich. 
Overall: ★★✩✩✩ (2/5)
   It was hard for me to give the Wendy's chicken sandwich a second star, but I did because the taste wasn't too bad. It was lacking many key components, and overall I was disappointed.
WINNER:
After trying every sandwich, I came to the quick conclusion that Popeyes has the best chicken sandwich. There's just something about that sandwich that's so different from the others. Its bun was buttery and sweet, its piece of chicken was much larger than the others, and it had the perfect amount of scrumptious mayonnaise. It was fresh, and it felt like whoever made it really cared about quality.