"I want to prove myself"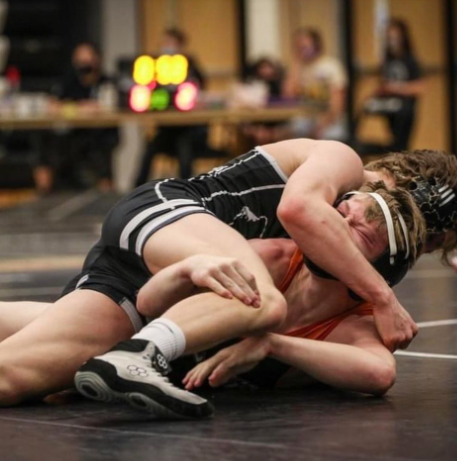 Jr. Owen Foster looks ahead on the mat. Instantly, Foster recognizes his opponent as one of the top-ranked wrestlers in Florida. A brawny man with long legs and a mustache walks up and shakes hands with Foster. Strategically, Foster keeps his cool. In an instant, the referee blows the whistle. 
   He knows this is going to be a hard match.
   As they circle each other on the mat, Foster looks for weak points. Decisively, Foster delivers a hard snap to the left side of his head, opening up his opponent's right side for an attack. Realizing his opportunity, Foster sweeps his opponent's right leg, driving through the takedown—all in 30 seconds. 
   To Foster, this was just another match. Years upon years of practice and strategy have made wrestling second nature for Foster. Muscle memory and mental strategies have proved integral to his success. A lifetime journey, Foster's wrestling experience has been full of hardship and great success. 
   The process itself started when he was young. "I started wrestling when I was in kindergarten. My dad heard about youth wrestling in the area and got me involved, and I have been doing it ever since," Foster said. However, he never felt really connected to the sport, only competing for the fun of it. Not until fifth grade would he find his passion for wrestling.
   Foster described it as a "click." He began to see the potential he had and the ability to change. Foster became serious. "Through middle school, I started seeing success in MYWAY [Michigan Youth Wrestling Association], and I was fueled to seek out the best competition I could. I wanted to force myself to be the toughest, most elite wrestler I could be," Foster said. 
   For the first time in his life, Foster started to compete for himself. With that mindset, he went all in at off-season training, practices, and matches. "I want to prove to myself, not just others, that I'm capable of being the best, competing with the best, and able to work harder than everybody else, " Foster said.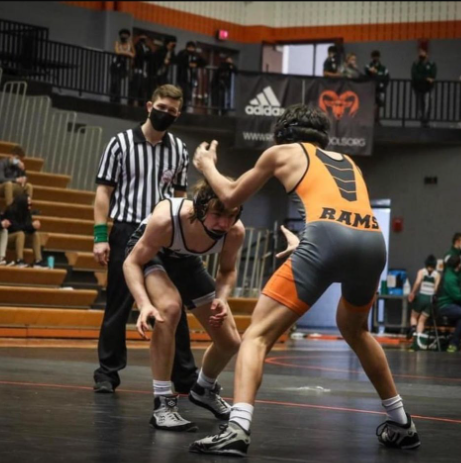 Sr. Mayson Levandoski, a current WO wrestler, described how Foster has grown. "I think he has grown to be a leader. I first remember him as being quiet and a little shy, and he has definitely become more confident in himself. In wrestling, he has grown into one of the best wrestlers West Ottawa has had in a couple of years. He's made many others follow in his footsteps," Levandoski said.
   Overall, Levandoski described Foster as an outstanding role model, hard worker, and natural leader.
   With club practices, Foster was able to prove himself. "Club practices are extremely difficult. Lots of hard drilling, live wrestling, and conditioning. Sprints at the end of practice are really tough, but that's just the atmosphere of the room," Foster said. Everyone at those practices is tough, according to Foster, and practices model that. These athletes come to compete. 
   "Coach Scott [Owen Scott] really wants to push everyone to their breaking point so they can go back for the high school season prepared," Foster said.
   His other high school coach, Ryan Lancaster, has been able to see his improvement after the club season. "I've known Owen since 2014 when he began wrestling with the West Ottawa youth wrestling program. Foster is a dedicated athlete, with a fervor for the sport and a laser focus unlike which I have seen at the high school level," Lancaster said. 
   Watching Foster progress and evolve as a wrestler, Lancaster has noticed him as a natural leader. "Last year when our program was shut down from COVID, that process could have derailed any career. Luckily, Foster has an ironclad work ethic that helped guide him through the healing process and kept him on his mission to be the best," Lancaster said. 
   Outside of practice, Foster regularly competes at high-level matches. Getting to these elite matches takes a lot of dedication and hours of transportation. Once there, Foster gets into the zone. For Foster, strategy is everything. "Before a match, I really try to visualize myself getting takedowns and working my setups. I want to visualize myself winning the match and having success on the mat. I also listen to music to get in the zone," Foster said. 
   Foster's go-to music is either rock or rap. In particular, he enjoys listening to Kanye and Black Sabbath. The music gets him focused and amped up for the match. 
   Since these matches take place outside of the usual high school season, competition is difficult. "Anyone who is good wants to be good or is taking the steps to the next level wrestles tournaments in the offseason. In some tournaments I've wrestled at, some brackets will have over 60 guys, with Super 32s, the most difficult folkstyle [the type of wrestling done in the US] competition in the country, even having over 100 kids in my bracket recently," Foster said. These matches are tough, where mental determination is the key. 

   Outside of matches, Foster encounters other challenges. Balancing school, cross-country season, and other obligations makes day-to-day life difficult. "Wrestling takes up a lot of my time, but that's what it takes to be good. During the fall I would go to cross-country practice, and then immediately after drive to Grand Rapids for practice three days a week," Foster said. He also stressed how he learned the importance of time management. 
   Cutting weight and proper diet is another challenge Foster has taken on with strides. "To get to my most competitive weight class I would have to cut some weight, safely of course. Weight cuts affected me a bit at school, but I've been doing this for years. I've gotten used to it. The weight I cut before the tournaments is water weight, so I never try to cut out eating and drinking water until the day of weigh-ins," Foster said. 
   Due to the competitive nature of these off-season tournaments, Foster has to match other wrestlers in their weight cutting. "Weight cutting takes a lot of mental determination and willpower to not get that extra slice of pizza, eat that extra plate at dinner, or even have that coffee loaded with sugar. That mental determination helps me not just make weight, but fight for an extra takedown to win a close match, or drive through a difficult test at school," Foster said. 
   Through this wrestling grind, Foster has looked upon several famous wrestlers as role models. Foster strongly admires Olympic wrestlers Gable Stevenson and Kyle Dake, particularly their wrestling styles and mentalities to the sport. Gable Stevenson, These wrestlers help reinforce his mindset.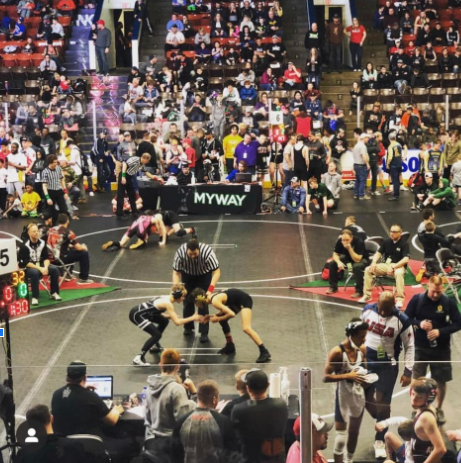 The journey has had its ups and downs for Foster. "I've had some low moments with national tournaments where I didn't feel like my results showed the hard work I put in to train for them. For example, at Super 32s recently, I went 0-2, losing a close match in the first round that I should have won," Foster said. Despite this, Foster has experienced his fair share of successes. 
    From his hard work came awards. These awards reaffirmed Foster's belief in himself and only pushed him more. "This year I made it to the quarter-finals at GFC, meaning I was top 16 in a bracket of over 60 kids. Overall, it's hard to list awards because success is measured differently with the level of competition I've faced at these national tournaments," Foster said. Awards, however, can vary a lot from match to match. Several national tournaments measure success differently. Working a position correctly, performing a takedown, or fighting a tough match all are little successes in such a competitive atmosphere. 
   Alex Foster, Owen's mother, has watched her son's growth. "There are so many proud moments over the years," Mrs. Foster said. Particularly, watching him qualify for MYWAY states in eighth grade as well as observing his work ethic with wrestling has made her proud. "After the team wasn't allowed to compete in the postseason last year after going 23-1 in the regular season, he didn't let that keep him down. He just kept working and getting better," Mrs. Foster said. 
   She stressed how great it was to watch Foster turn a corner with his abilities. No surprise, Mrs. Foster saw her son's hard work pay off. 
   "Every day with him is a gift and we're just trying to enjoy having him around while we still do. No matter what happens from here on out, he's become such a good, caring, and hardworking person—someone this world needs right now," Mrs. Foster said. 
   Foster holds himself to a high standard for the future. "With national tournaments next year my main goal is to improve on my previous results, and to place at tournaments like Super 32s and GFC," Foster said. 
   In the future, Foster hopes to wrestle in college. Hopeful to become a finance and pre-law major, he hopes to grow academically as a student and physically as an athlete.