Finding balance is not that difficult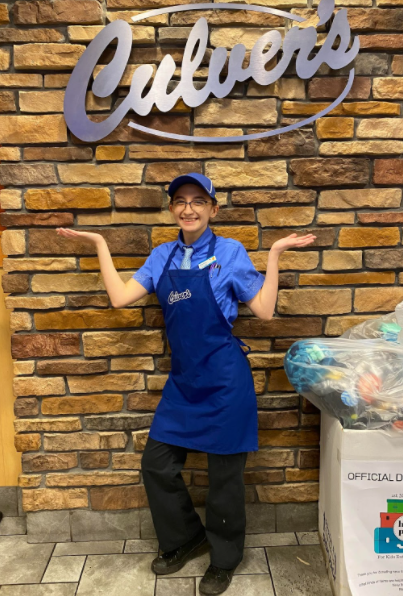 "Hi! Welcome to Culver's. What can we make fresh for you today?" I said as the headset beeped for the tenth time today, manically running around and talking to the guest to make sure everything was in order.
 Many people either have a job that they absolutely love or may not love at all. But sometimes getting a job at a young age can be a struggle, causing many conflicts. Managing school, extracurricular activities and work is so hard, right? Well not really, I started working at Culver's when the pandemic hit during 2020 and everything was shut down. At the time, I was mostly sitting at home during all of the shutdown. Both of my parents worked in the morning, and I wasn't sure what to do. I would get assignments done for school, then go on social media to distract myself until my family came home. It was difficult because I was constantly at home alone and bored out of my mind. 
  That was when I started my journey of looking for a job. I always felt that having a job was an accomplishment and a great way to earn my own money.  I first started applying at retail places, but found out retail is difficult to get into. I felt discouraged being rejected by two stores, and never hearing back from my third choice, Starbucks. My mom noticed my struggle and told the owner of Culver's about how I've been unsuccessful finding a job. The owner offered me a job and the next thing I knew, I was filling out a work application and a work permit. Not too long after that I was accepted, and I was officially hired on May 11.
  I started training right away as I went into work at four and stayed until eight. The training went on for five days: custard, register, run, dining, set, and drive. I knew everything. I was definitely stronger in certain areas than others but found my strengths as I continued.
   As we entered 2021, I had officially been at Culver's for a year. I was working hard to do so much for them. We had many changes as the year went on with people who left and joined the team. I felt like I wasn't sure about certain areas anymore. So much was changing in so little time. I didn't know if I could complete my tasks anymore. I was promoted to Team Trainer even though something felt off, but I continued anyway.     
  Many people wonder how I manage school and my job at the same time. It's definitely not a simple question to answer. When I first started working, I didn't have to worry about school since we were in a pandemic, so I didn't have much school work to do before work. Then I started my junior year and knew I had to find a way to keep myself in check to make sure I stayed on top of everything. I would try to do homework after school, but that turned out not to work for me, since I tend to procrastinate. I would forget about a homework assignment or try to finish an assignment before class, but I soon learned that led me in a bad direction. Eventually, I finally found a way to balance everything by doing homework before work and focusing on only that until I had to leave.
   People also ask what it's like to have a job and balance life in general. During the time I've been working, I've had boyfriends and friends that have come and passed. Currently, I am in a relationship and found a way to balance being with him and being at work. A lot of the relationship is just communication and we were still able to hang out. Same worked with my friends since they knew my schedule and I knew theirs. However, there definitely have been times where events were upsetting because I couldn't hang out with my boyfriend or friends. Sometimes I'd have to miss important events because work comes first. In the end, I pushed through and I've been able to balance everything since then. I did this by providing time for my boyfriend and friends when I didn't have to go to work.
   Managing all of this is challenging. Honestly, I never thought about how I'd balance everything on my plate. Finding a job and making sure I was on task in school was such a challenge. But I made paths for myself and found a solution. It's possible for anyone to manage their time with a job and school or anything people want to do in life. Really isn't as bad as they make it out to be. Just finding ways to manage time and a schedule is a way to figure it out.