"I see you, I hear you, and I believe you."
A cool fall breeze blew through the air and the sun shone down on Centennial Park as a crowd began to gather around the park's gazebo.
   It was October 2,  just hours before West Ottawa's 2021 homecoming dance. While most girls were already with their friends–finishing their hair and starting their makeup–Jr. Mariah Stewart was in downtown Holland, preparing to speak in front of hundreds. 
   "I am terrified," Stewart said, her hands gripping a microphone. She wasn't afraid of the crowd itself, but rather the reason she was speaking. "I shouldn't be up here today. We all shouldn't be here today. I mean look at me, I am 16, standing up here voicing my opinion," she said. 
   Only just old enough to drive, Stewart has witnessed predominantly male politicians and lawmakers legislate women's freedoms, and she is demanding change. 
   Stewart has been passionate about various social justice issues for as long as she can remember. "I would say starting in elementary school, I wasn't walking around screaming 'women's rights,' but I would make sure that everyone was treated equally. Then in middle school, I started to get more intrigued by social issues — and upset by them — so I wanted to help make a difference," Stewart said.
   Stewart believes many of her ideals have been shaped by the way she's been raised. Growing up in Indianapolis gave her an understanding of a more diverse society than what's represented in West Michigan.
   "My parents have always encouraged me to be nice to everyone and include everyone, so I think just being raised in an inclusive environment around lots of different types of people — and going to school with different types of people — made me realize how the world affects everyone."
   Throughout high school, Stewart has held leadership positions in various clubs and organizations. Being a member of West Ottawa Equality Now (WENOW), the Multicultural Student Organization (MSO), West Ottawa Young Democrats, and Student Senate, Stewart keeps herself invested in the community. She's also an avid volunteer as well as a varsity cheerleader and lacrosse player.
   Stewart works hard to balance a teen lifestyle while still maintaining her dedication to rebuilding a more just world.
   In the midst of America's numerous issues regarding inequality, her beliefs have only been strengthened. 
   The state of Texas recently passed the Texas Heartbeat Act, which outlaws abortions after the detection of a heartbeat. The law has sparked a great deal of controversy and inspired countless movements advocating for women's rights nationwide. 
   A group of West Michigan area residents decided to join the fight. What started as a group of 50 quickly became nearly 500 people–ranging from ages five to 80–all gathered to show their support. Stewart was the youngest speaker at the march. 
   Gazing out into the crowd as she listened to the national women's march being streamed nearby, she saw supporters standing with signs that read, "Keep your laws off my body," "Abort patriarchy, reproduce dignity," and "I am not your property."
   After weeks of preparation and practice, she was ready to share her message.
   "I'm always jumping to the worst conclusion, scared of wearing certain clothing, and feeling unsafe in public spaces," she said as she shared her own experiences of sexual harassment. "I know there are others with far worse stories than mine. I wanted to share my story in order to bring awareness," she said to the crowd.
   For ten minutes, Stewart spoke about sex education, sexual harassment, sexual assault, pregnancy, and abortions.
   "My goal was to share a teen perspective and let others know that teens know what's going on, that they're scared for their future with reproductive rights, and to inspire young people to speak up about what they believe in," she said.
   Alongside Stewart was West Ottawa Assistant Principal Lindsay Cherry, who shared a poem. Cherry has been involved in countless civil justice movements and hopes these demonstrations will rectify injustices.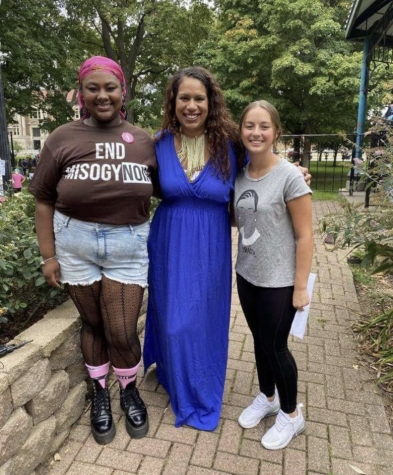 "Mariah came to me and asked me to be her mentor while planning and writing her speech," Cherry said. "Mariah has been a freedom fighter for a long time. She cares about the rights of all people and has fought against injustices in our society and specifically in our community."
   Stewart understands the importance of taking action. Her participation in Stop Asian Hate demonstrations, Black Lives Matter marches, and other women's movements have shown her the true power of strong voices. "I always looked up to those speakers because I saw how much of an impact they had, and I always thought it'd be super cool to speak in front of people," Stewart said.
   Jr. Quincey Leonard, West Ottawa student and friend of Stewart, was in the crowd while Stewart spoke. "I think Mariah did so well in her speech. It was nice to be able to have someone speak on issues that have an impact on many teen girls from the perspective of a teen. Also, seeing the impact she had on the other people around me made me feel very proud," Leonard said.
   "I received an overwhelming amount of support and positivity from West Ottawa students and the community," Stewart said. "Nobody has responded negatively to my speech, but I've had people respond negatively to my beliefs. I am working on how to have healthy and beneficial conversations when it comes to social issues." 
   Life in today's world is undoubtedly challenging. Despite the challenges, Stewart has learned to use her voice.
   "After we got done speaking, a lot of the people came up to talk to the speakers, so I got to meet a bunch of people and have people say some pretty heartwarming and empowering things to me," she said.  
   Stewart hopes to remain passionate and vocal in her opinions throughout her lifetime. "I'd love to keep staying active in the community, speaking at marches, and helping other people. I want to go into law, study political science, and hopefully become a civil rights lawyer," she said.
   Her words to the crowd remain influential even weeks after they were spoken. "When these lawmakers take away our choice to have a pregnancy, it feels like they think we aren't smart enough to make decisions for ourselves, but we are smart," she said in Centennial Park. "We are smart, strong, and powerful because we are women."