Shared Suffering
West Ottawa Girl's Cross Country
Jr. Arianne Olson rounded the corner of the infield of the Michigan International Speedway. Her spikes sought to contact the ground through the thick layer of mud below her feet. 
   Less than 800 meters to go. She kept her eyes on the light blue jersey in front of her. Olson won ten meets this season, and this day was her opportunity for actual competition. She crossed the red finish line in third at 17:36, stopping her watch and putting her hands above her head while catching her breath. She felt exhilarated as she turned and saw Frosh. Helen Sachs cross the line 12 seconds later. 
The team was finishing extremely well– the best in school history. The West Ottawa girl's cross-country team did not reach this level of success overnight. 
Shared Suffering
   Shared suffering is a theme that has been ingrained in the girls' mindsets and imprinted on their shirts over the past years.
"Shared suffering is going through a difficult, hard, and/or uncomfortable experience with your teammates. Cross-country running is not only a measure of your fitness level but of your toughness, how much pain and suffering you're willing to endure and put yourself through," Coach Kyle Barnes said. 
   Sharing pain makes it more bearable. "We believe that if you're willing to suffer more than your competitors, you're going to not only win that race within the race, but you can beat athletes far better than you. But all of this 'suffering' in racing and especially training is a lot easier and more fun if you do it together with your teammates who are going through the same thing. That's the shared part of shared suffering," Barnes said. 
This concept has taken root deeply in athletes' mentalities. "It's been difficult for me to dig deep during races and workouts. My teammates around me keep it fun and make it easier because I can think about shared suffering," Olson said. 
   "As a team, from our fastest to our slowest runner, we see them exemplify this in our biggest meets. The results both in our varsity and JV, our slowest and fastest runners have been excellent," Barnes said. 
Shared suffering has given them an edge over their competition. Barnes and the team have built a dynamic dynasty, and their work ethic has continued to pay off. 
2019
Three years ago, Kyle and Danielle Barnes arrived at West Ottawa. Danielle took the position of Mental Wellness Coach at the high school and assistant cross country coach. Kyle became the cross-country coach and eventually track and field head coach.
   "We basically changed everything when we came to West Ottawa, from the training, to the culture, to learning how to win.  Even near the end of our third season, we are just getting the program to where we want it in terms of training," Barnes said. 
However, such changes must progress gradually for the health of runners. "Distance running is ultimately a test of fitness and toughness. While we had ideas of where we wanted girls to be at in terms of training, we knew we couldn't just throw them into training that was nothing close to what they experienced in the years they've run before because everyone would be injured. And while injuries are a part of our sport, we've done our best to slowly transition everyone to our training program depending on the training history." 
  They made advances not only in training, but in attitude as well. "We've also worked on our culture of shared suffering and teaching the team how to win. We've seen tendencies of our teams (and I'm sure many of our competitors as well), even this year, to self-sabotage and lose focus of the things that make our team successful, so it's important to recognize that as coaches and talk about it as a team–we've done a good job of that the past three years."
Monday, Jun 14, 2021
Eight in the morning at Tunnel Park; the first practice of the summer. They began rolling out their leg muscles below the pavilion before doing a warm-up jog and drills. All girls will run 20-40 miles a week for the next several months; however, many do so year round to maintain their fitness. 
   This sounds like suffering to many non-runners, but these early mornings have become a familiar routine and source of joy. 
   "Running is something that makes me happy every day. I look forward to seeing my teammates, running workouts, and of course the mid-run conversations," Sr. Caitlin Derby said.
July 19-23 
The team held a camp to promote running among youth and attained high attendance. The high schoolers dedicated five hours to practice each day this week. "When we did the kids' camp for K-8, we got up for 6 am practice and were there from 6 am-11 am doing practice, kids' camp, and lifting," Jr. Megan Postma said. 
   These hours spent together brought the team very close. "My team has now become my whole group of friends. I'm with them all the time and spend all my time with them. We've become besties," Postma said.
   Barnes has observed these relationships manifest. "Not everyone is ever going to be best friends on the team, but the culture has evolved into one that if you put in the work, regardless of how fast you are, you'll be respected by your teammates–it's part of our Shared Suffering that we talk about all the time at practice," Barnes said.  
The strong team bond directly translates to achievement. "We have a lot of success because of not only our team culture but also the bond that formulates over time because of the things they have to go through to have the success we have as a team," Barnes said. 
August 
For their annual camping trip, the team stayed in a cottage on Torch Lake. Unfortunately, it rained for most of the visit, but the team made the most of the situation and it was memorable for many. 
   "On the first day after being cooped up inside, we decided to go play in the rain which resulted in us swimming in the lake in all of our clothes in the pouring rain," Sr. Kaia Denhof said. 
The runners planned an excursion to Mackinac Island for a long run, and the weather did not dampen it. 
"When we got there, we realized that during the night there had been a giant storm and half of the island had been blocked off, so we had to run smaller loops to complete our 8 miles," Soph. Autumn Osborn said.      
   The runners persevered through these unpleasant conditions. "When we ran through downtown, all of the people cheered for us, which was super fun. They probably all thought we were crazy because we were running downtown in the heat in duck patterned shorts and sports bras," Denhof said.
"Most of us ran about ten miles around the island and afterwards we were able to walk around and see all of the things on Mackinac," Derby said. 
   The team found a rocky beach to enjoy lunch at. To combat the balmy air, they all plunged into the piercingly cold water of Lake Huron. 
"While we were sitting on the shore, a seagull swooped down and took Claire's cheese from her lunch and flew away with it. It dropped it about 30 yards from shore and Claire ended up having to get into the freezing water and swimming out to get her soggy cheese in a plastic bag," Osborn said. 
   "It was both a good day for our training and just a great team bonding experience," Derby said. 
"This trip was super fun and memorable because I got to know more teammates outside of just running and we got to create a lot of inside jokes," Denhof said.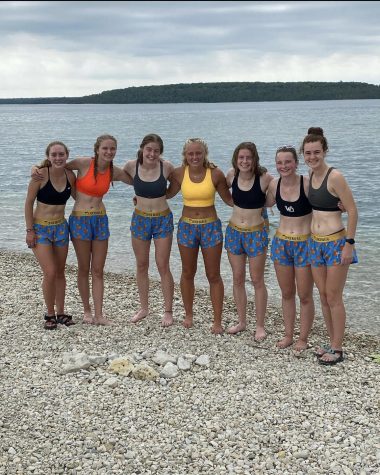 Saturday, October 2
West Ottawa dominated the Otsego Bulldog Invitational. Varsity won with 23 points and Caledonia was a distant second with 108. Many athletes achieved a personal record (PR) on the notably fast course, including Soph. Chloe Rooks. 
   She ran under 30:00 for the first time in her career and finished at 29:22 with lots of support from the team; she earned the 'Hungry Dawg' award. 
"The hosts of the race gave every coach an extra medal to give to anyone they wanted, and Coach Kyle said he would let Varsity decide who to give that medal to, and they decided to give it to me. I ended up crying from happiness on the way home," Rooks said.
   "Our slowest runner has earned the respect of everyone on the team and that's evident by the way she's treated and supported in workouts and races, and I think that goes for everyone on the team at this point in the season," Barnes said. 
Thursday, October 21 
It's the day of the OK Red Conference Meet. Athletes are hoping (and expecting) to take home the title for the third consecutive year. Prior to Barnes' arrival in 2019, the team had never won the meet. It was 55F and partly cloudy in Riverside Park this afternoon, ideal racing conditions. 
   It was no surprise that West Ottawa won the varsity race, taking 1st, 2nd, 4th, 10th, and 12th, scoring 31 points. 
Watching these runners perform set the tone and motivated the Junior Varsity (JV) team to prevail over their competition. JV maintained this level of intensity with the five scoring runners finishing 1st, 2nd, 3rd, 4th, and 28th.  
   Sr. Abby Green won the JV race with a 20:14 PR. This season, Green dealt with a stress fracture and uncertainty of whether she would run her senior year.
 "It was really great to personally win the JV race because I was able to prove to myself that I was still capable of performing. So while it was disappointing for me not to run in the varsity race, winning the JV race was still really gratifying," Green said. 
   This accomplishment was attainable through sharing the suffering of racing with teammates close behind. "Racing with Jane, Lauren, and Julia pushes me to be better. Going into the race, my goal was to win the JV race and knowing that at any moment one of them could really kick pushed me all the way until the finish line. It was also really fun to go 1,2,3,4 because it shows just how deep our team is," Green said. 
Friday, October 29
The girls won the MHSAA Regional Meet at Portage for the third year in a row with 39 points. West Ottawa won regionals only two other years in history, 1995 and 1996. Olson, Sachs, Abby Bonnema, Postma, and Emma Gunnett came in 1st, 2nd, 3rd, 12th, and 25th places, respectively.
   "Regionals was definitely a step in the right direction. Our team got the job done and we're excited and ready for state," Postma said.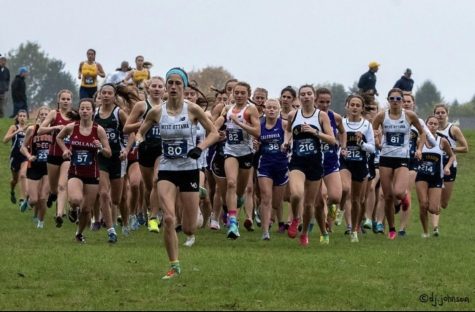 Regional runner-up was Zeeland West, led by coach Aaron Kenemer. "West Ottawa should be extremely proud of not only their current season, but their growth over the last few years. They have established a running culture that will continue to propel them each year," Kenemer said. 
   For the last couple years, Zeeland West has run against West Ottawa in a handful of meets each year. "I consider our team to be a pretty strong team. We won the OK Green this year, but the WO girls are on another level. They have literally set the bar of what an elite cross-country program is like. I know they turn a lot of heads having two of the top five fastest girls in the state. No doubt, that can be intimidating for a competitor." 
Olson and Sachs are extremely talented and hardworking, but there is much more to the team than the two of them, and competitors are catching on. 
   "The thing I have started to see, which is even more scary, is the depth and growth from their 5-15 runners. They are not only winning the varsity race but also the JV race, and their JV runners would be beating a lot of varsity runners, including some on our program," Kenemer said.
Although West Ottawa doesn't have as many athletes as other area schools, the athletes are all of a high caliber. "The quality and buy-in from their athletes into their 'shared suffering' mentality is unlike most other programs I've seen," Kenemer said. 
    "Despite our success, we're proud of our athletes and what we've accomplished so far this season and years past regardless of what happens this Saturday. We're also excited about our future!" Barnes said. 
Saturday, November 6
The day of the Championship Meet, the team boarded the Cardinal bus waiting outside of the North athletic entrance at 7 am. The group was layered in WO gear to keep warm until the 2:30 race. 
   The team achieved the highest finish in school history as state runner-up with 100 points, preceded by Ann Arbor Pioneer with 68. Olson was 3rd, Sachs 5th, Abby Bonnema 28th, Sophie Bonnema 53rd, and Denhof 65th. Postma and Gunnett finished 83rd and 137th, not counting toward the score. 
"At the end of the race it was hard because it was kind of muddy, but after I crossed the line, I was excited because it looked like we finished well as a team," Olson said. 
  Sophie Bonnema has had a challenging season while facing a leg injury of inconclusive diagnosis. "Running at the state meet while still coming off of an injury was definitely nerve wracking because I had no idea how I was going to feel during the race. Luckily I felt really good and I think I had a pretty good race,"  Bonnema said. 
"I also credit a lot of my positivity through my injury to the pep talks I've received from my teammates because I really value what they have to say and everyone is just so supportive," she said. 
"The cross-country team is one of the most supportive groups of people ever. Everyone is really good at making you feel good about yourself. No matter if you had a great race or a horrible race, your friends and teammates are there to hug you at the finish line and that's something I really love about this team," Sophie Bonnema said. 
WO finishes at State Championships the years the team qualified:
1991 (19th) | 1992 (15th) | 1996 (15th) | 2005 (22nd) | 2006 (15th) | 2007 (19th) | 2016 (21st) 2017 (16th) | 2018 (11th) | 2019 (7th)  | 2020 (4th) | 2021 (2nd)