"I can't swim"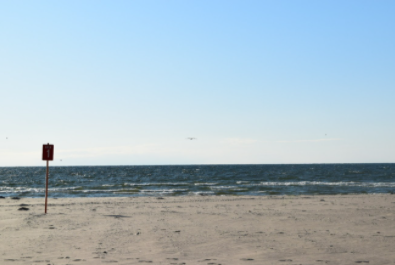 If one of her grandchildren went under, she wouldn't be able to save them by herself. The home pool was one thing; she could touch the bottom there. In the lake, the water was above her head. Even though her grandchildren were strong swimmers, something could go wrong at any moment in the deep waves.
   "I guess I never had the opportunity to learn to swim… I've always regretted it because I cannot swim." Gayle Coffey grew up around water. Her family took trips to Lake Michigan. Her friends and some family members liked to swim and felt comfortable in any lake or pool. Today, she lives on Muskegon Lake. Surprisingly, she never learned to swim. 
   Coffey enjoys going out on the lake in her boat, but always keeps a life jacket on or nearby. She frequently asks if the water depth is over her head, and never thinks about jumping off the boat into the water, as her husband and grandchildren do. 
   "I have a fear of water, I think, because I can't swim." Many people who are afraid of water experienced an event that made them never want to swim again. In Coffey's case, she never had anyone push her to learn. "I never had anybody say 'let me teach you to swim,'" she said. Unlike today, when Coffey was in middle and high school, the only sport girls could join was cheer leading. Swim lessons weren't available, and there was no swim team for girls at the time. 
   Carlos Mendoza is a college student who didn't grow up around water; however, he has been taught how to swim, but can't seem to get it right. "I was definitely encouraged to swim by everyone I knew when I was younger. Unfortunately, I just can't seem to figure it out. I don't know why," he said. 
   His parents and friends know how to swim and have attempted to teach him. During high school, he and his friends went to the Aquatic Center. "I went once with them to the Aquatic Center and was the last time I went. I was the only one who didn't know how to swim, so they tried to teach me. However, I didn't make progress and it made me upset." 
   Though Mendoza doesn't swim, he's not worried about learning how to right now. He's ready to focus on college. "…I have other plans in mind for my future and learning how to swim isn't on my mind right now," he said.
   Dan Christian is the Instructional Program Manager at the Holland Aquatic Center. There, adults can take a class to learn to swim. "In our adult lessons, adults are taught basic skills to swim and become more comfortable and confident in the water.  In a typical adult lesson, we introduce floating, submerging your head and face, and beginner strokes on the swimmer's front and back," he said.
   Christian says that adults taking lessons for the first time can be apprehensive about learning. Through the class, they push through their nerves and become confident in their skills. "They quickly find out that you are never too old to learn how to swim, and are excited to learn a new skill.  This is why our adult lessons are a favorite to teach for our instructors," he said.
   In a 1994 study by the Centers for Disease Control and Prevention, 37 percent of American adults reported that they could not swim 25 yards, the length of a typical lap pool. Swimming is a skill that is important for Holland residents. Holland offers easy access to Lake Michigan, which can be dangerous for non-swimmers. Taking advantage of swim classes similar to the ones at The Holland Aquatic Center would be a good start for people looking to get comfortable in the water. 
   Learning to swim as an adult may seem unimportant, but it's a skill that no one regrets obtaining. Not only is learning to swim important for one's safety, it ensures that everyone feels included when swimming.