Freshman football is developing that winning habit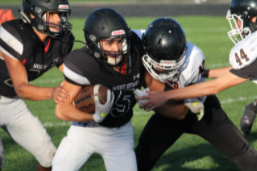 "Monday Monday, ready," quarterback Tai Hescott said. Hescott clapped his hands and the center snapped the ball. "The slants had been working all day so I knew who I was going to throw to," Hescott said. Hescott threw the ball perfectly into wide receiver Connor Knapp's hands and the crowd cheered. West Ottawa scored a 2-point conversion to tie the game. 
   The West Ottawa freshman football team had a successful season this year finishing with a 5-3-1 record. What is the secret to unusual success? 
Chemistry
   For West Ottawa freshmen, chemistry is the biggest factor in being a successful football team. Working together comes effortlessly in the weight room and on the field. "One of the things that I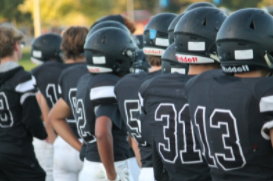 believe help us be successful is that we all have great chemistry and we all know each other," Hescott said. 
   The teammates' friendship has been strong since their seventh-grade season and has grown tremendously this year. Time spent together off the field is crucial to the team's success. "We recently went to Hescott's house for dinner and played football at his place," offensive guard and defensive tackle Brady Grasmanis said. From team dinners to a friendly game of football, the freshmen clearly work well together.
Embracing the grind
  Another key to the team's accomplishments is hard work. Preparation for games started in early June. 
   "I credit going to camps and working in the summer. A lot of freshmen don't understand football doesn't start in August. It starts in June or before that," Coach Rick Becker said. "I feel like we've got a lot who are buying into embracing the grind and working every day."
   "We had a lot of good participation for summer workouts. Around 80% of our starters went to every summer workout that they could and as you can tell it's paying off," Hescott said.
   Practice makes perfect, and without practice, a team can't succeed. "We've been working together now since the end of school. All of us have been putting in the effort of going the extra mile practicing and going to workouts," Grasmanis said.
   It's essential that everyone on the team goes to practice and participates in all team workouts. These freshmen haven't had any trouble getting everyone involved and embracing the grind. 
Victors edge
   On August 8, the football program left the North high school for a three-day camp at Grace Adventures in Silver Lake, marking the season's official beginning. Teams trained intensely on and off the field during practice and team-building activities.
   "Now when people think of football camp, they think of brutality and hard work," Grasmanis said.
   "We basically had to practice 6+ hours a day," Hescott said. "It was a great way for our team to bond inside and out of football."
Leadership

   Many players attribute the team's accomplishments to the coaches. "Coach Becker and Coach Ottoman are some of the best coaches I have ever gotten to work with. They push you to succeed and it's been nonstop since the first week of practice."
   "Our coaches push us to do our best. We all know them very well and they are great people. They help us on and off the field," Hescott said.
   Leadership on the field is essential as well. "Nothing's going to get handed to you. Winning football games is hard but I do think we have a core group and a lot of guys who have also seen the leadership and seen the example and have bought in and are trying to be part of it," Becker said.