Restaurants are finally listening to vegans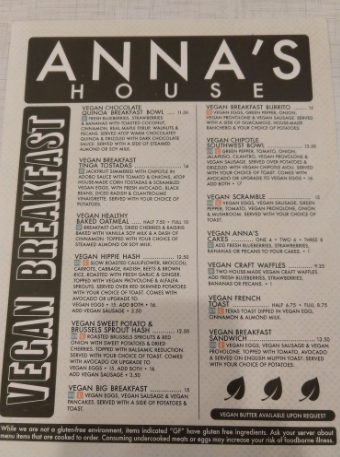 "Are you able to eat here?" asked Macy Christiaans' father as they drove to brunch on a sunny Saturday. Christiaans scrolled through her phone with a flat face and scoured the online menu for a potential vegan dish. They arrived at the restaurant and she was met with the same misfortune. She settled for a fruit bowl and plain wheat toast. Christiaans looked at her family's meals and wished she could be included in having options.
People with few dietary restrictions are typically able to order anything from restaurants. On the other hand, restaurants must supply for the increasing demand of vegan food.
"When I first went vegan, restaurants rarely had options to accommodate for me, and even if there was a vegan option, it was always a veggie burger that wouldn't actually be vegan," said Christiaans, a vegan of six years. She grew up with a non-vegan family, which was an additional challenge dining at restaurants or grocery shopping. In addition, nearly every restaurant at the beginning of her veganism had no meal options or sad attempts at vegan dishes, which discouraged Christiaans.
Christina Schafer, a vegetarian of nine years, then vegan for four years, dealt with the same struggles as Christiaans. "Places used to be a lot more turned off to the idea and wouldn't really work with you to come up with an option," Schafer said. However, since she moved to a larger city, more options have been available for her. She notices now, "They are more concerned and flexible with you and will sometimes even come up with special dishes if there isn't an option on their menu."
Growing up in Holland, Christiaans saw vegan dishes become popular while working at Anna's House. "In the beginning, there were few options where dishes on the menu could be modified to make it vegan," she said. Anna's House's menu consists of classic American breakfast and lunch fare. Their menu was unique at the time because symbols sat next to the names of specific dishes, where the customer could ask for their food to be made vegan.
Word spread of Anna's House being vegan friendly, so more people started to try their vegan dishes. "This made our vegan menu pretty popular. It went from small symbols on the menu saying that specific dishes could be made vegan per request, to an entire section of the menu dedicated to vegan food," Christiaans said.
The vegan community is continuously expanding, which causes a higher demand for vegan food. According to a vegan dedicated blog, six percent of United States consumers identify as vegan. Six percent is a small number, but is a five-hundred percent increase compared to one percent in 2014, "[Restaurants] are more aware of what it means to eat vegan or vegetarian and they can better cater to us. Now if you ask to make something vegan or eliminate and add certain things, places are much more flexible," said Schafer.
The nationwide growth of veganism has opened restaurants dedicated to vegans, "I definitely try to support smaller, intentionally vegan businesses first though," states Schafer.
As more vegan restaurants are opening, vegans flock to them because of their vegan-friendly promises, "I love Noble in Grand Rapids. They have the best breakfast and brunch type foods, but the conveniences of fast food places like Taco Bell offering vegan options is amazing." Both Christiaans and Schafer applaud businesses who listen to their vegan demographic and try to accommodate them.
Dine-in restaurants aren't the only ones following the "vegan trend." Large chains such as Burger King released their Impossible™ Whopper in 2019. Starbucks started selling their Impossible™ Breakfast Sandwich in the summer of 2020. Both companies use plant-based ingredients for their meatless-meats, from the company Impossible™ Foods.
Despite businesses and large corporations recognizing their vegan demographic, some still fall short in supporting their vegan customers. "I've noticed that there has recently been a higher demand for 'plant-based protein', so big brands use buzz words such as 'plant based' and 'super foods' to bring in customers," explains Christiaans. 
Some brands use buzz words to attract vegan customers, but a quick look at an ingredient list can disprove their vegan-friendly claims, "For example, Marie Callender's sell a 'plant-based protein' pot pie, except the pie itself wasn't vegan, but it's interesting to see that plant-based protein is way more marketed since it's become popular," Christiaans said. 
Similarly, fast food chains have complications with their supposed vegan options. For example, the Impossible™ Whopper from Burger King is cross contaminated with their beef burgers. and Impossible™ Breakfast Sandwich both have complications with being labeled vegan friendly and the Starbucks Impossible™ Breakfast Sandwich contains egg and cheese.
In the past six years, restaurants have drastically changed their menus as they accommodate their vegan and vegetarian customers, but there is always room for improvement. Our job as vegans and non-vegans is to combat big brands' failure to accommodate vegans by supporting small businesses who provide vegan-friendly options. As a non-vegan dominant society, we should continue to have a positive mindset of veganism to influence brands and restaurants to create more vegan-friendly products.